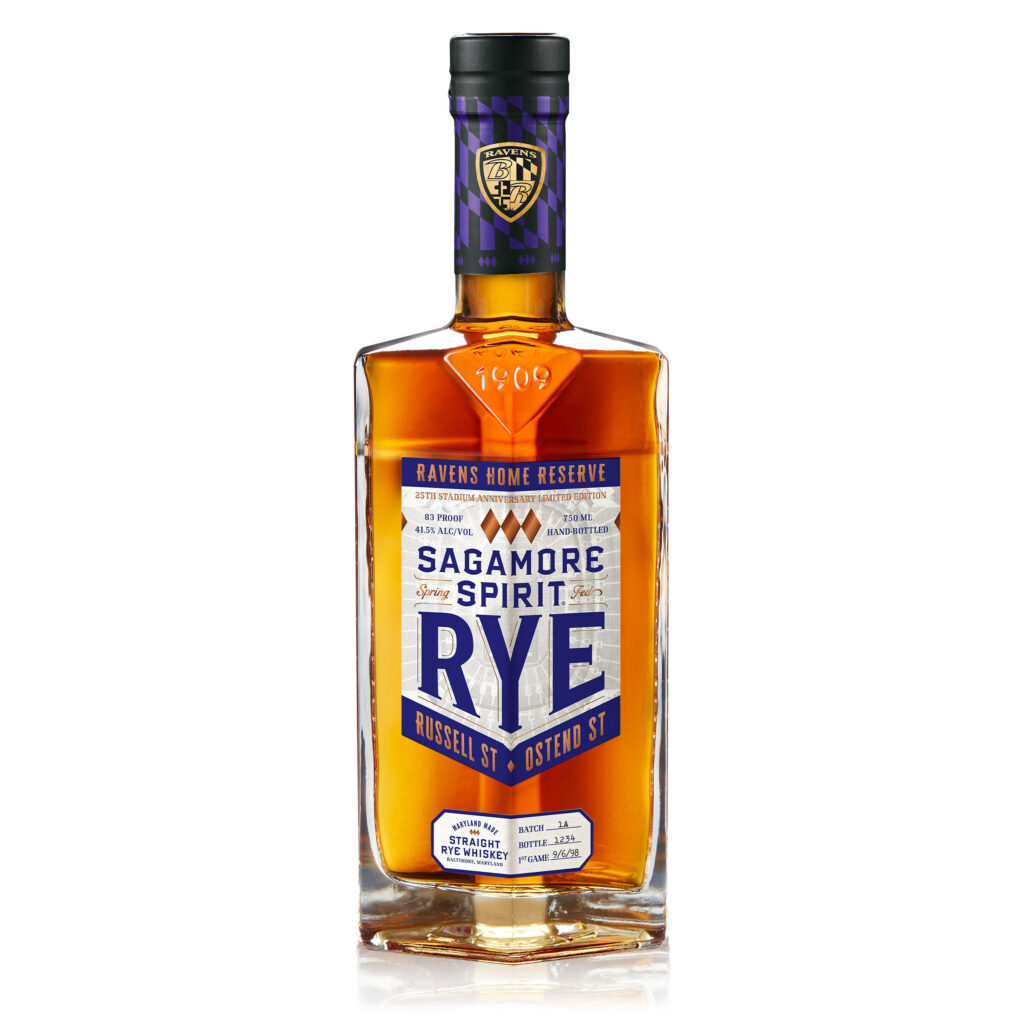 Baltimore Ravens fans have a new reason – and drink – to celebrate the season: Sagamore Spirit announced its new designation as proud partner of the Baltimore Ravens. The partnership, which initially runs through March 2028, kicks off with the opening of a new Sagamore Spirit Bar at M&T Bank Stadium, where visitors can enjoy the Baltimore-distilled brand's award-winning Rye Whiskey, Cask Strength Rye Whiskey and Double Oak Rye Whiskey – neat, on the rocks or in cocktails – along with its line of premium canned craft cocktails.
To celebrate, Sagamore Spirit is also launching a limited-time collective commemorative bottle featuring its signature Rye Whiskey. Named "Ravens Home Reserve," the bottle marks the stadium's 25th anniversary and is proudly emblazoned with the Baltimore Ravens logo.
Additionally, five lucky fans will have a chance to take home a commemorative bottle and attend an invite-only event at Sagamore Spirit's waterfront distillery with a Baltimore Ravens legend. From September 4-October 6, fans can visit www.BaltimoreRavens.com to learn more and enter.
"This partnership has been a long time coming. We've spent years rooting for our home team from inside the walls of our distillery – and now we have a chance to finally bring a taste of our Maryland rye whiskey straight to the fans at M&T Bank Stadium," said Drew Thorn, CEO and CFO of Sagamore Spirit. "We've always been incredibly proud of the place we call home, and this partnership brings the best of Maryland football and Maryland rye whiskey together like never before."
Sagamore Spirit Ravens Home Reserve Rye Whiskey will be available to purchase starting in mid-September at Sagamore Spirit's distillery and select retail locations throughout Maryland for $39.99, while supplies last.
To learn more about Sagamore Spirit and find a bottle near you, visit www.SagamoreSpirit.com/Spirits/Ravens.