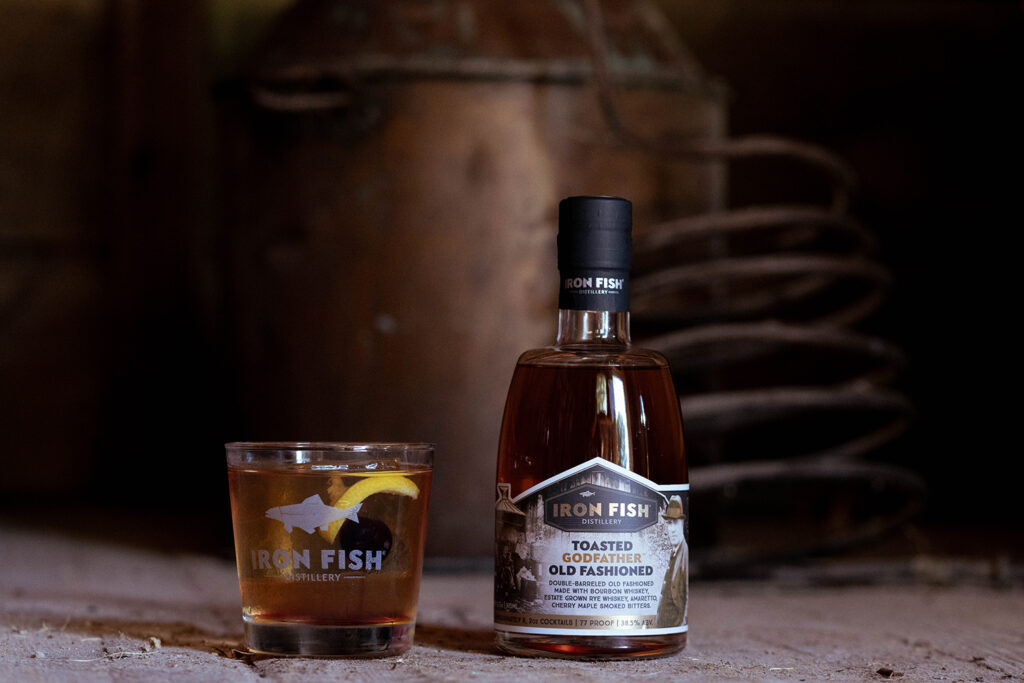 To mark its seventh year, Thompsonville, Michigan-based Iron Fish Distillery will re-release the Mad Angler Bourbon, Rye and Bottled in Bond estate whiskies and celebrate completion of a major commitment to triple production capacity of its estate whiskey, requiring over a $1 million investment in new equipment and facility improvements.
On Sunday, September 3rd, Iron Fish will also be releasing the Prohibition inspired Toasted Godfather Old Fashioned Ready-to-Pour.
About the Toasted Godfather Release:
Following on the heels of Michigan's top selling ready-to-pour Salted Maple Old Fashioned by a Michigan craft distillery, Iron Fish barreled and bottled the Toasted Godfather  Old Fashioned, crafted with bourbon whiskey, estate-grown rye whiskey, amaretto, and cherry maple smoked bitters. Each 375ml bottle produces six 2oz cocktails. It will be available for sale by Michigan retailers starting in September. 
During the dark days of Prohibition, Sheriff Nixon of Wexford County took action, confiscating and dismantling illegal stills found on neighboring farms. Interestingly, his grandson later took a different role, working for regulatory authorities, overseeing liquor establishments once they met the required standards.
Our celebratory version of the classic Godfather cocktail harmoniously merges the spiciness of estate-grown rye with the velvety richness of bourbon. The addition of Iron Fish amaretto lends its sweet almond notes, while the smoked cherry bitters enhance the experience. To enjoy, simply pour over ice, add your personal twist, and savor this blend of flavors while appreciating its historical roots.
The first 24 bottles will be signed by the grandson of sheriff Nixon at the distillery. Available at the distillery and select MI retailers starting 9/15.
About the Mad Angler Whiskey Release:
Mad Angler Bourbon, Rye, and Bottled in Bond are grown from grain on the Iron Fish farm and other farmsteads around Michigan, Mad Angler spirits are aged at least four years. The name is inspired by the writings of Northern Michigan poet Michael Delp and reflects our love and commitment to preserving our region's watersheds. 
"Consider holding the wildness of a place in your hand, and then tossing it back, dreaming of rivers, wild fish, pure water, the spirit luminous inside you allowed to roam where it wishes." 
Experience this transcendent feeling as you taste the farm distilled difference of our Mad Angler Series. Developed along the shores of the Betsy River, this exemplary 3 bottle series includes Bottled in Bond, Bourbon, and Rye Whiskey varieties.
Mad Angler Bourbon 94 Proof – Available exclusively at the distillery starting 9/5
Organic Corn
Winter Wheat from Iron Fish Farm
Northern Michigan Barley
Winter Rye from Iron Fish Farm 
Mad Angler Rye 92-94 Proof – Available at the distillery and select MI retailers starting 9/15.
Iron Fish Rye
Malted Barley
Mad Angler Bottled-In-Bond 100 Proof – Available at the distillery and select MI retailers starting 9/15
Iron Fish Farm Winter Wheat
Upper Peninsula Rye
Northern Michigan Malted Barley
Northern Michigan Corn
More info on Mad Angler here: