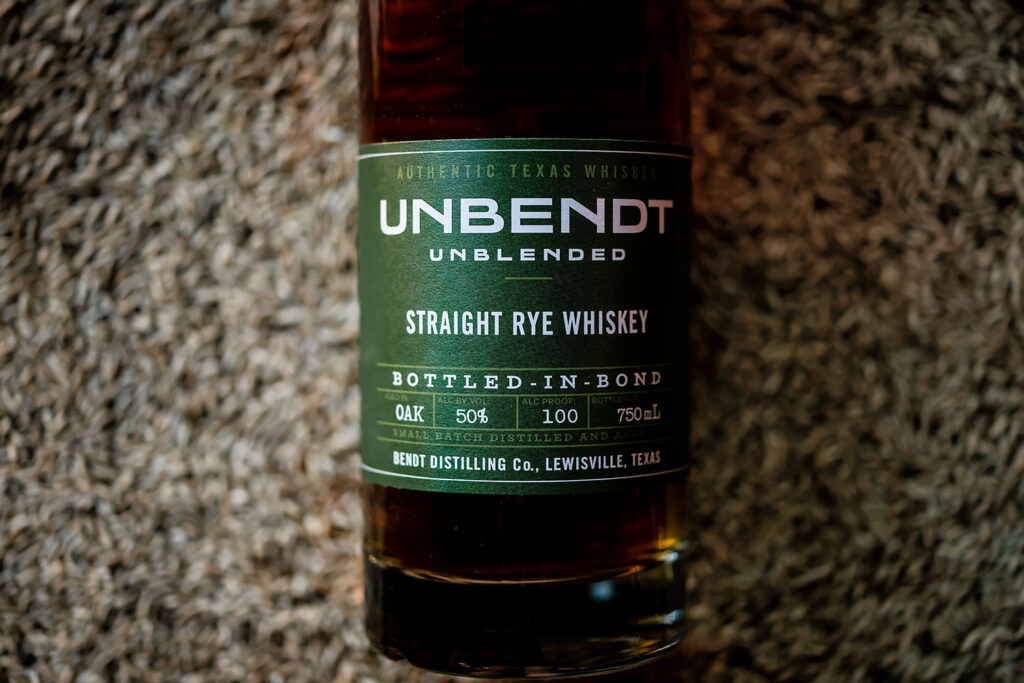 Lewisville, Texas-based BENDT Distilling Co. is releasing the latest extension in the UNBENDT Straight whiskey lineup, UNBENDT Straight Rye Whiskey – Bottled in Bond, the fourth release in the UNBENDT straight whiskey line.
This highly anticipated release follows UNBENDT Straight Bourbon, UNBENDT Straight Wheat Whiskey and UNBENDT Straight Malt Whiskey. UNBENDT Rye, highlighting local Texas grains, is comprised of Elbon Rye, Triticale Hybrid Grain, Marris Otter Malted Barley and Naked Streaker Oats. The fall 2023 release has been aged for more than five and a half years using standard 53-gallon new charred American white oak barrels. It is bottled in bond at 100 proof.  
UNBENDT Rye is complex and robust with notes of stone fruits, pepper, and a lingering slightly spicy finish. Utilizing  Triticale in this mash bill was critical to achieving the flavor profile BENDT was targeting. Triticale is a wheat-rye hybrid  grain that provides a sweet and spicy component, as well as a bit of the creamy mouthfeel generally associated with  wheat whiskeys. The addition of this hybrid grain has added a level of complexity not typically seen in American Ryes. 
"Trit has been one of our favorite grains to experiment with over the years, and we've let it shine in our Straight Rye," says BENDT co-founder, Ryan DeHart. "It's one of my personal favorites, as it has a way of pulling all of the grain profiles  together in this whiskey."
Jacob Peraza, lead distiller at BENDT, seconds those sentiments and adds that "UNBENDT Rye is a favorite within our team. This is the most anticipated release to date for all of us and we're excited to share it with fellow whiskey fans."  
The first release of UNBENDT Rye is slated to hit select north Texas retail stores Oct. 1, with a full Texas market  release on Nov. 1. Suggested retail price for UNBENDT Straight Rye is $59.99 per 750ml bottle.  
BENDT Distilling Co. was founded in 2012 and has grown over the past decade to include a lineup of high quality distilled  spirits, including their flagship blended whiskey, BENDT No. 5, which is a blend of five individual whiskeys, all distilled,  aged, and bottled in-house in Lewisville, Texas. BENDT Distilling Co. is located at 225 S. Charles Street in Old Town Lewisville, Texas. The distillery tasting hall is open daily. Tours are available at select times on Fridays and Saturdays,  with tickets available online at www.bendtdistillingco.com/tour-booking. Straight from the Barrel bottle filling is  available at the distillery on select UNBENDT whiskeys, all hand-bottled at cask strength, and including a hand written  label with the date of distillation, bottle date, barrel number and proof. Fresh house-made food menu, craft cocktails,  BENDT beer and wine options are available in the distillery tasting hall.