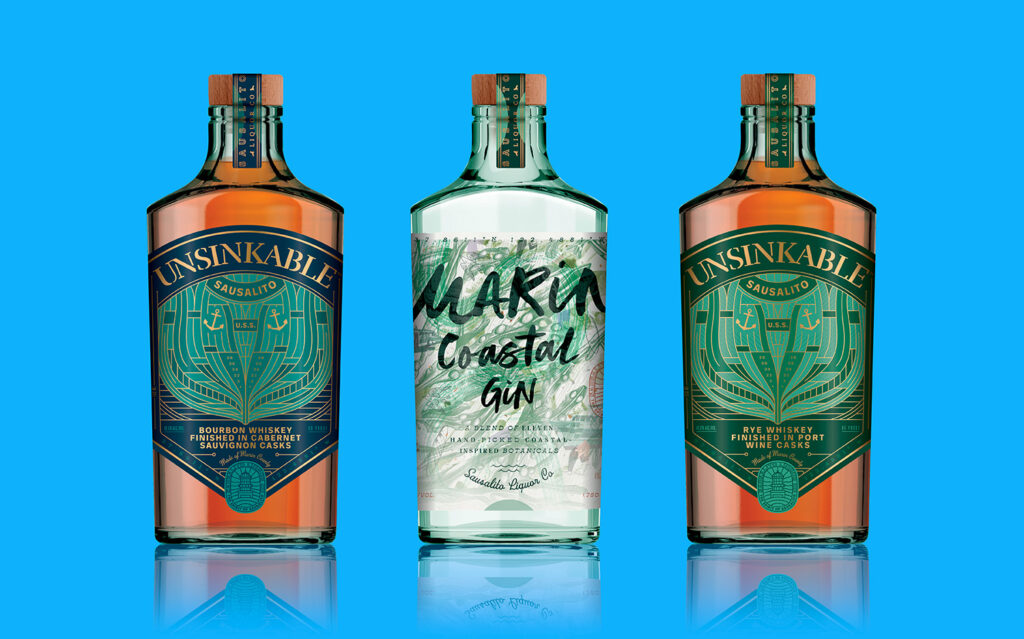 For those on the noble search for a cocktail without conventional expectations, Sausalito Liquor Co. is launching to create delicious, bold and unapologetically drinkable spirits inspired by the magic of Sausalito, California. These spirits are meant to be enjoyed with just a few other simple ingredients in any glass you have handy and with good friends and family—no Ph.D. in mixology required. 
It's launching with a splash by rolling out three spirits that have been honored with 2023 L.A. Spirits and San Diego Spirits Festival Awards: Marin Coastal Gin, Unsinkable Bourbon and Unsinkable Rye.  The spirits are now available at sausalitoliquor.com with shipping to 42 states, and will soon make their way to bars, restaurants, and liquor stores throughout California.
Sausalito Liquor Co. is a new standout brand in the spirits category. It celebrates the beauty, free spirit, offbeat nature and authenticity of Sausalito, and it taps into the emotion that makes the town a remarkable place to live and a worldwide travel destination.
"Our goal with Sausalito Liquor Co. is to provide spirit drinkers with the same welcoming, authentic, and unpretentious experience that has drawn independent thinkers, artists, iconoclasts and the occasional misfit to Sausalito for over a century. We want to offer people the chance to immerse themselves in the magic of the moment, without the constraints of conventional expectations," says Scott Jampol, Sausalito Liquor Co. founder, former marketing executive and part-time local bartender. "I'm an advocate for doing things the easy-drinking way, and I don't think there should be any rules on how to enjoy good spirits. It's okay that you don't catch every nuance or identify every flavor. I just care that you like the way it makes you feel, much in the same way you can love a song or a piece of art without having to explain why."
Sausalito Liquor Co.'s spirit lines each bring their own character and story, similar to the artists, adventurers, musicians, makers and maritime culture that call Sausalito home.
Marin Coastal Gin: Marin County's soul comes from the contrast between its beautiful, rugged land and the wild, unpredictable sea that surrounds it. Green hills tumble into an unpredictable ocean creating a place that draws different thinkers and creators alike. In this spirit, we created Marin Coastal Gin, a balanced coastal gin that highlights California citrus peel, locally foraged Nori seaweed, Angelica seeds from Santa Rosa, and a combination of two types of Juniper. The result – a damn drinkable gin. A 750 mL bottle is $34.99.
Unsinkable Bourbon: Named to reflect both the enduring spirit of the bootleggers, artists, musicians, anchor-outs, free-thinkers, and trailblazers who have flocked to Sausalito for decades, as well as a nod to the Liberty Ships built in Sausalito during World War II. We've taken exceptional, well-aged bourbon and finished it in Napa Cabernet Sauvignon barrels to bring out a whole host of new flavors. Ridiculously drinkable whiskey with a spirit that's Unsinkable. A 750 mL bottle is $54.99.
Unsinkable Rye: Whether you're very aware of the difference between rye and bourbon, or you're very tired of people trying to explain it to you, our Unsinkable Rye is the answer. We've taken some of the finest Kentucky rye and aged it in Napa port wine barrels to create a whiskey that's unmistakably rye but with a touch of sweetness that is a healthy step towards a great Manhattan. A 750 mL bottle is $54.99.
Sausalito Liquor Co. was created to reflect the charm and unique vibe of Sausalito and the surrounding area, highlighting the bold creative history of the town and its unique seaside geography. Sausalito has long been defined by passion, independent thinking, intrigue and maybe a dash of mischief. It built Liberty Ships for the war, sheltered rum runners during prohibition, inspired songs and poems from its storied waterfront, and unknown to many, served as a hub of spirit distilling from 1892 until 1963 when a catastrophic fire ended this distilling history. Today, Sausalito Liquor Co. is the only spirits company in the city, returning the distilling tradition to this unique seaside town.
For retailers, restaurants, and bars interested in selling or serving the spirits, email info@sausalitoliquor.com.