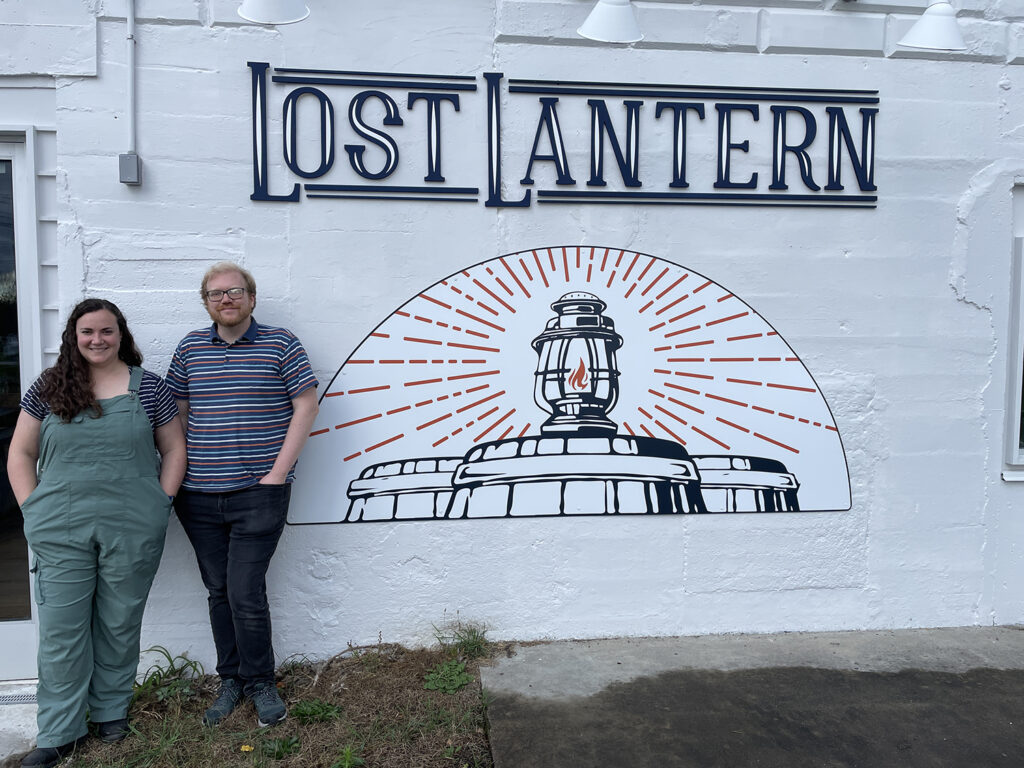 Lost Lantern Whiskey co-founders Nora Ganley-Roper and Adam Polonski are thrilled to announce the opening of the award-winning independent bottler's first tasting room. Located in Vergennes, Vermont, at 11 Main Street, the new space will open to the public on Friday, Nov. 3, and will offer guests the opportunity to taste and purchase bottles of Lost Lantern, representing a wide range of whiskies from distilleries across the United States.
"We are so excited to be launching the Lost Lantern Tasting Room; this new space will allow us to really introduce Lost Lantern to Vermont residents and visitors for the first time," commented Ganley-Roper, who grew up locally in Addison County. "We will offer curated flights of whiskies from across the country, allowing customers to taste the full range of what Lost Lantern has available."
Guests who wish to taste during a visit can choose from a rotating menu of flights, which will change regularly. Each flight features four whiskies. Initial flights include:
· Intro to Whiskey (Learn about and taste the different styles of American whiskey) $10
· Fall Single Cask Collection (Lost Lantern's most recent releases) $12
· Bourbon Flight (Explore the breadth of flavor bourbon can offer) $12
· Lost Lantern Greatest Hits (Taste the most popular and acclaimed releases available): $15
· Lost Lantern Fan Favorites (Taste sold out, highly coveted whiskies only available on-site) $20
· Founder's Choice (If Nora or Adam are behind the bar, they'll build you a custom flight) $20
· Build Your Own (Choose any four whiskies from the flight list): $25
The Lost Lantern Tasting Room will also offer bottle sales of all current releases. Beyond that, Ganley-Roper and Polonski have quietly saved bottles from every Lost Lantern issue to date and will offer a handful of library bottles for sale (including those sold out elsewhere) of everything they've released since Fall 2021.
The tasting room is part of a larger initiative for Lost Lantern and is connected to the company's new production facility, which is used for barrel storage, blending, bottling, and more.
"Although we are not a distillery and never will be, we're excited to bring all our blending and bottling in-house. Until now, we have been fortunate to work with great contract partners to help us bottle. However, having our own facility gives us more flexibility as we expand on the success of our Lost Lantern Blend Series and Single Distillery Series," said Ganley-Roper. "Additionally, the new space allows us to rapidly ramp up our private barrel program to offer retailers and whiskey clubs a wide range of unique single cask offerings from distilleries across the country."
The Lost Lantern tasting room is an intimate space and will be open Fridays from 2-8 p.m. ET and Saturdays from noon-6 p.m. ET for walk-ins and appointments through the end of the year when hours may change. During off days, visits can be made by appointment or chance. To make a reservation or inquiry, contact info@lostlanternwhiskey.com.  For more information about Lost Lantern please visit  www.LostLanternWhiskey.com.