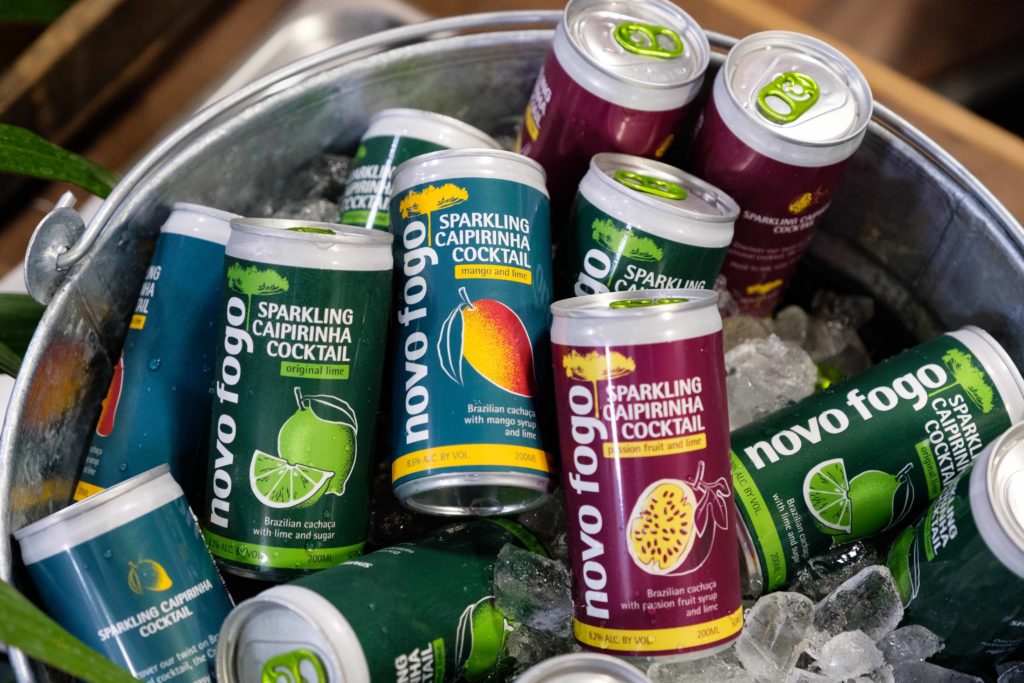 The nine-year-old organic cachaça producer Novo Fogo faced a challenge common to many craft distillers today: in an increasingly crowded space, how do you break out and find an audience for your new brand? The company thinks it found the answer by packaging its Sparkling Caipirinha in cans.
"For a company like Novo Fogo, we sell a spirit, we sell cachaça, which as a category is growing a lot, but we have a long way to go in terms of becoming a normalized category," says the Seattle-based distiller's marketing director Luke McKinley. "I mean, quite frankly, we're working on just basic pronunciation with a lot of folks in North America.
"The canned Sparkling Caipirinha cocktails are very critical door openers for us. We want to really lower the barrier to entry and allow people to relax and enjoy these cans even though they may not have any awareness of what cachaça is. Maybe they've never had a caipirinha, but this is just such an easy, delightful way for them to enjoy it that the next time they go to the store, they might want to grab a bottle of our Silver Cachaça and make a fresh caipirinha at home."
However, McKinley and other craft distillers who have recently started canning, say that the process can be challenging. Distillers who go down this path may have to contend with everything from confusing government regulations to large investments in canning equipment and supplies to exhaustive searches for co-packers. And then there are a host of unique, technical challenges that come with canning a premium craft cocktail.
Despite all this, the advantages to canning are so great that many are willing to devote the time, energy and money to do it. "It's a great format," says Adam Quirk, co-founder of Cardinal Spirits in Bloomington, Ind. "The lower weight saves on shipping and packaging costs. Also, aluminum doesn't let any light in that could foul the juice that we use. And it's a good way to introduce people to craft spirits, too, because I think there's a lot of folks who are not necessarily going to buy a bottle of craft gin, but will buy [a craft cocktail in a can] and become aware of the brand and then hopefully we see some kind of halo effect."
The expanding popularity of canned cocktails can be seen in the latest industry data, as they outpace the growth of the rest of the spirits industry. Between 2014 and 2018, canned cocktails by volume had a compound annual growth rate of 23 percent, according to IRI.
Regulatory Hurdles
Before the liquid even touches the can, however, distillers will have to get the necessary government approvals when it comes to such things as can size and labels. And, sometimes, the process can be confusing and require a lot of back and forth.
For example, when Cardinal Spirits sent in its Vodka Soda for Certificate of Label Approval (COLA) to the Alcohol and Tobacco Tax and Trade Bureau (TTB), the distillery was told it had to be called "Cardinal Spirits Vodka." "Which was confusing to me, because it's a five percent ABV product," Quirk says. "So, I had to write a letter of explanation so that we could call it Cardinal Spirits Vodka Soda."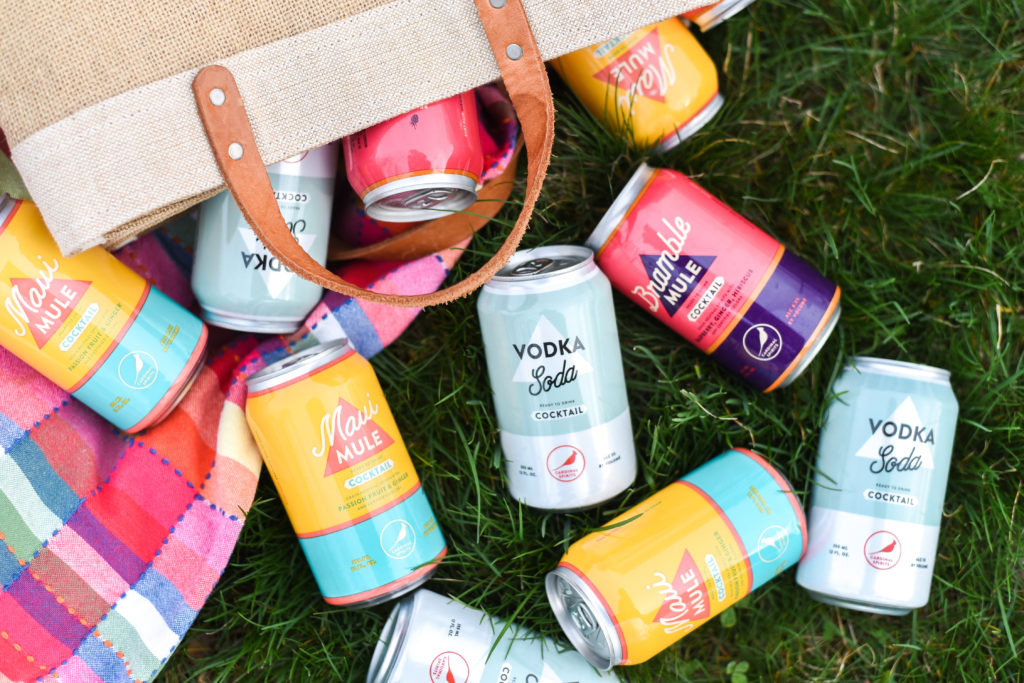 Interboro Spirits and Ales of Brooklyn, N.Y., ran into virtually the opposite COLA approval problem when it was told its Gin & Tonic could not be labeled gin if it's not 40 percent ABV. "They made me resubmit it as a 'recognized cocktail,' so the actual class and type on the can is Gin and Tonic with carbonation,'" says Jesse Ferguson, founder and brewmaster. "Getting the COLA approved was very difficult. It was a lot of hurdles and phone calls with the TTB."
The size of the can also proved a hurdle for Interboro, both because of technical limitations with the canning line its mobile canner was using and also because of TTB regulations. Interboro originally wanted to use an 8-ounce can—the perfect size for the distillery's 10 percent ABV Gin & Tonic—but Interboro was told it was not a legal size for spirits. Also, the canning line its mobile canner was using could not adjust the fillers to work with that can size.
Interboro's final Gin & Tonic products, in regular and Hibiscus & Lime versions, ended up being packaged in 12-ounce cans and Interboro adjusted the recipe down to a 7 percent ABV to maintain the same drinkability.
Thomas Hogue, director, Congressional and Public Affairs, for TTB, says the same process and regulations apply regardless of whether a product is canned or bottled. What matters, he explains, is whether it is properly labeled, has an approved formula (where required), and whether the container meets the standards of fill.
"The most frequent mistake we see with distilled spirit label applications involves the label having information that conflicts with the underlying formula," Hogue says. "Not having an approved formula and having misleading information on the label are also easily avoided mistakes."
He adds that there is no fee for TTB approval and processing times should be in line with other spirits label and formula approval times, "absent the industry member failing to submit something that is approvable or responding to requested corrections in a timely manner."
Technical Challenges
Canning a spirit or cocktail brings with it several unique challenges. One known to many distillers is that the high acidity in some products can eat away at the structure of the can itself, such as the inner liners.
But Megan Easterling, marketing manager for Ball Beverage Packaging North & Central America, one of the major cans suppliers, says Ball works with its customers to test their recipes to make sure they are compatible with cans. "We perform similar tests for all new beverages packaged in cans and are able to leverage years of experience to advise our customers on how to make their beverages best suited for cans," she says.
Quirk also says that when Cardinal initially began canning its cocktails, it encountered an issue with post-canning fermentation. This can be a challenge with craft cocktails that use sugar-heavy ingredients like real fruit juice in their recipes. The solution Cardinal turned to was tunnel pasteurization, where the cans go through a high-heat process to kill off any bacteria after the beverage has been canned. One of the drawbacks, however, is that tunnel pasteurization can be a costly process to deploy.
"The big thing to worry about there is you absolutely want the finished product to be as stable as possible," says Tyler Wille, CEO of Iron Heart Canning, a mobile canning company based in Manchester, N.H.. "We recommend pasteurization, or you can use things like Velcorin, which is a chemical additive, to basically stop yeast from acting." Using very fine filtration is another common way to make sure any remaining yeast or bacteria is removed prior to canning.
Another thing craft distillers should be aware of is the need to pressurize the cans properly, either with carbonation or nitrogen dosing, to maintain the integrity of the can structure. But carbonation presents its own set of challenges as well.
It's one thing to can a still cocktail, McKinley notes, but it's a whole other matter when you introduce the element of carbonation into a cocktail. Bartenders putting cocktails on tap and carbonating them through the draft system would know that issue all too well. Taking a margarita, for example, putting it in a keg and then adding carbonation changes the chemistry, as well as the mouth feel and the flavor of the drink.
"You're adding carbonic acid and it sort of adds a bitterness and an acidity that you don't have in just the cocktail you drink out of the glass," McKinley explains. "So it definitely required us and our co-packer to formulate that recipe and really refine that over time so that when you drink it straight out of a can, it's a really nicely balanced cocktail."
Getting the liquid cold enough for proper carbonation is also important when it comes to canning. If the liquid is not cold enough, it can become foamy and hard to can. Interboro, for example, (which now cans in-house) uses the glycol system from its brewery to cool its Gin & Tonics for canning.
"Finding the right carbonation level for the can is really important when you're creating a canned cocktail," McKinley says. "You want it to be fizzy enough and bubbly enough so that it's got that lively character, but of course a can has constraints. You have to make sure that you really dial that into the right level so that you're not over-carbonating and the can will burst."
Of course, if a craft cocktail is to flourish in today's increasingly crowded market, it has to maintain the high-quality flavor consumers expect when it comes to a craft spirit product. "The number one thing is the flavor," McKinley says. "We want to lead with really high-quality, really good flavor that highlights our product, our cachaça, so that when you drink these beverages you don't think you're just drinking some tropical juice. It is very clear that this is a spin on a caipirinha cocktail with organic cachaça in it."
It actually took Novo Fogo three years to develop the first canned version of its Sparkling Caipirinha, and six to nine months for its new formulations. "We're learning, we're getting better as we go," McKinley says.
In the meantime, companies like Iron Heart Canning can provide the help a small distiller needs to get up and running quickly through mobile canning lines that are wheeled right into the distillery.
"The demand is so big right now and there's not that many people doing it. I just see it as such a massive opportunity for the industry and for all the distilleries out there," says Wille. "Our business certainly has a life cycle to it, where we work with customers until they grow to a size that is conducive to them to buy their own equipment in-house. We haven't gotten to that point on the spirits side where we see the distilleries actually outgrowing us."
At the rate canning is catching on in the craft spirits industry, Wille and his team should be staying busy for quite a while.