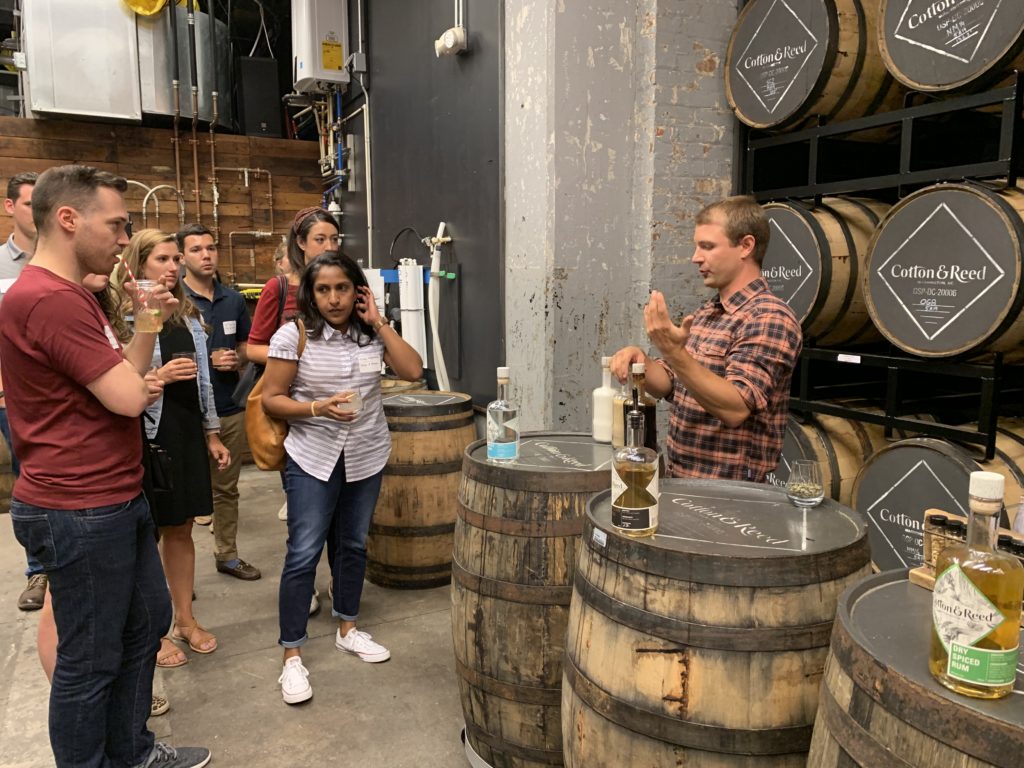 A coalition of craft beverage producers and trade groups, including the American Craft Spirits Association (ACSA), welcomed nearly two-dozen bi-partisan Congressional staffers at Washington, D.C.'s Cotton & Reed Distillery for a tour, tasting and primer on distilling, as well as an update on the status of the Craft Beverage Modernization and Tax Reform Act (CBMTRA).
ACSA joined the Wine Institute, Distilled Spirits Council (DISCUS) and the DC Brewers Guild, as well as local craft beverage producers for last Friday's event dubbed Cane to Cask.
"This industry is really unique," ACSA CEO Margie A.S. Lehrman told the gathering. "I don't think we see other business sectors in the U.S. that combine so many different crops, from the farmers who are planting grain, cane, grapes, hops…apples, pears. So, we're talking about the farmer who is so intertwined with what's happening in the American soil, and from there we go on to labels, we go on to the other manufacturing of glass and closures, of the people who are designing it."
And then, of course, there are the other stake holders on the other side of the supply chain, the distributors and retailers.
The CBMTRA reduced the Federal Excise Tax (FET) on all craft beverage producers, including distillers, whose tax bill dropped from $13.50 to $2.70 per gallon on the first 100,000 proof gallons when the law went into effect January 1, 2018. The FET reduction is set to expire on December 31, 2019 and craft producers have been fighting to make the cut permanent.
"I think it's also unique that you have all of these different categories of alcohol beverage united on this particular piece of legislation," Lehrman continued. "Because it truly does help live the American dream. It brings back Main Street."
Before co-founder Reed Walker demonstrated for the audience how rum is made and poured samples of the distiller's White, Mellow Gold and Dry Spiced Rums, he noted how FET relief has been critical for his business. The distillery opened about three years ago and much of its success can be attributed to CBMTRA.
"A large part of our growth has been due to this tax relief that's about to expire," Walker said. We're able to buy new equipment, which allowed us to triple our output capacity."
The FET reduction also enabled Cotton & Reed to hire a new distilling team, as well as a salesperson.
"We are fighting very hard for continuation and permanency of this tax bill so we can continue to grow our business," Walker added.