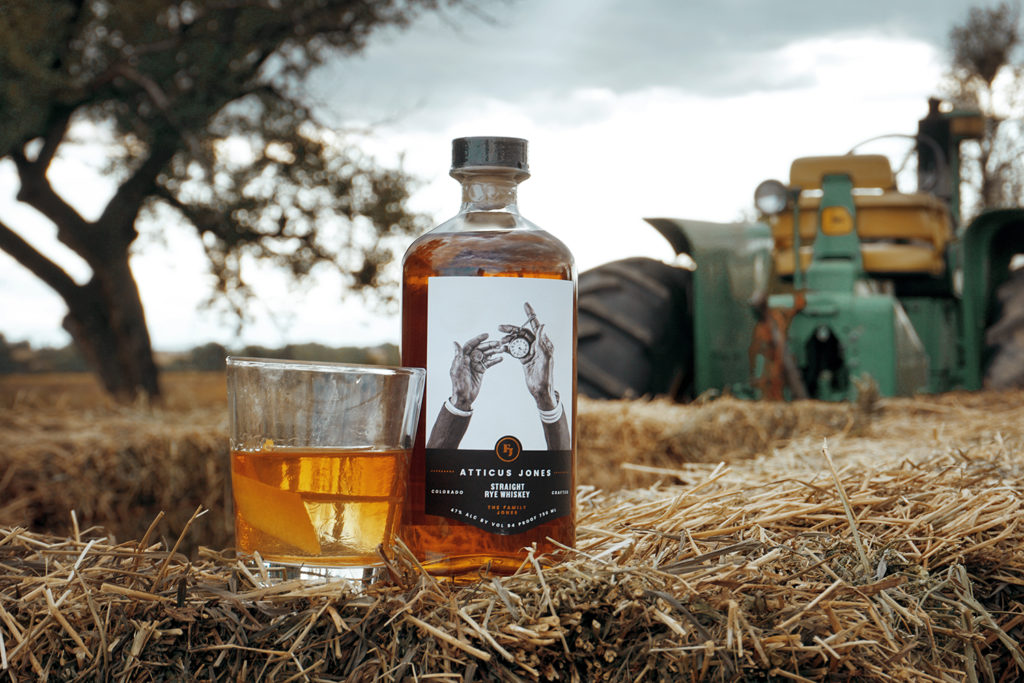 The Family Jones will officially release Atticus Jones, Colorado Straight Rye Whiskey, on Tuesday, Oct. 15. The first Straight Whiskey produced grain to glass by The Family Jones Distillery, a limited supply of Atticus Jones will be available at retail locations, bars and restaurants throughout metro Denver, Boulder, Colorado Springs and Northern Colorado, as well as The Family Jones Spirit House in Denver (3245 Osage St.) and the newly opened Loveland Distillery tasting room (1527 Taurus Ct.).
The public can also enjoy a first taste at the Atticus Jones Open House from 12-3 p.m. on Saturday, Oct. 12, at The Family Jones Spirit House. The event will include bites, $5 cocktails, live music and the first opportunity to buy a bottle of Atticus Jones. More information is available via Facebook.
Pioneering distiller and The Family Jones partner Rob Masters worked directly with local farmers at Colorado Stock and Grain, Root Shoot Malting and the Whiskey Sisters to craft a rye whiskey using all Colorado grains. The mash bill is 75% rye, 15% corn and 10% malted barley; double-pot distilled; and aged for a minimum of two years in 53-gallon barrels. Atticus Jones will retail around $49.99 for a 750-mL bottle.
"In crafting Atticus, we meticulously thought through every step in the process," said Masters. "From sourcing local grains direct from farmers to using proprietary yeast strains, every component was a calculated and conscious decision. Making whiskey is both an art and a science: Controlling the variable of each step requires the scientific methods, but knowing if the decision you've made at each step is the right one is the art."
Further, the 53-gallon, American Oak, char 3 barrels are sourced with an 18-month air seasoning of the staves, which allows natural elements—such as light, humidity and fungal activity—to facilitate changes to the oak chemistry prior to the charring process, and provides a nice balance to the spirit of the many things that happen in the aging process.
"It's more than just extracting wood flavors; in the aging process, you also have oxidation, esterification, and evaporation—among other things," said Masters. "If you only focus on one of those, the spirit will be unbalanced."
The bottle's label, which depicts hands holding a pocket watch, illustrates the importance of time in crafting whiskey, as well as the handmade nature of Atticus Jones.
"Collaboration is the heart of The Family Jones, and we've shaken the hand of every farmer we have ever purchased grain from," said Masters. "Agricultural activist Wendell Berry once said that 'every act of eating is an agricultural act,' and we believe that to be true of spirits is as well."
"It's our mission as we grow to use our spirits as a vehicle to build more meaningful connections to our rural, agricultural communities," added The Family Jones Partner Paul Tamburello.
The highly anticipated whiskey has essentially been more than a decade in the making for Masters. Known for creating Rob's Mountain Gin and a handful of award-winning spirits around the country, Masters has extensive experience in distilling, blending and crafting whiskey for others, but the seeds of his own scratch whiskey are yielding for the first time with the release of Atticus Jones. Spirits enthusiasts can also look forward to a bourbon in spring 2020, as well as a handful of other special releases in the coming years.
"The system at the Spirit House in Denver is sized to make one 53-gallon barrel of product," said Masters. "Because of that, we've been able to rack all sorts of fun and exciting aged spirits."
In addition to Atticus Jones, The Family Jones' premium spirits line includes Annika Jones Vodka, Juniper Jones Gin, Mo Jones Rum, Automatic Jones Rock & Rye and Stopgap Bourbon. The Jones House line of well spirits includes Jones House Gin and Jones House Vodka.For more information, and to find locations carrying The Family Jones products—including Atticus Jones—visit TheFamilyJones.co.