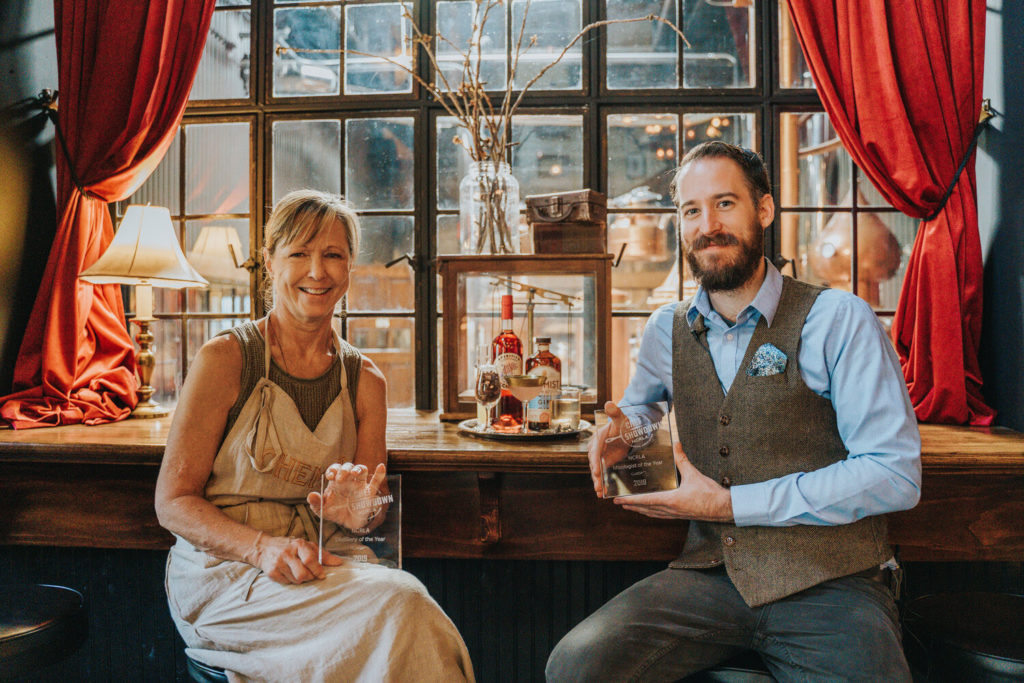 In only its second year of operation, Chemist Spirits of Asheville, North Carolina, won both "Distillery of the Year" and "Mixologist of the Year" at the North Carolina Restaurant & Lodging Association's Chef Showdown in September at Angus Barn's Bay 7 event space in Durham. In its fourth year, the Showdown has become North Carolina's premier statewide annual culinary competition.
Chemist's founder, Debbie Word, was on-hand at the Showdown to accept the "North Carolina Distillery of the Year" award — an impressive feat for a distillery that just celebrated its one-year anniversary this past June. "We use as many local, Appalachian-grown botanicals as we can and distill everything in a traditional, Old World style, on copper pot stills over direct-fire heat and using vapor infusion," Word says. "We're very proud of the spirits we make and are honored to be recognized for our hard work."
In addition to an American Gin, Chemist also produces a Barrel Rested Gin, Apple Eau de Vie, and a series of highly sought-after Bierbrand collaborations with local craft breweries. This fall, the distillery plans to release a Navy Strength Gin rested on orange peels and wild ginger, and has future plans to release single-malt whiskeys made from North Carolina-grown grains.
Brand ambassador and mixologist for Chemist Spirits, Jonny Burritt, won the coveted "North Carolina Mixologist of the Year" title at the Showdown with his Belle Époque dessert cocktail.
"I started with the soft, floral notes of Chemist American Gin and then riffed off of The Twentieth Century Cocktail to create a nice, bright, citrusy, and refreshing dessert drink," says Burritt, who was also the founding general manager of Antidote, Chemist Distillery's adjoining cocktail lounge. The passage of the ABC Regulatory Reform Act this past summer allowed distilleries in North Carolina to operate cocktail bars for the first time in the state's history and small craft distilleries, like Chemist, are already thriving from the new laws.