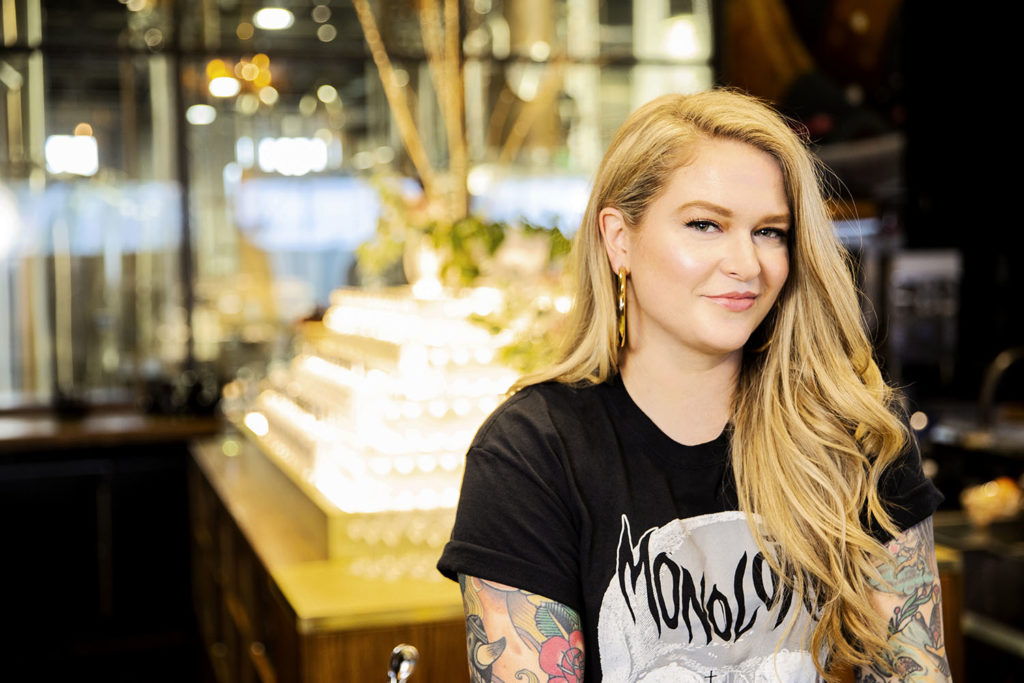 From her earliest days at 3 Floyds Brewing Co., Abby Titcomb was fascinated by distilling. So when the brewery in Munster, Indiana, decided to launch a distillery in 2017, Titcomb jumped at the chance to become head distiller of 3 Floyds Distilling Co. Craft Spirits magazine recently caught up with Titcomb to discuss the transition from brewing to distilling; the growing lineup of 3 Floyds products; and the look and feel of the distillery's recently opened tasting room.
Craft Spirits magazine: When did you start to get excited about distilling?
Abby Titcomb: It was my first real work discussion with [co-founder] Nick Floyd [in 2010]. He mentioned, 'I really want to get into distilling. How would you feel about that? Would you be into it?' I said, 'Hell yeah.' So that just planted a seed and that idea was tabled for a little bit for formulating a plan. I brewed and brewed, and then in year four we started to talk about it a bit more, and that's when we started doing our buildout. We did this huge expansion of a new bottling hall and in that expansion we built the distillery.
Do you still spend time in the brewery? And are there many collaborations planned between the brewery and distillery?
I'm on the brewhouse for the whiskey washes and the rum washes when I can be, otherwise our brewers are helping me on that side as far as getting them mashed and lautered. As far as [the distillery] and the brewery, we did do a Dark Lord variant this year. I can only imagine we'll continue to do that. We're still doing very small-batch releases of the aged whiskies. It's pretty limited, but obviously first dibs for any wet barrels go straight to the brewery.
The brewery's longtime motto is, "It's not normal." How does that apply to the distillery?
I think we hold ourselves to a standard. We've been a brewery for 23 years. It's kind of this cult following and I expect to continue that. I really want it to stand up to that par, but also I want everything to be incredible on its own. If you didn't know who 3 Floyds was as a brewery, I want you to know who 3 Floyds is as a distillery. I want to make some noise and shake things up. I want to show people new things and change their taste a little bit. … I want everything to be, excuse my language, f—— awesome and turned up to 11.
Walk us through your current lineup of products.
Divine Rite White Whiskey is our flagship at the moment. We also have that same whiskey, that same mash bill aging, so we have an 18-month Divine Rite in the tasting room available by the taste only. We have two gins, one is our version of a London Dry called Oude Boatface and we have what we're calling a Midwestern-style gin. It's a little more aggressive, it's called Wight Witch. We have a silver rum called Blanq Reavers and we have an akvavit called BustHedd that I'm super excited about. I absolutely love that spirit. It's bright green, it's just super aggressive. It's polarizing. People either love it or not so much.
Coming down the line we have some older whiskeys. In addition to aged whiskies, we'll have new gins, aged aquavit, aged rums, and other 'not normal' s—.
This summer you opened a tasting room for the distillery. What's the vibe like?
The interior is insane. I kind of describe it as a combination of 'Game of Thrones' meets Carcosa meets 'Lord of the Rings' forest meets Gates of Hell. It is kind of like a straight projection of Nick Floyd's mind. He gave our designer and the guys that built out the room just a few thought bubbles. 'I want a living wall. I want some barrel staves in play. I want these couple of things.' He mentioned 'Blade Runner.' … He just kind of gave them these keywords and they ran with it and nailed it. It's absolutely incredible. You just kind of have to see it.
You can get tastes of anything that I've made, and our cocktails are foundational. They are going to be fairly simple and really showcase the spirit rather than adding in 13 crazy ingredients. Those are just beautiful, simple delicious. We do have some food. We have a lot of desserts. We're finding that people are really finishing their night over here, so we're switching gears a tiny bit offering more there.
Obviously, there's metal.
What advice would you give to other brewers who are aspiring to start distilling?
Do it, but don't do things that are expected of you. One of the biggest questions that we get in the tasting room is, 'Oh, so you're just distilling your beer?' I say, 'Absolutely not. That's not what we're doing at all.' We're just trying to change the understanding that people have of the distillery. Do the unexpected. Everyone's doing the hopped s— now. That's great, hops are beautiful and they have a place, but think outside the box a little bit.
Could you see yourself going back to brewing?
No. I love brewing and obviously I love all of our guys and I love what we do, but distilling is my big old baby now. I love it.