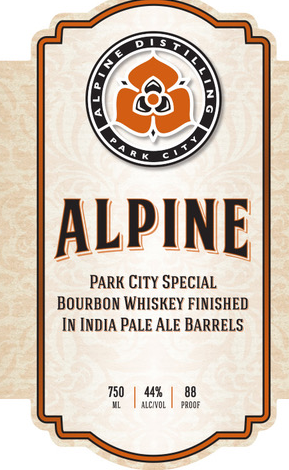 Alpine Distilling, Park City's award-winning locally-owned-and-operated craft distillery, announces the exclusive release of Park City Special Bourbon (ABV 44 %) at Alpine Distilling's two retail locations in Park City and at 122 ABC Fine Wine & Spirits locations throughout Florida.
This new expression of Alpine Distilling's award-winning bourbon is finished in barrels that previously held IPA beer. Park City Special Bourbon is described by American Whiskey Magazine as an "approachable, everyday whiskey" with notes of "warm caramel, pleasant light cinnamon, pecan and oak" and fruit flavors that become more pronounced as the whiskey rests in the glass.
Flavor notes derived from an American Whiskey Magazine tasting:
Nose: The grain essence releases vanilla and a floral hint of rose and cherry with water carrying stronger florals. Other notes on the nose are smoke with marzipan, white pepper and sage. Redolent of baked peaches with a generous dash of cinnamon or cornbread dough with caramel and vanilla.
Palate: A spike of heat conveys warm caramel, pleasant light cinnamon and a little nutmeg. Pecan and oak come through the spice to dominate and produce a slight tingle later in the finish.
Finish: Relaxed with a delicate lingering on the tongue of golden raisin. The fruit continues before drying to oak and a tingle of spice.