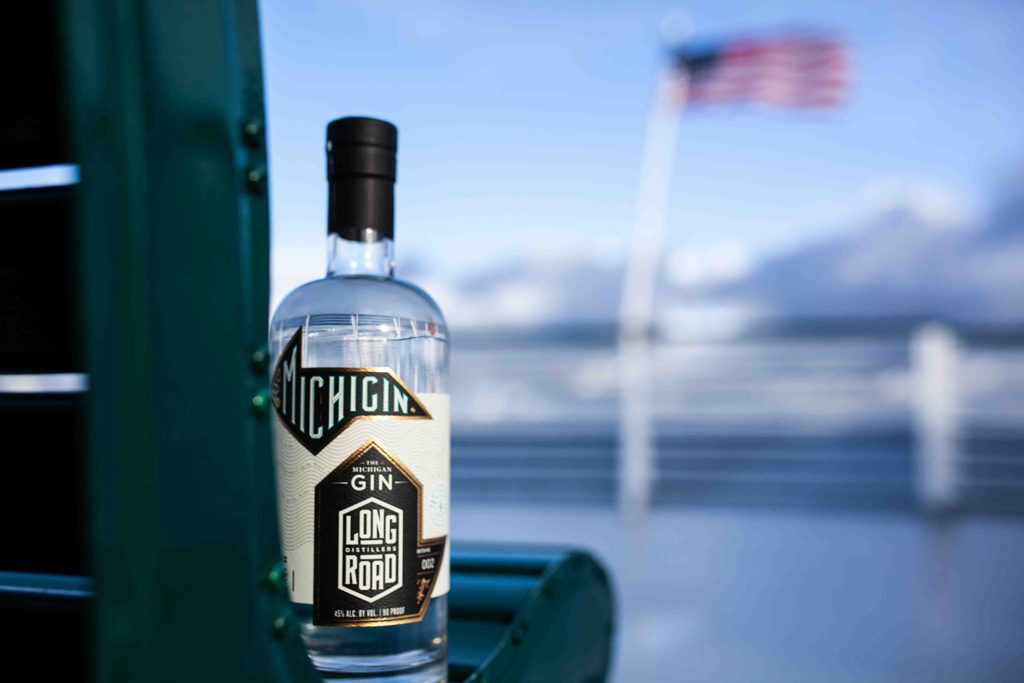 Long Road Distillers of Grand Rapids, Michigan, will release Batch No. 4 of its award-winning MICHIGIN® on Thursday, November 14 when its doors open at 4 p.m. The gin is crafted from 100% Michigan ingredients, including red winter wheat grown by Heffron Farms in Belding, and juniper hand-harvested on Beaver Island.    
In 2017, MICHIGIN® was named the "Best Gin in the World" and awarded a Double Gold Medal at the Fifty Best Competition in New York City. Ever since, the Michigan-made spirit has been highly sought after and one of the distillery's most popular products. Each batch is eagerly anticipated not only by visitors of the distillery, but by retailers and bars throughout Michigan.
"Crafting MICHIGIN® is such an important part of who we are as a distillery" says Kyle VanStrien, co-owner and co-founder of Long Road. "The adventure of making this product from scratch is the epitome of what we're all about – creating products that are world-class and doing it the right way, all while using locally sourced ingredients."
The gin's base spirit is distilled from red winter wheat from nearby Heffron Farms in Belding, Michigan that was milled on site at the distillery on Grand Rapids' West Side. It has been redistilled with a variety of Michigan botanicals, including Beaver Island juniper, lemon verbena, spearmint and fennel from Visser Farms in Zeeland, and Galena hops from the Michigan Hop Alliance in Northport. The resulting gin is unlike any other and offers a clean, fresh taste of Michigan from start to finish.
Juniper is commonly sourced through purveyors from Europe or the Pacific Northwest, however it also grows native throughout parts of Michigan. For the past four years, the Long Road team has traveled to Beaver Island, approximately 30 miles northwest of Charlevoix, to hand harvest juniper berries that grow in abundance there. Despite the extra work that goes into producing MICHIGIN®, the distillery insists the resulting gin and the connection to Michigan farmers and Beaver Island make it all worthwhile.
"By harvesting our own juniper and working with local farmers to produce MICHIGIN®, we're able to create something with a uniquely Michigan terroir," says Kyle Shutz, Long Road's Head Distiller. "Each year, the recipe is fine-tuned to more fully represent what we love about our State."
MICHIGIN®, initially, has the familiar aroma of fresh pine and juniper berries, but quickly transitions into scents of cucumber, cedar, and tropical fruits. The rich juniper flavor leads the way at first taste and gradually shifts to notes of melon, vanilla, and hints of bright citrus and mint. It's sure to please in a gin cocktail, on the rocks, or all by itself.
On Thursday, November 14, the distillery is hosting a MICHIGIN® Release Event at their Grand Rapids location to celebrate the new batch. From 4 p.m. to midnight, guests will be able to enjoy $5 MICHIGIN cocktails and have their first opportunity to purchase bottles of Long Road MICHIGIN® Batch No. 4 to take home. 
Long Road is also hosting three complimentary MICHIGIN® Experience Tour & Tastings, offering guests a behind-the-scenes look at the making of MICHIGIN® and a sampling of three unique batches: Batch No. 3, Batch No. 4 and Batch No. 2 Barrel Reserve. To participate, guests are encouraged to reserve a complimentary ticket for one of the offered tour times – 6, 7 or 8 pm – online.
In addition to the distillery's three tasting room locations (Grand Rapids, Grand Haven, Boyne City), Long Road MICHIGIN® is also available in statewide distribution for licensed retailers, bars and restaurants through Imperial Beverage Company, who distributes Long Road's portfolio of spirits.
For more information about Long Road Distillers or to find out how you can get your hands on MICHIGIN®, please visit: www.longroaddistillers.com.