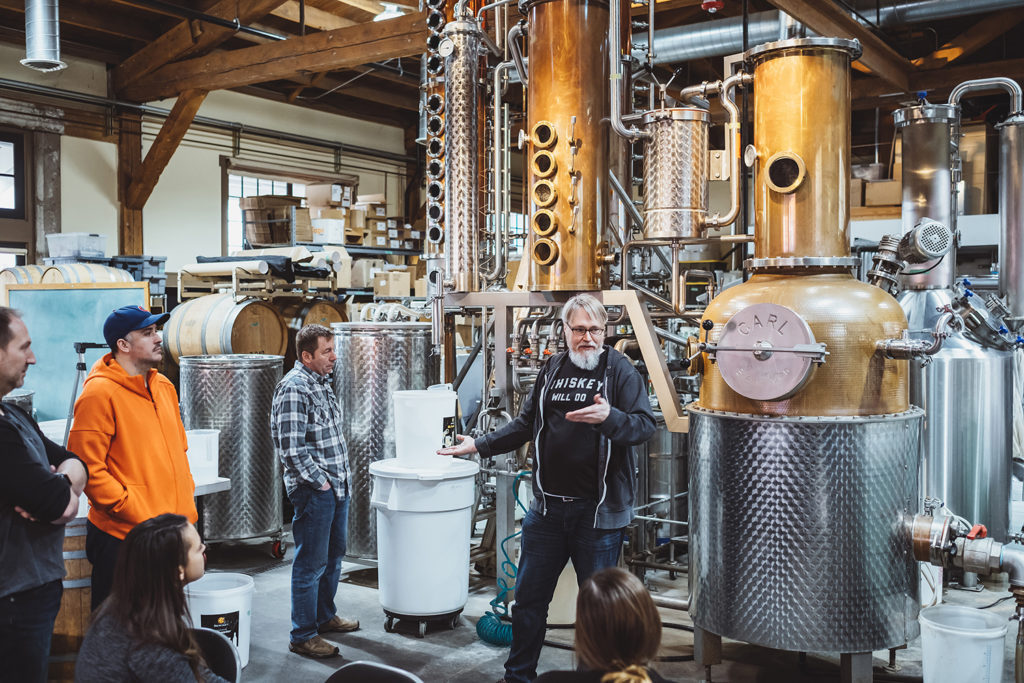 New Deal Distillery of Portland, Oregon, has released the schedule and online registration for the 2020 Hands-On Whiskey Making Classes. These popular classes are great for beginning distillers, spirit geeks and whiskey aficionados alike. "Every aspect is covered: grain choice, enzyme and yeast usage, distillation technique, and how barrel aging affects the final whiskey product," said Karen Locke, owner at High-Proof Creative. "It's a must-attend class for both distillery nerds and the mildly curious drinker."
Each five-hour class has no more than 15 students and offers a hands-on introduction to fermentation, distillation and barrel-aging of a small-batch whiskey. Students will collaborate with New Deal Distillery's owner and distiller Tom Burkleaux and leave the class with a working knowledge of craft whiskey production. Attendees will assist with creating a whiskey mash, evaluating distillation cuts, and assessing samples at various stages of the barrel aging process. 
"I came to this workshop knowing that I wanted to better understand the science and engineering of whiskey making," said class attendee, Adam Johnston. "What I came away with was partly this, but also a much clearer sense of the artistry involved. I don't think you can adequately describe this in a book, and I suspect that it's for these reasons that so many crafts are taught through some kind of apprenticeship. Within the art and craft, there are decisions you can't have a real feel for unless you're there to be a part of that decision; and you can't really get a sense for what's important in these processes unless there's a mentor."
2020 Hands-On Whiskey Making Class Schedule:
Sunday January 26, 2020, 10 a.m. – 3 p.m.
Sunday, March 1, 2020, 10 a.m. – 3 p.m.
Sunday, April 5, 2020, 10 a.m. – 3 p.m.
Sunday, May 3, 2020, 10 a.m. – 3 p.m.
Sunday, July 19, 2020, 10 a.m. – 3 p.m.
Sunday, August 16, 2020, 10 a.m. – 3 p.m.

Classes are held at the distillery (900 SE Salmon St, Portland, OR, 97214) with morning coffee, mini cocktails, whiskey tastings and lunch provided. Cost is $250 per person. Must be 21+ to attend.