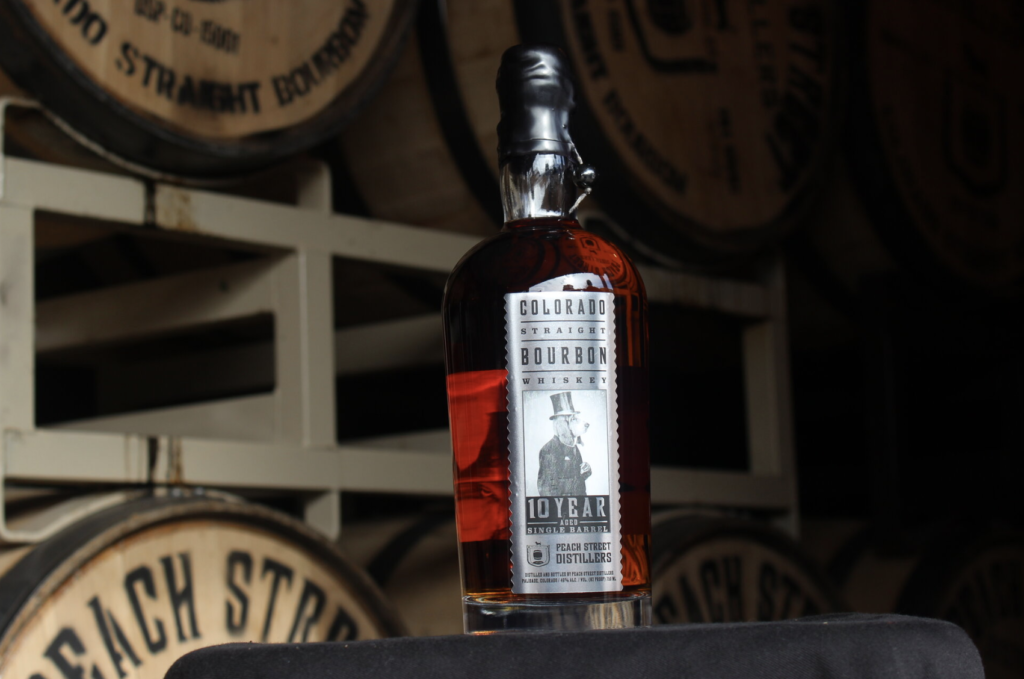 Peach Street Distillers has made Colorado history. For the first time ever, the state's oldest independently owned distillery released Colorado Straight Bourbon 10 Year Single Barrel, a bourbon that has been quietly resting in a dark corner in Peach Street's rickhouse since October 2009. Notably, this magic was occurring during a time when distilling was much less popular of an endeavor in the Centennial state.
"Traditionally, longer aged Bourbon Whiskeys are from Kentucky where the humidity and daily shifts in temperature are not so extreme," says Dustin LeMoine, Bourbon Lobbyist and Director of Sales at Peach Street Distillers. "Our little rickhouse in the Colorado desert sees very dry conditions and temperature swings of up to 40+ degrees per day. This combination draws the bourbon deep into the oak and keeps the spirit in the barrel active—further developing the flavor."
Peach Street's Colorado Straight Bourbon is made from sweet Western Colorado corn grown two miles down the road, pure Rocky Mountain water, and rye and barley from Proximity Malt in the San Luis Valley, our 10 Year Expression was aged in American Oak for ten years and bottled from a single barrel. "The result is a bouquet of flavors including cherry, cinnamon, hay, pipe tobacco, caramel and a heavy dose of leather and vanilla on the nose", according to Head Distiller, Davy Lindig. Peach Street Distillers is proudly local which is why all phases of production— brewing, fermenting, distilling and aging— were done in Palisade, Colorado.
The 10-Year Colorado Straight Bourbon joins Peach Street's award-winning lineup of Bourbon and Whiskey expressions including Colorado Straight Bourbon, 5 Year Single Barrel Colorado Straight Bourbon, Barrel Strength Colorado Straight Bourbon, Modus Hoperandi Hop Whiskey, American Peated Single Malt Whiskey and Smoked Rye Whiskey.
"There is literally no precedent for a Bourbon of this background or character," says LeMoine. "We're only emptying two single barrels this year so get it while you can!"