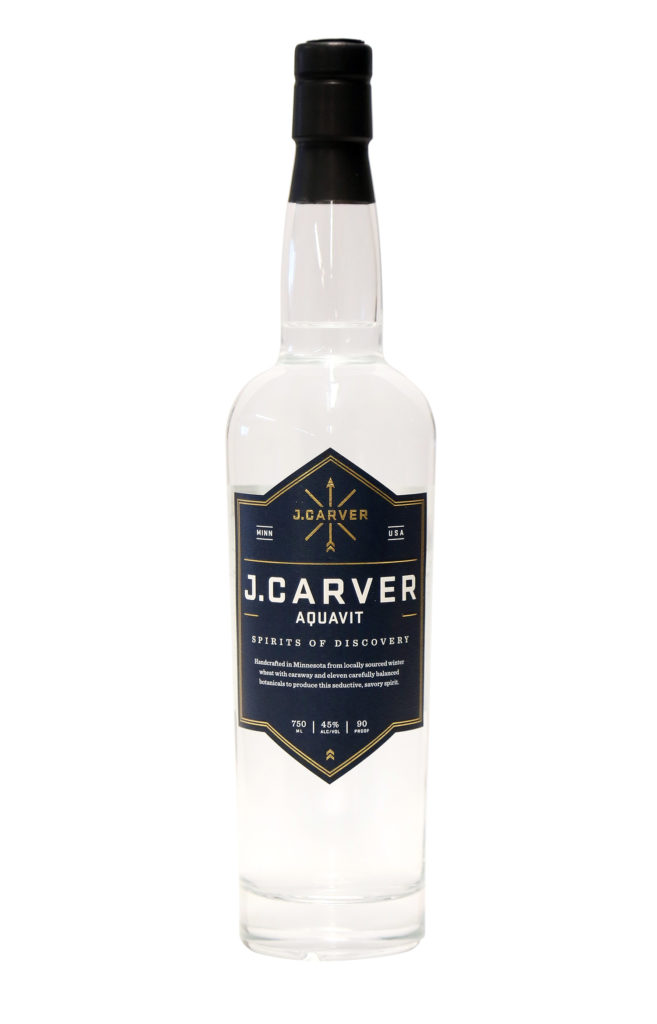 They don't make tequila and they don't make rum, but after years of development J. Carver Distillery of Waconia, Minnesota, is proud to announce that J. Carver Aquavit will soon be available on store shelves and in cocktail bars across Minnesota. With its 100% red winter wheat base produced on its 42-plate vodka column, J. Carver Aquavit delivers aquavit lovers a uniquely smooth, soft, sweet and savory experience. Botanicals include sweet orange, bitter orange, grains of paradise, fennel seed, caraway and dill.
"Scandinavians form the backbone of Minnesota's north woods history and culture, and for many Scandinavians across Minnesota there will never be enough aquavit," stated J. Carver founder Bill Miller. "For years, our customers and visitors in our cocktail room have requested that we offer the spirit they hated as children but now fondly recall from family gatherings", continued Miller, "so we are pleased to introduce J. Carver Aquavit.
"With 12 carefully balanced botanicals and its unusually creamy base, J. Carver Aquavit is a must-try for Aquavit Connoisseurs," stated J. Carver founder Gina Holman. "J. Carver Aquavit is very soft and approachable, which will appeal to those with a preference for their Aquavit consumed neat. In addition, we plan to introduce our loyal customers to a variety of creative Aquavit-based cocktails over the coming year."  
"I can't wait to introduce J. Carver Aquavit to my Scandinavian relatives," added J. Carver founder John Zupan, "and the cocktail recipes are certain to be a hit in our Cocktail Room." 
As with all J. Carver Spirits, J. Carver Aquavit is a grain-to-glass spirit, based on locally grown Minnesota grains and distilled and bottled by hand and entirely on site at the J. Carver Distillery in Waconia, Minnesota. J. Carver also would like to express its sincere appreciation to its friends at the Hewing Hotel in Minneapolis for their encouragement and assistance in the development of this unique product.