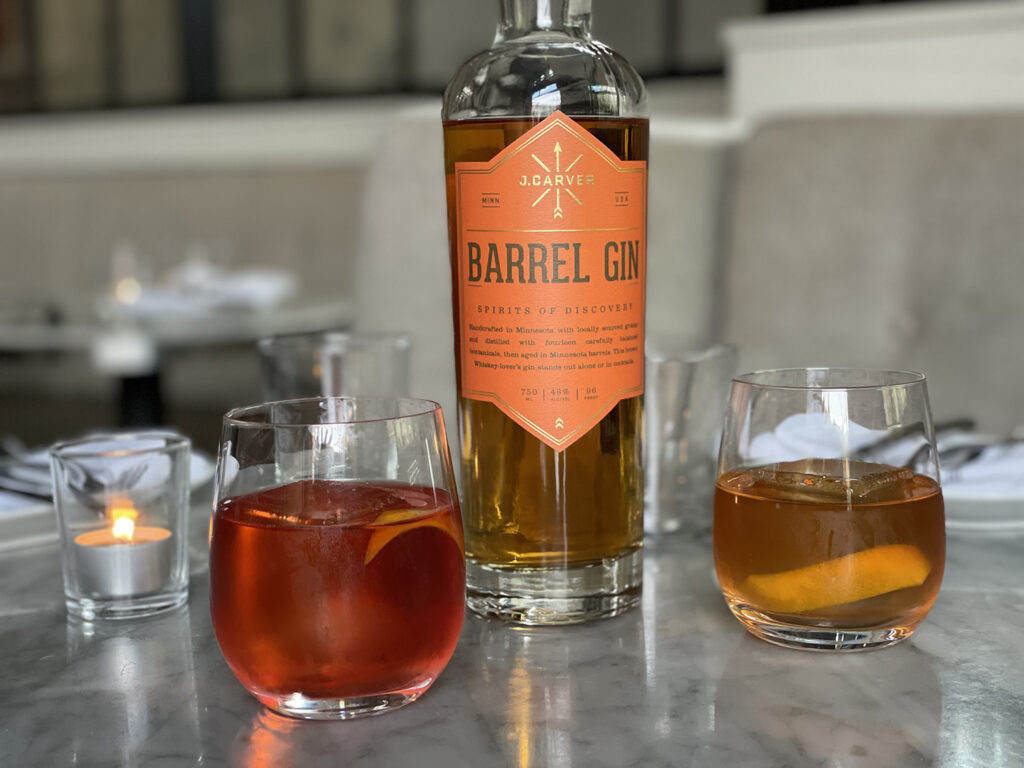 J. Carver Barrel Gin is a staff favorite at the Waconia, Minnesota-based J. Carver Distillery. Known as J. Carver's whiskey-lover's gin, it has become the darling spirit of top mixologists across Minnesota. This is a hearty 96 proof gin and adds richness to a Negroni and lovely toasted oak, citrus and botanical notes to a classic cocktail like an Old Fashioned. It tastes like a summertime Old Fashioned perfect for a backyard BBQ.
J. Carver Barrel Gin Negroni
Ingredients
1 1/2 ounces J. Carver Barrel Gin
3/4 ounce bitter Italian liqueur 
3/4 ounce sweet vermouth 
1 dash cardamom bitters
Directions
Combine all ingredients with ice and stir. Strain into a lowball glass with a large format ice cube and garnish with a flamed orange.
J. Carver Barrel Gin Old Fashioned (right)
Ingredients
2 ounces J. Carver Barrel Gin
1/2 ounce grilled pineapple and cinnamon infused demerara brown sugar simple syrup 
2 dashes orange bitters
Directions
Combine all ingredients with ice and stir. Serve into a lowball glass with large format ice cube and garnish with a flamed orange