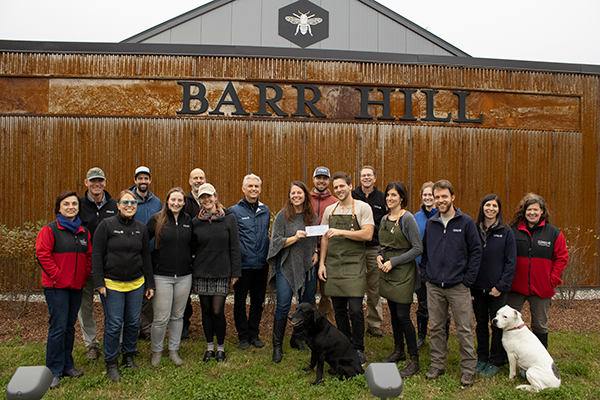 Caledonia Spirits, the Montpelier, Vermont-based makers of Barr Hill Gin, announced this week that the company raised more than $60,000 for local nonprofits in 2019.
When the company opened its new distillery and bar in Vermont in 2019, it decided to pay its bar staff a fair, liveable wage year-round and forgo traditional tipping at the bar. Instead, if visitors choose to leave something, 100% would be donated to a local nonprofit through the distillery's Community Donations Program.
Between July and December of last year, distillery visitors helped raise more than $60,000 by donating their tips. Recipients included:
The Montpelier Food Pantry, which serves 750 people in the Montpelier community every month. In July, over $9,000 was raised to help with the purchase of a new freezer and helped keep the food pantry shelves stocked for 6 months.
The Vermont River Conservancy, which works to protect the exceptional lands along Vermont's waters. Caledonia Spirits donated more than $10,000 to help keep Vermont's swimming holes, rivers, boat access points and many other areas clean and pristine.
The Bee Cause Project, which is working to build a world where current and future generations have the necessary skills to act as stewards of the natural environment. Through the Community Donations Program, the distillery presented them a check for more than $14,000 to educate about the importance of pollinators throughout the country.
The Nature Conservancy in Vermont, who works to ensure a thriving natural environment for future generations of Vermonters. During October, more than $12,000 was raised to help protect lands in Vermont.
The Center for an Agricultural Economy (CAE), which helps transform the food system for social, economic and ecological vitality. With over $9,800 raised, the CAE funds programs that support food access, farm viability and working landscapes.
The Vermont Foodbank, the largest hunger-relief organization in the state. The spirit of generosity was in the air throughout December and over $13,000 was raised. On top of the money raised, Caledonia Spirits also donated a meal for every jar of honey sold, and from Black Friday to December 31, the distillery donated 853 meals.
Caledonia Spirits looks forward to supporting more organizations through its Community Donations program. In January the recipient will be The North Branch Nature Center.