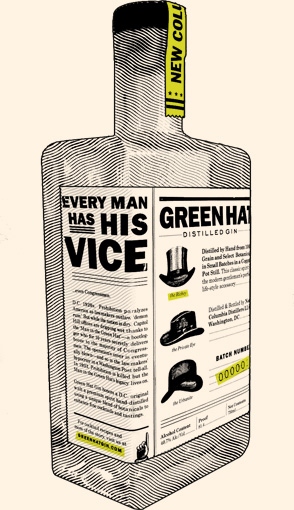 MGP Ingredients, Inc. announced the acquisition of New Columbia Distillers LLC, based in Washington, D.C. New Columbia Distillers produces and markets Green Hat Gin and operates a distillery with retail tasting room, bar and gin garden in Northeast Washington, D.C. The distillery and its retail operations will continue to operate with the current management team, and its popular range of Green Hat Gin styles will be phased into expanded distribution as a new addition to MGP's portfolio of award-winning brands. Terms of the transaction were not disclosed.
"We are thrilled to add New Columbia Distillers and Green Hat Gin to the MGP Brands portfolio," says MGP president and CEO Gus Griffin. "As the largest producer of distilled gin in the U.S., we have a depth of expertise and commitment to the category that makes this a very exciting complement to our vodka, bourbon and rye whiskey range. We look forward to growing our brand strategy with gin, while also developing a direct-to-consumer experience in the vibrant Washington metropolitan market."
Michael Lowe, co-founder of New Columbia Distillers, says, "We are honored to be a part of the MGP team and help them realize the full potential of Green Hat Gin. MGP shares our vision to celebrate authentic, quality-made spirits with the resources to support our existing customers while also expanding our reach to new markets. We look forward to working with them to ensure the success of this next chapter of our brand story." As part of the team integration, John Uselton, co-founder of New Columbia Distillers with Lowe, will join MGP Brands as a regional sales director, supporting the continued success of Green Hat Gin in the Maryland and Washington, D.C. markets. He will also focus on the continued growth of the MGP Brands portfolio in the region. The distillery and retail operations will remain in place, and Michael Lowe will serve in an advisory capacity.
New Columbia Distillers LLC (1832 Fenwick St. NE) was founded in 2011 in the Ivy City neighborhood of Washington, D.C. Housed in an historic warehouse, New Columbia Distillers was the first distillery licensed in D.C. after Prohibition, and offers on-site production as well as a tasting room, bar and gin garden. Green Hat Gin is named for local bootlegger, George Cassiday, who was known for his signature green fedora. During Prohibition, Cassiday operated an illicit distribution center out of the House and Senate Office Buildings, where he supplied bootleg spirits to senators, congressmen and their staffs. He became an outspoken critic of Prohibition until its repeal.
MGP's proprietary portfolio of brands includes TILL American Wheat Vodka, George Remus Straight Bourbon Whiskey, Remus Repeal Reserve Straight Bourbon Whiskey, Rossville Union Straight Rye Whiskey and Eight & Sand Blended Bourbon Whiskey. Products are available in Arizona, Colorado, Connecticut, Illinois, Indiana, Kansas, Kentucky, Maryland, Montana, Minnesota, Missouri, Nebraska, Ohio, Tennessee, Texas, Wisconsin, and District of Columbia (DC).