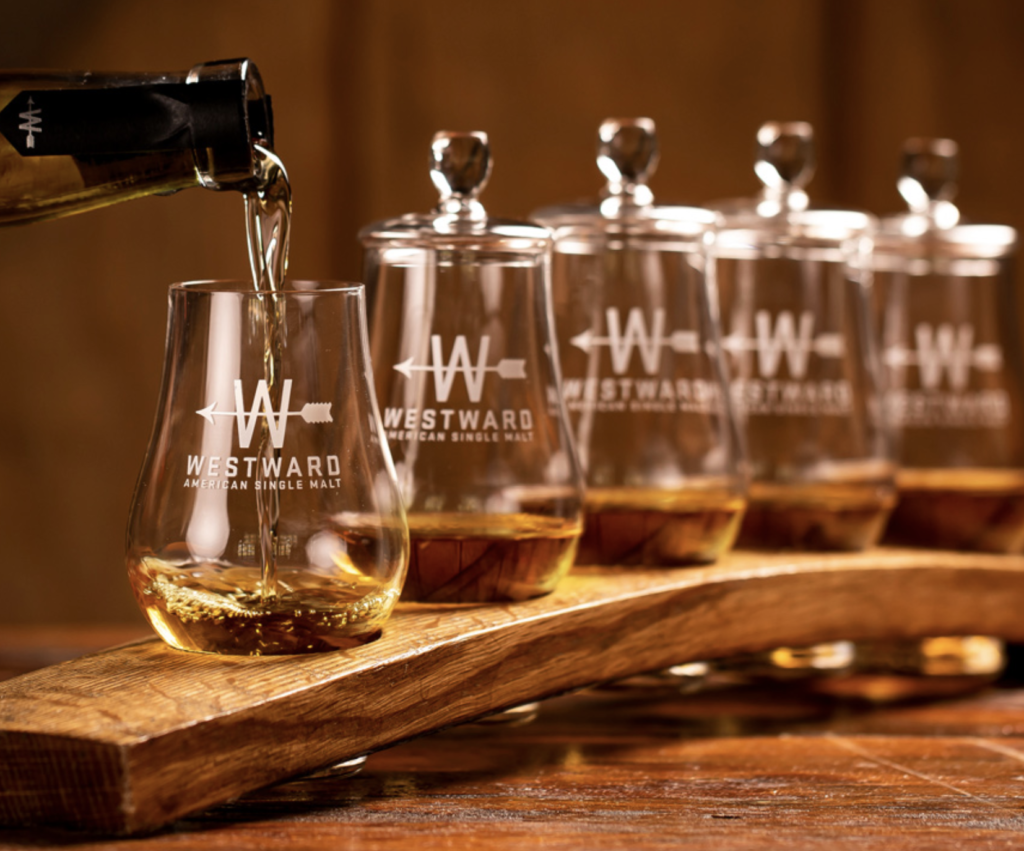 To celebrate International Women's Day (March 8) and Women's History Month (March), Westward announces a charitable program to celebrate the women of Westward and the brand's commitment to female leadership. Launching on March 8, this first-of-its-kind program will benefit breast cancer research through a partnership with Speed Rack, an organization that has raised more than $1 million for this cause to date. The program includes a limited-edition single barrel benefit release as well as charitable events in key cities including New York, Los Angeles and Portland, Ore., all spearheaded and hosted by the incredible women of Westward. Westward's roster of equity partners includes as many women as men, and women outnumber men on the American Single Malt producer's leadership team. These partners include Brooke Arthur, Vice President, Global Education and Advocacy; Erin Hayes, Director of Sales & Trade Advocacy; Kelly Woodcock, Vice President, Retail & Hospitality; and Tamara Beers, Vice President of Finance.
Available on March 8 at the Westward Whiskey Distillery Tasting Room in the heart of Portland, Ore., the Women of Westward Benefit Barrel was hand-selected by Westward distiller Claire Longyear and Portland-based equity partners Kelly Woodcock and Tamara Beers. Fittingly barreled on International Women's Day in 2017, this 375 ml offering bottled at 90 proof is available for $64.95. The whiskey has an aroma of warming spices, toasted almond and vanilla sweetness backed by a balanced and slightly smoky flavor with a creamy and buttery taste, followed by a hint of spice and clean, smooth finish. For each bottle sold, Westward will donate 15 percent of proceeds to Speed Rack.
In Portland, Westward will further its support of the cause during the month with a signature tasting room cocktail on tap, "Laughing Water," created by Brooke Arthur (recipe and link to high-res image below). Beginning on March 8 and continuing through the end of the month, Westward will make an additional contribution to Speed Rack for each cocktail sold. Both the barrel and cocktail will launch on International Women's Day with a special happy hour and bottle signing from 2:00pm – 4:00pm PT hosted by Claire Longyear at the Westward Whiskey Distillery Tasting Room.
The celebration will continue coast to coast on International Women's Day with Westward Cocktail Events at women-owned venues. In New York, Brand Ambassador Leanne Favre will celebrate the holiday at Leyenda, while Brooke Arthur will mix drinks in Los Angeles at Death & Co.  Each event will feature a dedicated Westward menu with a portion of each drink sold going to Speed Rack. Event details are as follows, both on Sunday, March 8:  
New York:
Leyenda
221 Smith St  
Brooklyn, NY 11201
Hours: 4 p.m.-8 p.m. ET

Los Angeles:
Death & Co.
810 E 3rd Street
Los Angeles, CA 90013
Hours: 3p.m. – 7p.m. PT
"Westward has more women on its leadership team than men, and is equally represented with as many female partners as there are male partners," says Thomas Mooney, Founder and CEO, Westward Whiskey.  "Together, we are extremely proud to have shaped an inclusive team that above all celebrates our team members' skill and expertise. This is the first of a multi-year commitment to our International Women's Day Benefit Barrel program, and we look forward to continuing to build momentum next year." 
"We are so thrilled to roll out our programming and events for International Women's Day," said Brooke Arthur, partner & vice president, Consumer Education and Advocacy.  "We've got a powerhouse team of inspiring females that are extremely dedicated to what they do.  I can say it's such an honor to be part of the amazing team of Westward women, and I look forward to continuing this celebration for years to come."