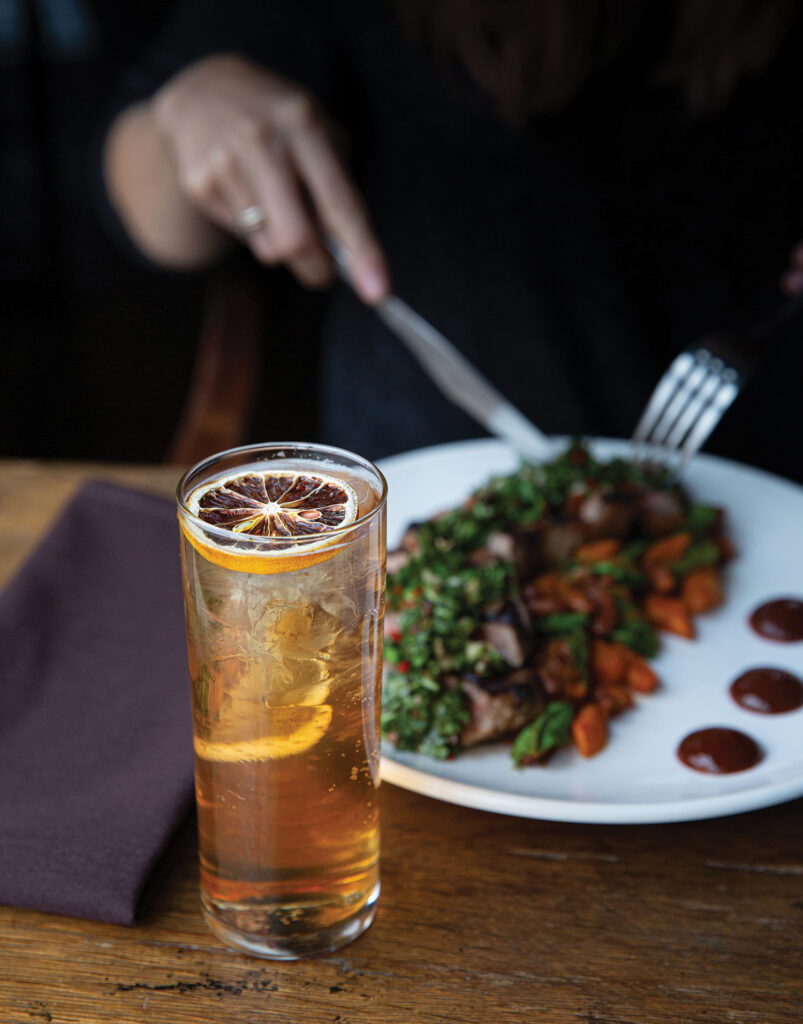 Distilleries are teaming up with restaurants to create memorable dining experiences for the everyday meal and special nights out. Foresight and proper planning are key to success. 
With the number of craft distilleries on the rise in the U.S., some spirits makers are looking for ways to reach new consumers. At the same time there are restaurants with robust cocktail programs that want to show off their chops. Together, the two segments are creating specialty dinners that showcase individual spirits, cocktails and a menu that perfectly complements. 
While spirit pairing dinners are not as popular as wine or beer pairing dinners—yet—there is still an increasing number of them happening across the country and everyone, it seems, is learning as the trend grows.
Spirit or cocktail dinners are a three-way collaboration between the distillery, the chef and a mixologist. The first important thing is making sure a distillery has a diverse portfolio. A distillery that only makes whiskey, or a specific kind of spirit, may be difficult to pair with multiple courses.
"Overall these dinners are more challenging, but I do think that if done well, [spirit-based] cocktails do just as well or even better than wine at pairing dinners," says Jimmy Marino, the bar manager and co-owner of Black Sheep Brasserie in San Jose, California. "But it helps if a distillery has a gin, a vodka, an agave spirit, because it helps the chef broaden out into different food items and it helps us create cocktails to match."
Often these dinners are seasonally based, allowing the bar to use fresh herbs, produce and more to bring out flavors and highlight what comes out of the kitchen.
Bradford Faris, the lead bartender at the Ritz-Carlton, San Francisco, says having a wide range of spirits to choose from helps everyone have a better experience. It can also mean using the spirits as part of the recipes.
He recalled a recent dinner with St. George Spirits of Alameda, California.
"We made an effort to highlight the spirits as a component in the food as well," he says. "Some of this is spelled out in the menu, others were verbally explained by our chef as the dishes were being served. I recall he used the Breaking & Entering [American] Whiskey in the marinade for the lamb loin, thereby showcasing the spirit in three forms: taste of spirit, cocktail and food. We received some positive feedback on that approach."
On the menu at Watershed Kitchen & Bar in Columbus, Ohio, executive chef Jack Moore says variety is key to creating a proper experience. This is not just for special pairing dinners, but everyday service.
"There are some things that are heavy and meat-centric. And others that are lighter and refreshing. If someone chooses a highly acidic sweet cocktail, I would try not to pair it with our Brussels sprouts, which would be similar," he says. "If the cocktail will wake the palate up, we have an opportunity to put a little something heavier on the plate. If the food is a little more acidic and sweeter like our Brussels sprouts, we can go with a little boozier cocktail. It can be hard for an average diner to see how much thought is put into the menu on a daily basis because they end up choosing their preferences."
When it comes to a specific dinner however, the kitchen and bar can work more closely on finding just the right balance. It is also important to remember alcohol strength during these dinners.
"We vary between low proof and full proof," says Josh Gandee, the beverage director at Watershed Kitchen & Bar. "We absolutely need to be mindful about this sort of thing. I've been to chef tasting dinners where you're leaving in a coffin at the end."
Clearly, that's not the goal.
There's also a service component to take into account. Unlike wine or beer dinners where pours can happen quickly, cocktails—especially for a crowd—can take time. Prep work for garnishes can happen in advance and other ingredients can be measured out, but planning is necessary to make sure drinks are served in a timely manner and not watered down by melted ice.
These dinners are a chance for distillers to get in front of a different crowd to talk about their passion. Restaurateurs interviewed for this article said that many of the folks who have signed up for cocktail diners are previous clients at wine and beer dinners and are curious about drinks and growing their alcohol education.
"We've seen people who came in not knowing what to expect leave surprised and pleased," says Marino.
The key to that, says Moore, is encouraging diners to speak up in advance and to have servers ready to guide a conversation towards the right pairing.
"Keep note of what you like or don't like," he says. "Speak up when you like it or don't. It doesn't hurt our feelings. We want people to enjoy their experience when they are in our building."
Gandee agrees, saying it's important for both sides to "tear down the language barrier and help guide [the] experience. You won't have as much fun as if you had been open and started the conversation. Be open to being turned on to new things."
For the everyday, the bar and the kitchen can work in tandem. They both have different food needs for dishes and cocktails, but sometimes an abundance of one ingredient can be a boon for the other.
"We collaborate a lot on the creation of things," says Gandee. "What is the best way to make this syrup or puree? Or I have all of these leftover pistachios. Can the kitchen use them? A lot of our collaboration comes from the sustainability side of things."
For the distiller, this means being aware of what is in season, or what might work with your product and offering up suggestions to favorite restaurants nearby. For the diner, it means a memorable night of good food and drink.
Editor's Note: This article first appeared here in the April 2020 issue of CRAFT SPIRITS magazine.