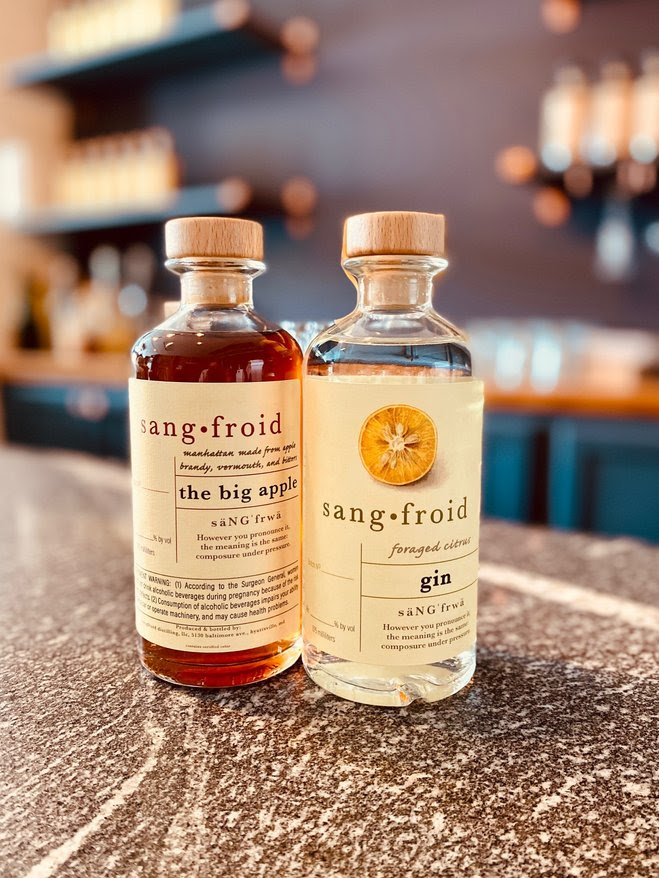 Sangfroid Distilling of Hyattsville, Maryland, this week announced the release of two new spirits.
The first is  foraged citrus gin, described by the distillery in a newsletter as such:
This is truly a modern American gin – it combines the character of our Dutch-style gin with locally foraged citrus and rosemary – with a style more like a London-dry. The result is a crisper, drier gin perfectly suited for warmer weather. This gin works great in a classic gin & tonic or any other summertime gin cocktail. And the foraged part: we use trifoliate orange, the only citrus fruit hearty enough to grow this far north. There are a bunch of wild trees around our area, and last winter we braved the tree's three-inch thorns to hand pick enough fruit to make this limited release. If we can find enough fruit next year, we'll try to make enough to offer this gin year-round.
The second is a bottled cocktail called the big apple.
During the two weekends our new tasting room was open, the most popular drink was a Manhattan made with our Grimes Golden apple brandy (substituted, by choice, in place of our rye whiskey). We do the hard part of balancing the apple brandy, vermouth, and bitters in the proper proportions. All you need to do is chill it, give it a slight shake, and garnish with whatever you'd like (we recommend a brandied cherry, orange peel, or both). Each bottle contains about four 3-ounce cocktails (plus an extra splash for the bartender).