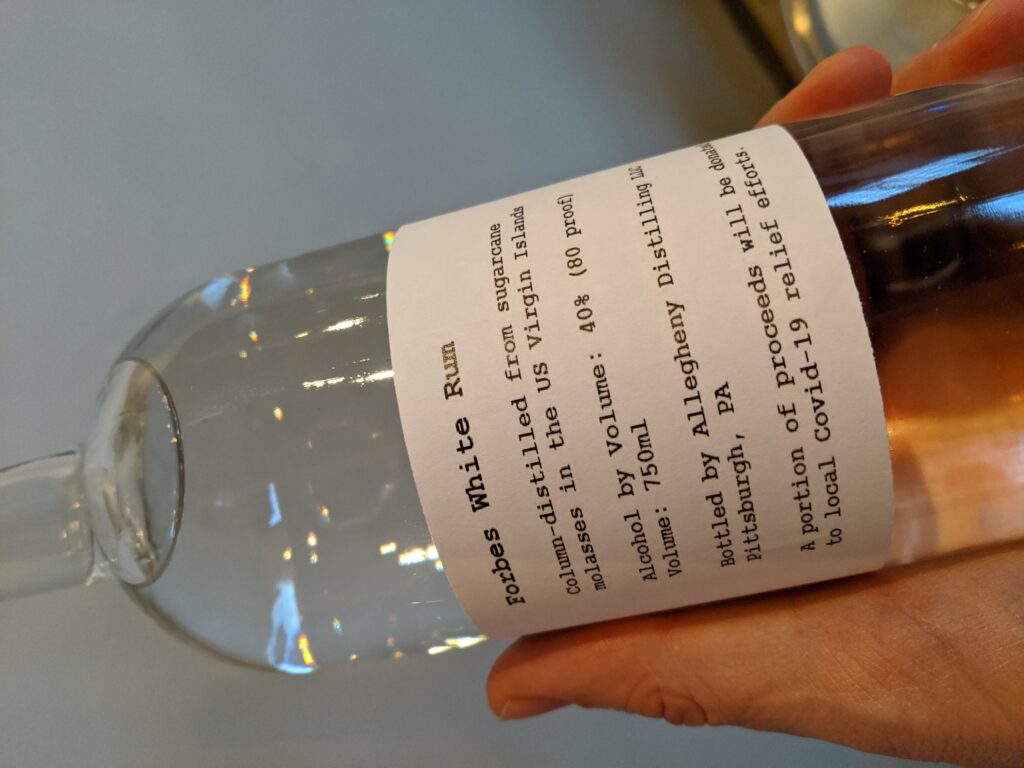 Allegheny Distilling, the producer of Maggie's Farm Rum, has released Forbes White Rum with a portion of proceeds being donated to local Covid-19 relief efforts. 
In the wake of Pennsylvania LCB stores closing down in March, it's proven nearly impossible to keep most Maggie's Farm rums stocked at the distillery. Many PA residents quickly realized that distilleries, permitted to stay open under the governor's orders, became the only outlets for spirits purchases in the entire state. Longer fermentation and resting periods for even Maggie's Farm unaged white rums, which saw higher demand from this new broader demographic of drinkers, hampered the ability to keep product stocked. A lack of inventory created the realization of a potential work shortage that could have led to further layoffs beyond cocktail bar staff.
An existing transfer-in-bond permit used to procure imported spirits for a separate contract-blended rum was quickly utilized to source a neutral Virgin Islands-distilled rum to appeal to a broader demographic. This light rum has been bottled at 80proof under the Forbes brand for the value price of $19 per 750ml with at least $2 of each bottle being donated to charity. The basic label is straight-forward with full transparency. It was decided that no statements or designs of "puffery" were to be used.
This new availability permits the distillery to stay in business and retain staff while also giving back to the community at a time when so many in it haven't fared nearly as well. To date, $2,000 has been donated to local food banks from the proceeds of Forbes rum, including 412 Food Rescue and the Greater Pittsburgh Community Food Bank. Maggie's Farm's animal rescue charity donations have also continued.
Forbes white rum will be available temporarily through Allegheny Distilling's online store for curbside pickup, local delivery, and shipping throughout Pennsylvania while inventory of in-house-distilled Maggie's Farm brands are restocked and new wholesale orders from the PLCB are fulfilled.