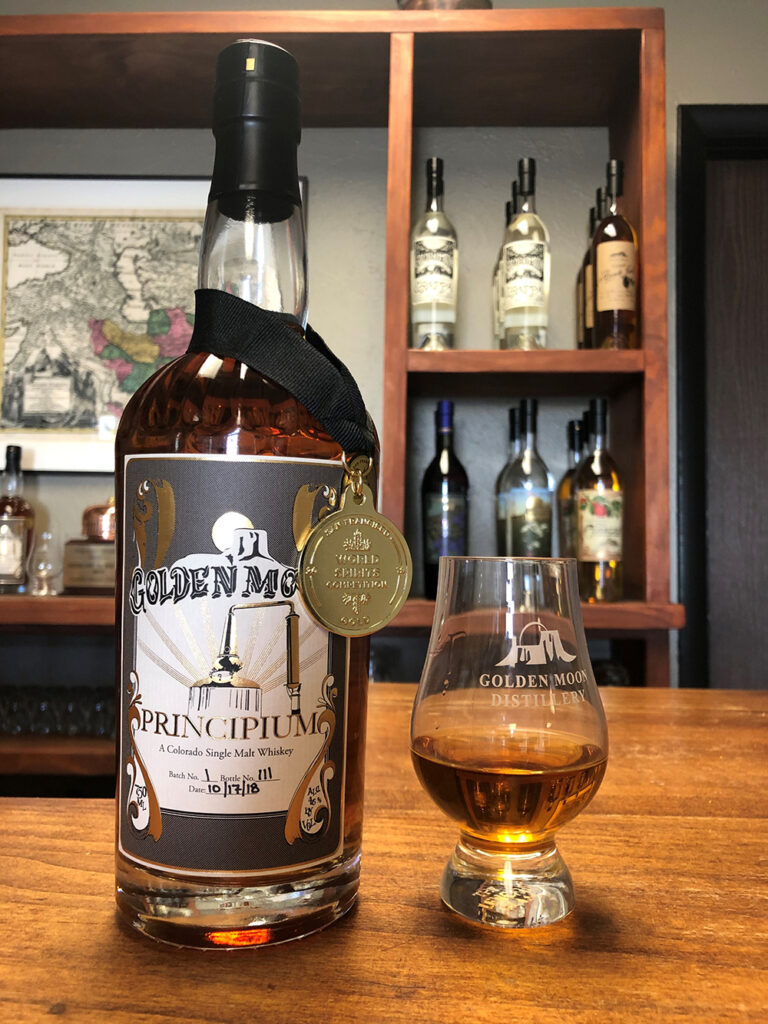 Golden Moon Distillery is proud to announce the release of two new Colorado Single Malt Whiskies in the Colorado and New York Markets. 
Golden Moon Distillery, located in Golden Colorado, was founded in 2008 by Distiller Stephen Gould and Dr. Karen Knight. Golden Moon currently produces over 20 award-winning products including single malt whiskies, gins, absinthe and a variety of brandies, liquors, liqueurs and other whiskies.
The new releases are Golden Moon Principium, A Colorado Single Malt and Golden Moon Triple, an Irish-Style Colorado Single Malt.
According to Gould:
We're really excited to release these two new uniquely Colorado single malt whiskies. Both are made from 100% two-row Moravian barley, grown in Colorado and the surrounding states and malted right here in Golden, Colorado. Both are milled, mashed, fermented, distilled and cask-matured here at Golden Moon Distillery. We use a unique mashing procedure and a proprietary strain of yeast for fermentation for all our single malts whiskies. 
Principium is a double-distilled single malt whiskey that is matured in charred white American oak casks. It is a smooth, approachable whiskey, full bodied with a malty character and nice caramel notes. It is bottled at 46% ABV / 92 Proof. It took a Gold Medal this past year at the San Francisco World Spirits Competition. 
Triple is a limited release (allocated) triple-distilled single malt whiskey that is also matured in charred white American oak casks. We've only produced 500 bottles of this whiskey. I have been a consulting master distiller in Ireland for the last couple years, and that work has inspired me to play around with traditional Irish-style whiskey production techniques here at Golden Moon. This is one of the results. It is a light and friendly whiskey with a wonderful mouthfeel, slightly sweet with a touch of brown sugar character. It is bottled at 46% ABV / 92 Proof. 
Golden Moon Distillery's products are distributed in Colorado by RNDC and New York by Blue Print Brands.