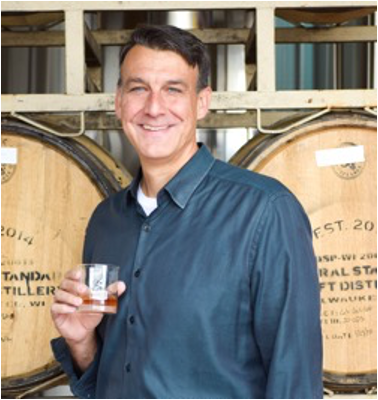 Milwaukee-based Central Standard Craft Distillery co-founders Evan Hughes and Pat McQuillan have announced a strategic C-level new hire. Local executive Jim Kanter joins the distillery teams as chief commercial officer. Kanter delivers more than 15-years of hands-on industry experience to the newly created role.
Most recently, Kanter held the same title at Sprecher Brewing Company. He also spent 14-plus-years at MillerCoors, where Jim was the general manager of Wisconsin and vice president of commercial operations. "Pat and I adhere to the business philosophy that you always hire people smarter that you," says Hughes. "Jim brings Central Standard hands-on, real-world experience at the highest level of our industry. He instantly makes us smarter in the sales-and-growth areas of our business."
Along with his commercial experience, Kanter is also highly involved in Milwaukee. He is chairman of the board of the Wisconsin Center District, which encompasses the Wisconsin Convention Center, Miller High Life Theater and UWM Panther Arena. Jim also serves on the board for VISIT Milwaukee and Discovery World, as well as the advisory board to Donald Driver's Driven to Achieve Foundation.
"Jim and his philanthropic mindset are a natural fit with our local-helping-local commitment to the community," McQuillan says. "Jim shares our dedication to making Milwaukee the best it can be."
Kanter was candid when asked about his new role. "I've known Pat and Evan for years and have always admired their entrepreneurial-business approach, as well as what they've accomplished in such a short period of time," he says. "When we started talking, I realized that growing sales for this dynamic craft distillery at this pivotal time in Central Standard's growth trajectory was not only an incredible opportunity, it would be a dream job for me."