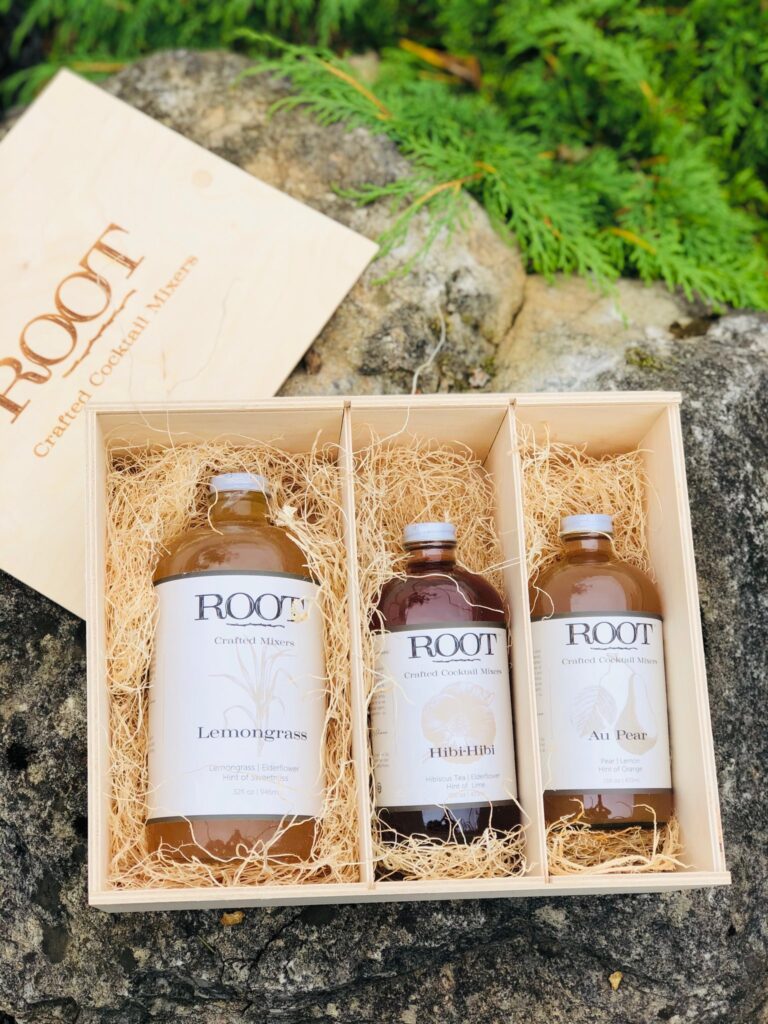 ROOT Crafted, a woman-owned organic cocktail mixer company from Bethlehem, Pennsylvania, unveiled a line of five gift packs just in time for the upcoming holiday season. Designed to accommodate a range of price points, ROOT Crafted gifts packs start at $29 and go up to $99 for the large gift box. Cocktail enthusiasts can mix and match flavors to create easy and delicious drinks with quality organic ingredients. 
The Cocktail Party Pack ($29) features four-ounce bottles of Lemongrass, Au Pear, Hibi-Hibi, Granada and a branded jigger for easy measuring. The Burlap Bag gift set ($48) lends a rustic flair with copper-plated Root Crafted shaker and a choice of one 16-ounce cocktail mixer. The Holiday Hostess Box ($55) is the perfect gift for those who love to entertain; a 32-ounce bottle of Lemongrass is ideal for batchable cocktails for small gatherings 16-ounce bottles of Hibi-Hibi and Au Pear encourage experimentation with different spirits.
In a branded wooden crate, the Small Gift Box ($70) has everything needed to serve up a delicious cocktail, including a copper-plated Root Crafted shaker and choice of any two 16-ounce flavors. The Large Gift Box ($99) is the ultimate set offering five 16-ounce bottles along with a Root Crafter copper plated shaker. The Large Party Pack can also be found on Amazon as well.
"Whether you want to experiment with flavors or go all in and make a large batch of cocktails, we created gift boxes that are flexible and easy – just like our ROOT Crafted mixers," says Diane Aemisegeo, Co-Founder of ROOT Crafted cocktail mixers. "Finding the right gift can be stressful so we wanted to create gift packs that are flexible for consumers price point, easy to ship and give while looking really great," explains Trish Lauden, Co-Founder of ROOT Crafted cocktail mixers.