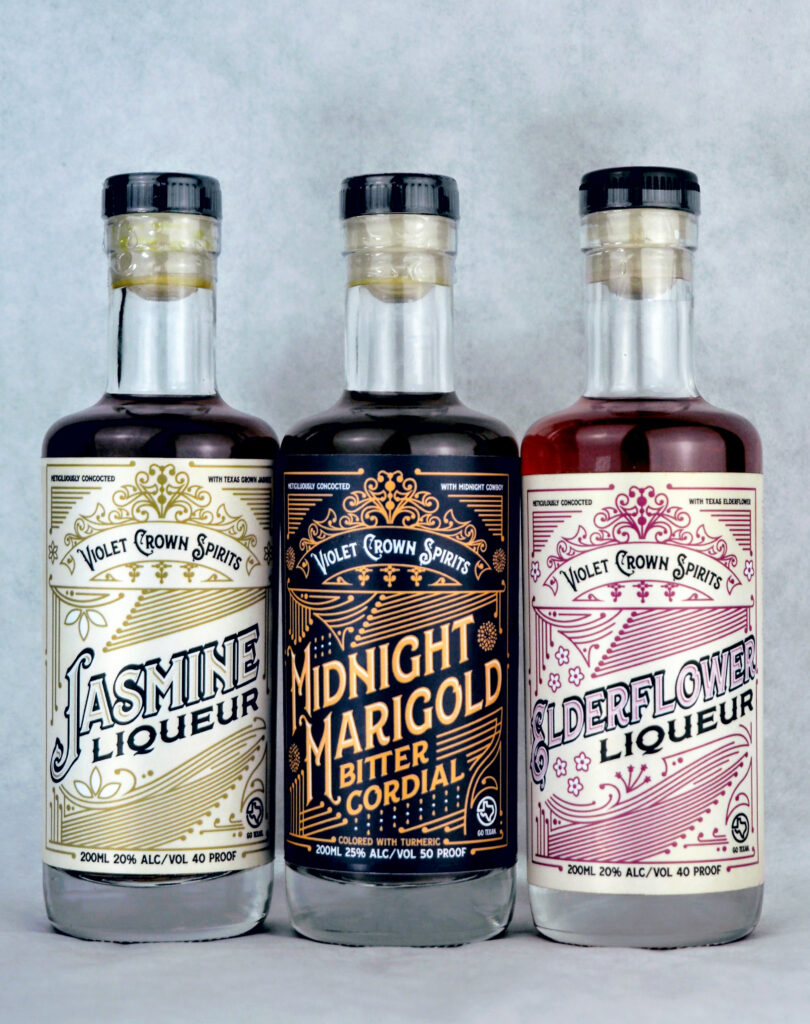 Violet Crown Spirits of Bastrop, Texas, has launched a new way to enjoy the distillery's Jasmine, Elderflower and Midnight Marigold liqueurs in one triple-threat collection: the Texas Wildflower Trio. Featuring all three liqueurs in 200-mL bottles, the Texas Wildflower Trio spirits are handcrafted with locally sourced ingredients and offer a variety of fresh and floral facets of the Texas terroir. The package also includes suggested cocktail recipes from renowned Austin bartenders, making it the perfect addition to any bar cart. The Texas Wildflower Trio is now available in Texas statewide.
Founded in 2015 by Jessica Leigh Graves, Matt Mancuso and Chris McLaughlin, Violet Crown Spirits entered the craft spirits world when they released Emerald Absinthe, the first Texas-made absinthe.
In 2018, Violet Crown launched the Jasmine Liqueur marked by crisp vegetal notes of green tea, bold black tea and honey sweetness with a lightly tannic finish and lingering jasmine scent. The distillery followed up with the Elderflower Liqueur – a big, round, juicy take on the classic bar cart staple featuring bright lemon citrus underscored by hard candy sweetness with notes of passion fruit, mango, kiwi and strawberry candy. The final installment of the series, Midnight Marigold Bitter Cordial, was created in collaboration with Ryan Ehrlichman of the acclaimed Austin cocktail bar, Midnight Cowboy. In the spirit of an amaro, Midnight Marigold is a bold, bitter yet softly sweet liqueur with herbaceous notes of spice including coriander, caraway and earthy turmeric with a candied ginger and rye finish.
When speaking of the inspiration behind packaging all flower liqueurs in one trio, Graves states, "Being a small operation, we at Violet Crown Spirits wanted to give people an opportunity to try our products without trekking out to Bastrop or buying three full-sized bottles of our liqueurs to know what we're about. The Texas Wildflower Trio and corresponding cocktail recipes are for people who are curious, interested and ready to explore cocktails they haven't tried before in an easy, accessible way."
Each bottle in the Texas Wildflower Trio measures 200 mL with the Jasmine Liqueur at 40 proof, the Midnight Marigold Bitter Cordial at 50 proof, and the Elderflower Liqueur at 40 proof. Each Trio package comes with suggested custom cocktail recipes created by local Austin bartenders Ryan Ehrlichman of Midnight Cowboy, Kelsey Caudebec of The Tigress Pub, and Caer Maiko and Sharon Yeung of Daijoubu. It is produced by Violet Crown Spirits' home base, Derelict Airship Distillery LLC, and distributed by Texas Tru. The Texas Wildflower Trio is available for purchase at select liquor stores throughout Texas. The Trio pack's suggested retail price is $25.99, but cost will vary between retailers.