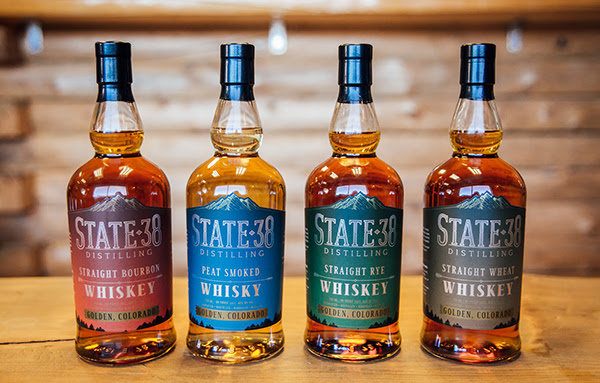 State 38 Distilling recently announced a new look for its lineup of whiskey. From the nearby Red Rocks to the blue Colorado skies, these new label colors were influenced by the distillery's surroundings in Golden, Colorado.
In addition to the new look, State 38's Straight Rye and Wheat Whiskeys are now available in Colorado retail stores as well. Both are made with Colorado grains and presented at 90 proof. State 38 Straight Wheat Whiskey has an earthy tone with a slight sweetness while the State 38 Straight Rye Whiskey has notes of butterscotch, burnt fig, and cherry.
Want to give a bottle as a gift for the holidays? The distillery is offering gift wrapping and gift boxes will also be available for purchase and will include everything from glassware to mixers. Stop by during normal business hours starting Tuesday, November 24, through the end of December.
If you'd like to buy ahead of time you can purchase any bottle or cocktail kit by visiting the distillery's website.