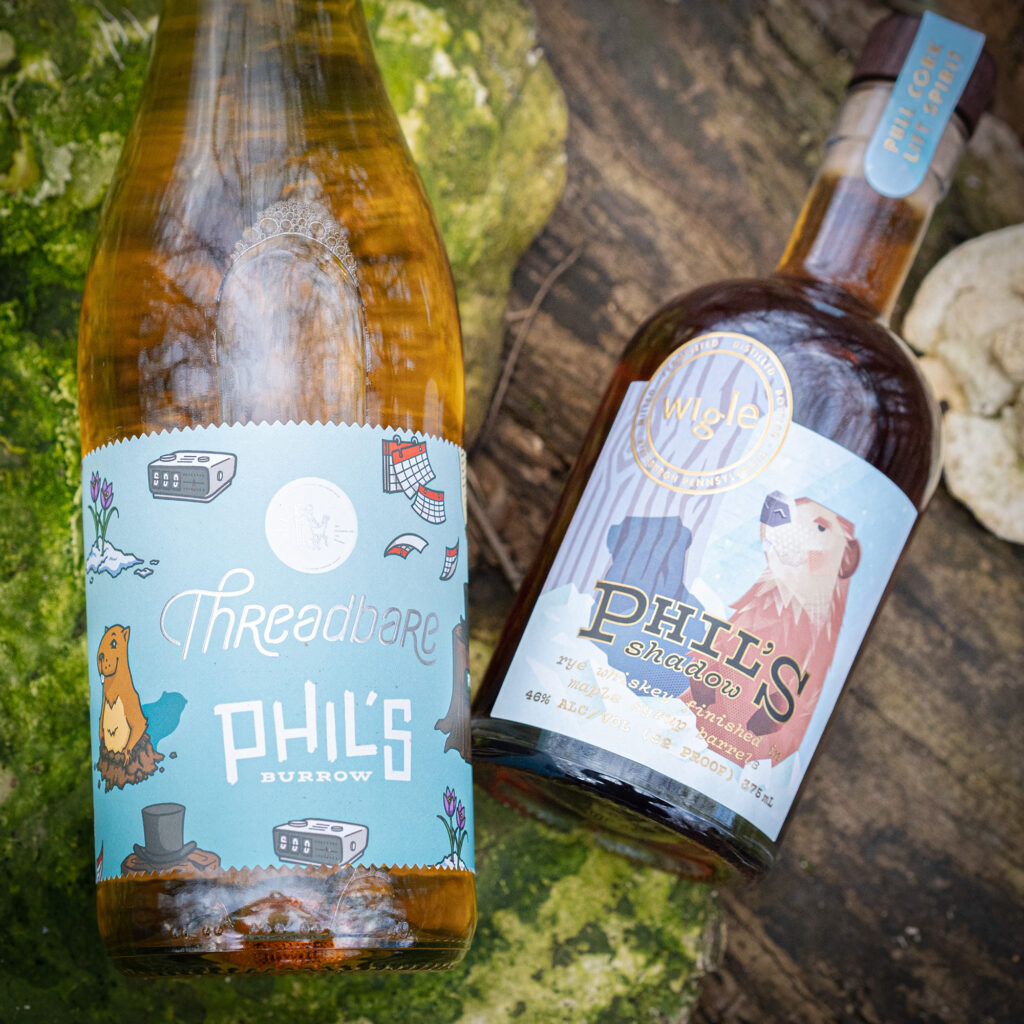 In partnership with the Punxsutawney Groundhog Club, Pennsylvania beverage makers, Threadbare Cider and Wigle Whiskey have created limited edition batches of their whiskey and cider in tribute to Pennsylvania's favorite groundhog in his 135th year of prognosticating.
Threadbare has produced Phil's Burrow, a rum raisin cider. Wigle has made Phil's Shadow, a maple barrel finished straight rye whiskey. Each of these limited edition batches, with labels created by local artist, David Pini, are available for pre-order now and will be ready for pick up and shipping on Jan. 23.
"Three of Pennsylvania's finest- Punxsutawney Phil, Wigle Whiskey, and Threadbare Cider. Is there a better way to celebrate the 135th year of Groundhog Day virtually>" said Katie Donald, the director of the Groundhog Club, in a press release. "The Punxsutawney Groundhog Club is excited and honored to again partner with a legendary piece of Pennsylvania's history. We look forward to perpetuating the legend of Punxsutawney Phil to whiskey and cider enthusiasts from all over the world!"
About the Products
A portion of each bottle sale helps the Groundhog Club fund the care of Phil and continue the beloved, quirky Pennsylvania tradition of Groundhog Day!
Phil's Burrow Rum Raisin Cider, $18
Phil's Burrow Cider is aged in Wigle Rum casks before Threadbare Cider-Makers steep raisins and whole cinnamon into the cider, produced from Soergel's Orchard apples. This hard cider will keep sippers warm and merry, whether or not Phil sees his shadow.
Available nationwide through Threadbare's Online Store, at Threadbare Cider House on the Northside, and in Threadbare's Bottle Shop in Ross Park Mall.
Phil's Shadow Maple Barrel Finished Whiskey, $38
Wigle aged its award winning Pennsylvania Straight Rye Whiskey in Paul Family Farm maple barrels to deliver a velvety sweetness to the rich, dark cherry Rye.
Available for shipment throughout PA and DC, for pick up at Wigle Whiskey Distillery in the Strip District, and at Wigle's Bottle Shop in Ross Park Mall.
About the Virtual Event with Phil
Customers who order Phil's Burrow Cider or Phil's Shadow Whiskey will be sent a link to a Virtual Meet 'n' Greet with World Famous Groundhog  Phil and members of the Groundhog Club's Inner Circle on Jan. 23 at 1 p.m. This exclusive event also includes a guided Phil's Burrow cider and Phil's Shadow whiskey tasting.
Phil's Burrow Bottle Local Pickup Link: https://takeout.threadbarecider.com/product/preorder-phil-s-burrow-cider-available-for-pickup-1-16/97?cs=true&cst=custom
Phil's Burrow Bottle Nationwide Preorder Shipping Link: https://threadbarecider.com/vinoshipper/
Phil's Burrow Cider Take-Out Dinner!
In addition to the above event, Threadbare is has curated a special takeout menu that perfectly pairs with Phil's Burrow rum raisin cider. This $35 meal to-go includes:
One Rum BBQ Chicken Pizza topped with BBQ sauce made with Wigle Rum, shredded chicken, onions, cheddar, and mozzarella.
Two Slices of House Made Rum Raisin Cake
One Bottle of NEW Phil's Burrow Cider