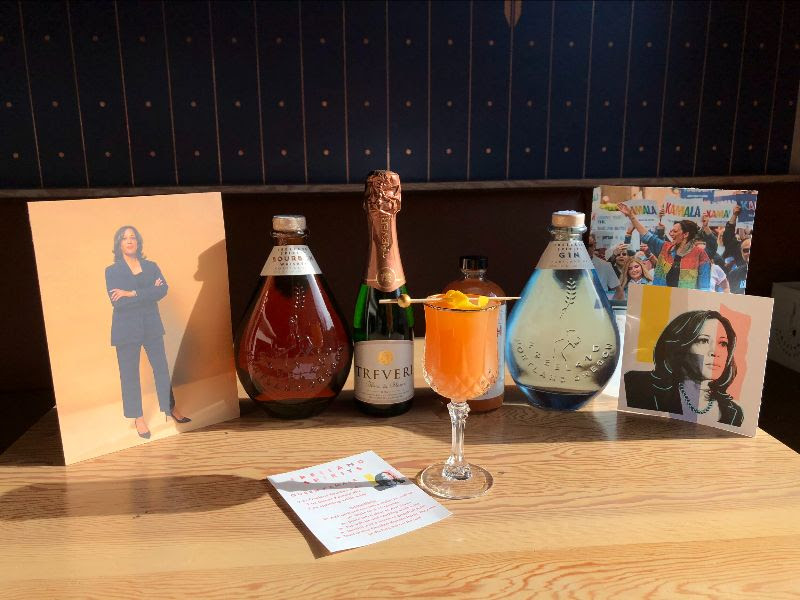 To celebrate the swearing in of Kamala Harris as vice president on Wednesday, Freeland Spirits of Portland, Oregon, is releasing the Queen Kamala cocktail kit. Harris will be the nation's first female vice president, and the first Black and South Asian person to serve as vice president. Freeland Spirits had previously released as Queen RBG kit, honoring former Supreme Court Justice Ruth Bader Ginsburg, who died in September.
The distillery says it created the Queen Kamala kit to make Jan. 20 and beyond not only a celebration of a victory for Harris, but a toast to the work of all women—specifically women of color—that came before her and will come after.
According to the distillery, the Queen Kamala kit is delicious with Freeland Gin or Freeland Bourbon. The fresh mixer includes pear and lemon juice, honey and bitters. And the kit comes with sparkling wine to top off the cocktail. A percentage of proceeds from the Queen Kamala kit will go to Imagine Black, a nonprofit building political participation and supporting leadership for Portland's Black community.
Included in the kit:
1 bottle of Freeland Gin OR Bourbon + 350mL bottle Treveri Blanc de Blanco Brut + 16 oz Queen Kamala Mixer
Recipe:
2 oz Freeland Gin or Bourbon
2 oz Queen Kamala Mix
2 oz Treveri Brut
Add Freeland Gin or Bourbon and the Queen Kamala Mix into a shaker tin with ice. Shake for 8-10 seconds. Top with Brut. Garnish with a lemon or grapefruit twist. Toast to VP Kamala Harris. May she be the first but not the last!