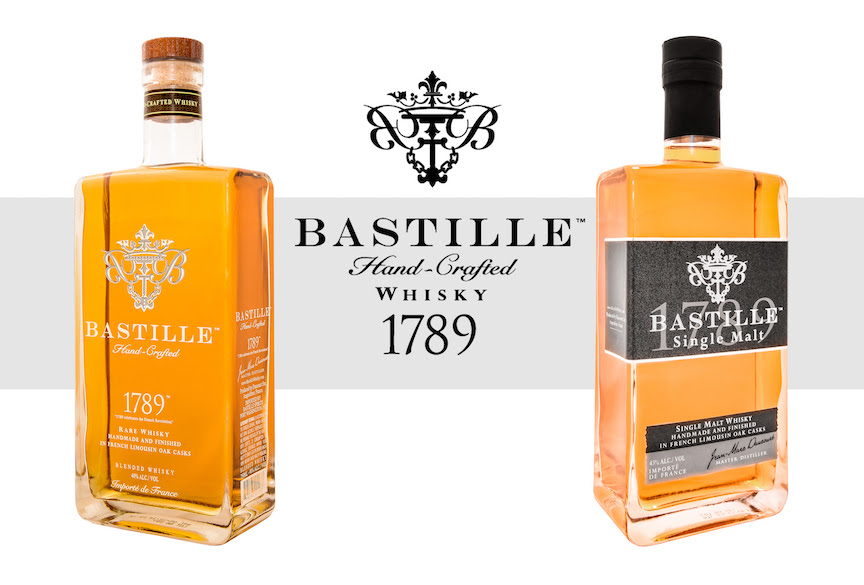 Lakeville, Massachusetts-based speciality importer Heavenly Spirits has added Bastille 1789 Whisky and Bastille 1789 Single Malt Whisky to its growing portfolio of award-winning spirits, which already includes ArmoriK Single Malt Whiskies, made in Britany, France.
Created and launched in 2010, in the Cognac region of France by the Daucourt family, Bastille 1789 whisky, has already earned several industry awards and considerable respect from legions of whisky-drinkers in France, who happen to drink more whisky annually than any other country. With whisky being the fastest growing category of new French spirits, Bastille 1789 Whisky has established itself as a winner for both quality and value. Originally launched in the United States in 2012, Bastille quickly found its place alongside some of the best-known names in the "World Whisky" category.
Based in Cognac, the Daucourt family has been passionately involved in the spirit distillation business for four generations. In addition to making cognac, some of their earlier industry successes include: Jean-Marc XO Vodka, and X-Rated Fusion Liqueur. Inspired by their Irish mother, Jean-Marc, and Edouard Daucourt, along with their nephew, Charles decided to create a French whisky using the family distillery's traditional gooseneck pot still, a typical still of the Charente region. Charles serves as the brand's Master Distiller as well as the brand Manager in the United States. The trio made their dream a reality by creating a truly French Whisky and becoming one of the pioneers in this exciting new spirit category!
"Maison Daucourt always selects the highest quality of malted barley and wheat grown in the northeast of France, where some of the world's finest Scotch producers also source their malt," says Charles. "Bastille uses the purest water, naturally filtered for centuries through limestone springs."
The aging process is carried-out in small batches, using different varieties of wooden casks, including the most luxurious French Limousin oak. The barrels are second fill, having previously aged some of the finest wines and spirits in France, each bringing their unique characteristics to our whiskies."
Heavenly Spirits is a leading national importer of exceptional French spirits, specializing in award-winning distilled spirits from France, including: Armagnac, Calvados, Cognac, Absinthe, Gin, Rum, Vodka, Whisky and various liqueurs. The company has been the number one importer of Armagnac in the U.S. since 2009, and the number one importer of French whisky now as well. The Heavenly Spirits portfolio is currently represented in more than thirty-five U.S. states.