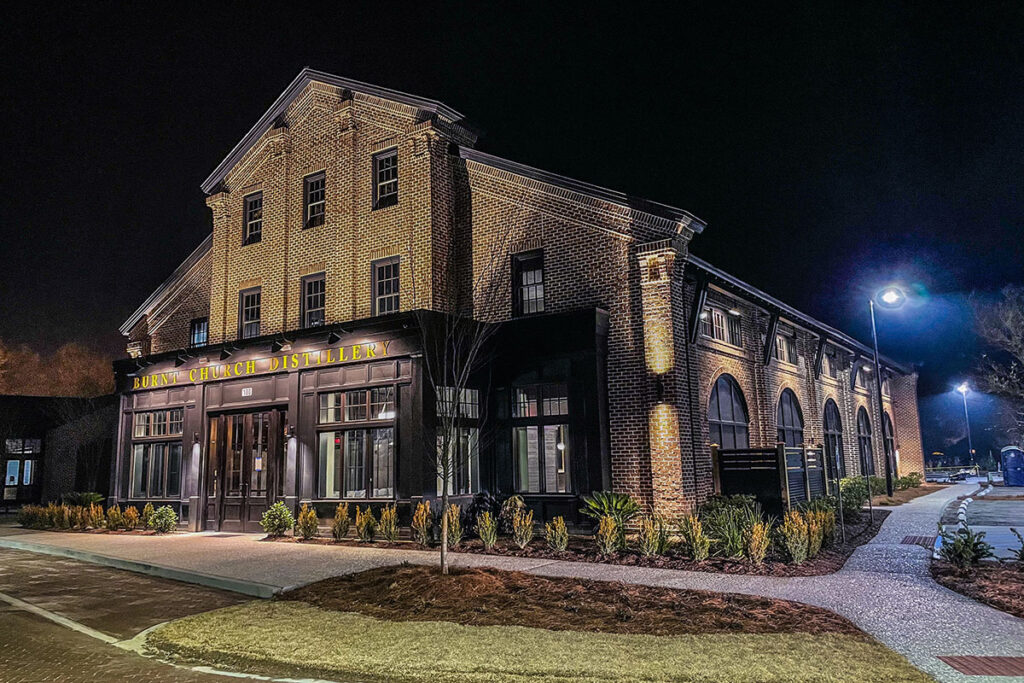 The long-awaited opening of Burnt Church Distillery has finally arrived. On Friday, March 5, 2021, the 25,000 square-foot whiskey distillery will open its doors to the public. The Grand Opening Celebration will kick off with a ribbon cutting ceremony at 10:30 a.m., followed by ticket-required tours and tastings from 11 a.m. to 7 p.m.
In addition to touring the impressive campus, which includes a 7,000 square-foot tasting room, an on-site manufacturing facility, gift shop, humidor, and history room, attendees will be able to sample unique craft whiskeys, gin, vodka, flavored moonshines, and craft cocktails, all inspired by the local area.
Located at 120 Bluffton Road, Burnt Church Distillery has been undergoing construction since May 2019, and is an estimated $13M project. The distillery stands to make a positive impact on the community by creating over 40 full-time and 20 part-time jobs, as well as drawing significant tourist activity.
A future landmark, Burnt Church Distillery is certain to become an iconic destination in Bluffton, attracting visitors nationwide. In the first year alone, the Distillery expects to provide their unique, first-class experience to 150,000 tourists.
Founded by brothers, Billy and Sean Watterson, the mission of the distillery is to craft authentic, Lowcountry spirits that honor local history while giving back to the community that it serves. A historical book revealing the mystery of how Burnt Church Road was named, will also be available for purchase.
"The good news is we solved the Burnt Church Road mystery," Billy said. "And it's like nothing anyone's heard before."
Each brand has a unique story to tell, bringing the spirit of the past to the present.
"I am thrilled to share with everyone our interesting flavor profiles that we've worked so long and diligently on," said Sean. "I'm equally as excited, and hope, that everyone will also join us in our ongoing journey of creating new and unique spirits for the future."
In addition to the seventeen uniquely crafted spirits, the brothers also created a non-alcoholic spirit, Amethyst, for those who choose not to drink.
"When we discovered that twenty percent of visitors would not do a tasting," Billy acknowledged, "it ignited a second vision for us. To create a non-alcoholic spirit as a unique alternative specially crafted for those who have made the choice not to drink."
Because the inspiration for Burnt Church Distillery was so deeply rooted in local history, it seemed only fitting for the brothers to leverage local talent. From the architectural design to site planning, commercial contracting, landscaping, branding and marketing, the end result is a testament to what local hearts, hands, and minds can accomplish together.
Prominently situated in Old Town Bluffton, Burnt Church Distillery reflects everything there is to love about Bluffton.
As a Watterson Brands company, Burnt Church Distillery is passionate about giving back. With this in mind, they created the Lowcountry Legacy Fund at Community Foundation of the Lowcountry, to support programs that build infrastructure, expand education opportunities, and achieve economic equity in the local Black community.
To accomplish this, $.50 of every purchase will be allocated to this fund. Customers will have the opportunity to participate in these efforts as well by rounding up their purchases.
Burnt Church Distillery also recognizes and applauds the many local non-profit organizations already doing great work in our community. In support of these efforts, the distillery plans to donate 5% of monthly revenue from memberships and public events to pre-selected charities.
Adjacent to the distillery is an outdoor patio where customers can enjoy fast-service pizza, salads, beer, and wine at the new Pizza Co. location.
Patrons can look forward to the distillery hosting a variety of public events as well, including artisan markets and live music. With an exclusive VIP area and five unique spaces, the distillery is also available to rent for private parties and events such as weddings, receptions, and more.
"I am elated to be a part of such an amazing project, opportunity, and team," said Director of Events & Memberships Tiffany Lucca. "With over ten years of design experience, I can envision Burnt Church Distillery coming to life for your special event. I can confidently say, it will surely take your breath away."
Tickets to the Grand Opening will be available to purchase on Monday, February 8, 2021 at www.burntchurchdistillery.com/grand-opening and will be sold in incremental time slots.
In addition to tastings and tours, Burnt Church Distillery also offers exclusive membership opportunities for those interested in a premium experience.