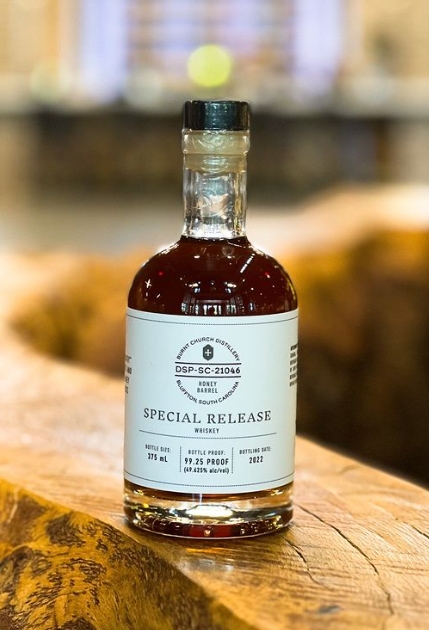 Bluffton, South Carolina-based Burnt Church Distillery is pleased to announce the launch of Honey Barrel Whiskey, the first product in their Special Release Series. Just in time for the holidays, the unfiltered, three-grain whiskey is made from the popular Bluffton Whiskey, double-aged in honey barrels infused with Savannah, Georgia-based Wildlight Honey, and available only at the distillery while supplies last.
Priced at $60 per 375 ml. bottle, the Honey Barrel Whiskey is 49.625% ABV, 99.25 proof and made from a mash bill of Carolina Gold rice, wheat, and malted barley. The 15-gallon barrel previously aged Burnt Church Distillery's Anita's Choice Bourbon. The barrel's second life was spent infusing Anita's Choice Barrel Aged Honey for the Distillery for at least 60 days, and is available for sale in the Mercantile and online. Finally, the barrel was used for this special release, aging 6 months, producing 144 bottles.
"This unfiltered barrel proof offering shows all the characteristics of our Bluffton Whiskey with just a hint of sweetness from the honey barrel," said Chris Crowe, general manager at Burnt Church Distillery. "As the first product from our Special Release series, I feel this is a great introduction to the creativity and uniqueness we strive for in every product we produce."
The distiller's tasting notes include a sweet, soft honey nose with nice hints of oak and slight campfire smoke. The palate is sweet, full honey that starts and slowly moves into the soft, subtle notes of Bluffton Whiskey, with slight, soft hints of oak, tobacco, and figs through the body. The finish is warming and smooth with hints of light pepper. The whiskey has a medium lasting after-taste of a nice, smoked wildflower honey.