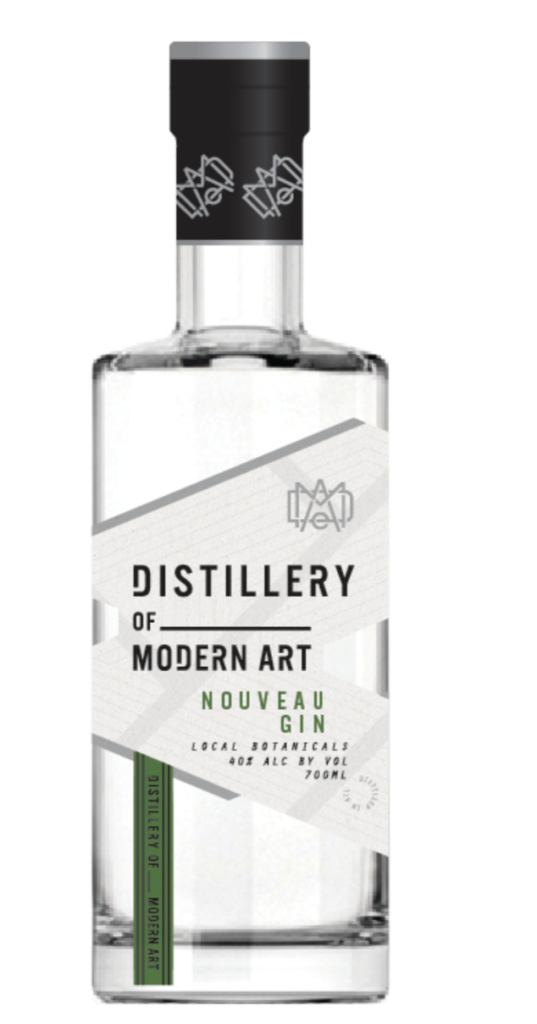 Atlanta-based Distillery of Modern Art is introducing its latest spirit: Nouveau Gin. A perfect spirit compliment to the DoMA concept, gin, like art, starts with a blank canvas. In the case of Nouveau Gin, that canvas was refined using a spirit that melds with the flavors and aromas offered by the recipe's various botanicals. 

With juniper as the primary 'color' in Nouveau Gin's flavor pallet, which lends to a taste sharp, resinous, and piney with a hint of citrus, additional citrus components from lemon, sweet orange, and of course, coriander- the second most widely used gin botanical, add a burst of flavor. Orris Root and Angelica Root help to provide some earthy notes, followed by a sweetness imparted by licorice root. Finally, pallets will be awakened by a hint of floral and spice, which comes from Cassia cinnamon and Szechuan peppercorn. Much like great art, Nouveau Gin is to be enjoyed and open to interpretation by those taking it in. 
"We approached crafting our Nouveau Gin with the same enthusiasm and trepidation that you might imagine an artist may have when staring at a blank canvas," says Head Distiller Matt Greif. "While it can be enjoyed in your favorite classic gin cocktails, it was crafted to be enjoyed neat or on the rocks, allowing you to soak it in as you would a beautiful painting and create your own interpretation."

If this world is but a canvas, then Distillery of Modern Art provides the bottles (and spirits) for imaginative expression. For Nouveau Gin, DoMA commissioned Greenville, S.C., multi-media artist Jeromy Ross to create bottle artwork that would compliment the spirits therein. Utilizing a process that involved a pendulum to pour paint, a large 'Wheel-of-Fortune' device to select color, and two 20-sided dice to determine positioning, Ross tapped into his "chaos mechanisms" for the finished product you will see on each bottle produced. The result is "Oscillate Wildly," a painting that vibrates and fizzes, similar to the bubbly qualities of a gin and tonic. "My inspiration stems from The Smiths' song- every gin drinker I've met seems to love The Smiths, including me."

Nouveau Gin joins Distillery of Modern Art's roster of Atlanta Vodka, Peach Flavored Vodka,  Corn Whiskey, Rye Whiskey, and Bourbon Whiskey, and bottles of each are available for purchase at select liquor stores and the Distillery of Modern Art. For the complete DoMA experience, guests are invited to visit the distillery Thursday through Saturday from 5 p.m. to 10:30 p.m., and on Sunday from 1 p.m. to 6:00 p.m., for craft cocktails in our lounge, local art in Watson Gallery, and guided tours. Pre-orders for the Amaro Peach, an Italian-style herbal liqueur with spice, floral notes, and peach, are now being accepted to subscribers of the Distillery of Modern Art newsletter. Distillery of Modern Art is conveniently located at 2197 Irvindale Way, Chamblee, GA 30341, in close proximity to MARTA.