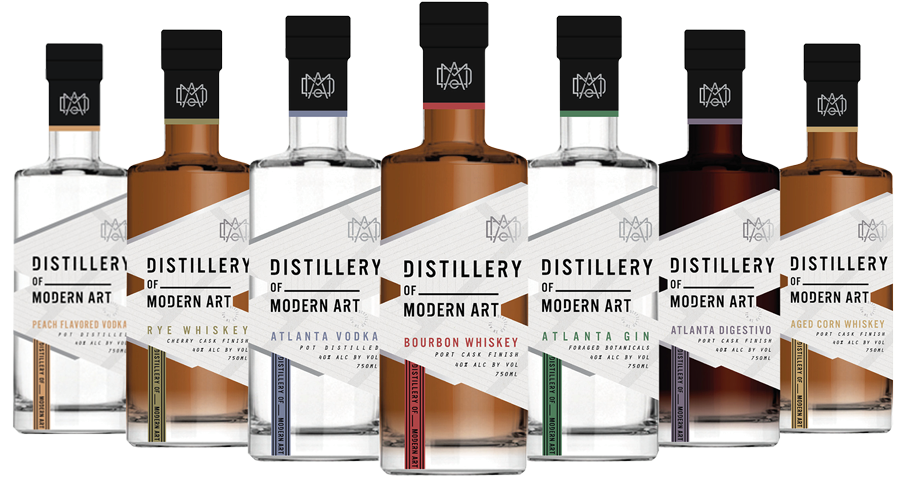 Distillery of Modern Art, a new concept coming this fall to Chamblee, Georgia, is an amalgamation of distillery, gallery, event space, covered patio, living wall with fresh-grown herbs and cocktail lounge. Guests are invited to immerse themselves in this purpose-driven concept which showcases art in all its many forms and challenges them to leave their perceptions at the door.
Going beyond what's in the bottle, the 15,000-square-foot space is a modern art gallery with walls featuring local artists and installations—several of which are utilized for DoMA's bottle art. The distillery also includes a 2,800-square-foot private event space.
The distillery's line of spirits include Atlanta Vodka, Peach Flavored Vodka- made with Georgia-grown peaches, Bourbon Whiskey, Corn Whiskey, Rye Whiskey, Nouveau Gin, and an easy-drinking Digestivo. With the vision of making the creatively impossible possible, DoMA boasts a backdrop of artistic expression with support from emerging artists in the community. Creators already secured include Xie Caomi, Juliana Lupacchino,and Josh Jalbert, who showcase their designs on the in-house Rye Whiskey, Corn Whiskey and Atlanta Vodka bottles, respectively.
"I am an instigator. I live to inspire those around me," said Distillery of Modern Art founder Seth Watson in a press release. "I want to facilitate creativity in all possible ways. I like to be a dreamer but what I like more is allowing dreamers to bring ideas to reality."
Tour and tasting bookings will run daily from noon to 3 p.m. For $15 per guest, groups of 10 or less can relish signature-crafted cocktails while absorbing the history of DoMA and the Chamblee region. For larger parties, guests can take advantage of either the 735-square-foot Kandinsky Tasting Room, 861-square-foot Watson Gallery, or 2,800-square-foot Rothko Room. These contemporary and lofty spaces can complement an array of bustling celebrations.
Distillery of Modern Art is located at 2197 Irvindale Way, Chamblee, GA 30341, in close proximity to MARTA. For more information or to book an event, visit www.distilleryofmodernart.com or call 404-482-2663. Stay connected on Facebook at www.facebook.com/distilleryofmodernart, on Instagram at @distilleryofmodernart  and on Twitter at @DoMAatlanta.