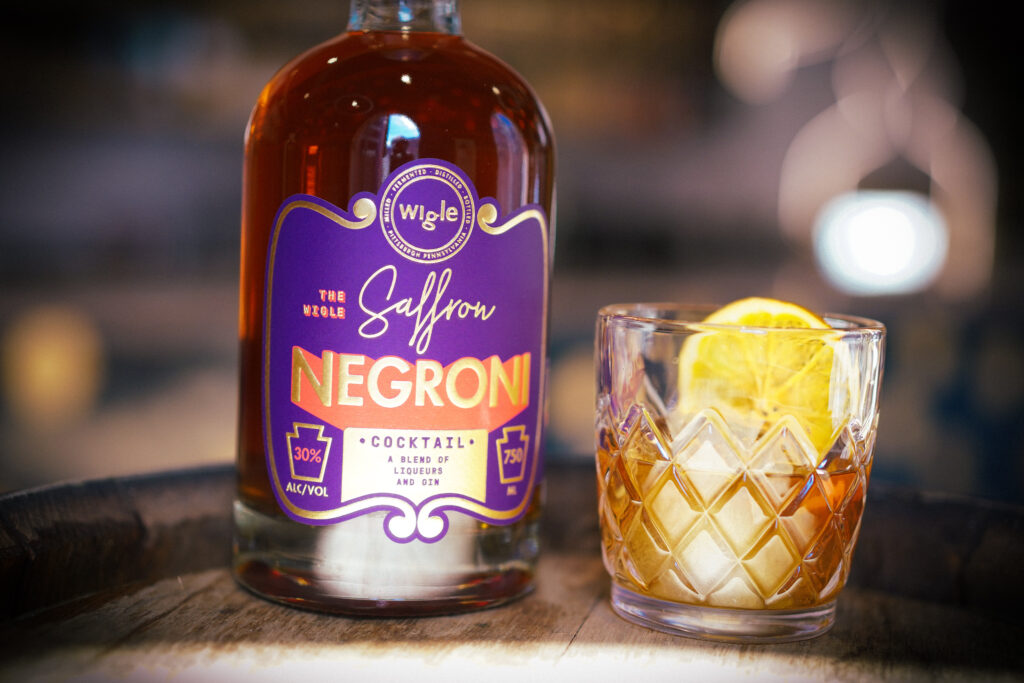 Pittsburgh-based Wigle Whiskey announces the release of its Saffron Negroni Bottled Cocktail. The Negroni was perhaps the original bottled cocktail, produced as a ready-to-drink offering as early as 1919. Wigle's take on this classic cocktail comes in at 30% alcohol and combines 3 Wigle spirits: Wigle Saffron Amaro, Wigle Dutch-style Gin and Wigle Amaro Vermut, a sweet vermouth. A flavor thread of saffron runs through Wigle's Negroni. The Wigle team was inspired by the Pennsylvania Dutch who brought crocus bulbs, from which they harvested saffron, when they settled in Pennsylvania.
"We are thrilled to be able to bottle up a Negroni that showcases our award winning Gin and Saffron Amaro," said Alex Grelli, Wigle co-wwner, in a press release. Saffron's vivid yellow color and nuanced flavor is hard won. The difficult-to-harvest saffron is known as the most expensive spice in the world. Wigle's Saffron Negroni Bottled Cocktail is available in 750-mL bottles and retails for $45. 
"We think it's all worth it because it gives us a delicious, entirely unique cocktail whose saffron notes are well complemented by herbaceous flavors of gentian root, bitter orange, and vanilla," said Grelli.  
The Saffron Negroni Bottled Cocktail is the fifth offering in Wigle's bottled cocktail lineup, which includes a Manhattan, Bourbon Old Fashioned, Rye Old Fashioned and Sazerac. 
The classic three-ingredient Negroni cocktail is known for its elegant simplicity, but the components to this offering are anything but. It includes:
Wigle Dutch-style Gin: Winner of the Best in Category in the American Craft Spirits Association's Judging of Craft Spirits.  Rounder and fuller than modern London Dry gins. Juniper berries remain forefront but are joined by a number of other botanicals including earthy cardamom, peppery cubeb, and fragrant lavender create a layered flavor experience.
Amaro Vermut, Wigle's sweet vermouth: copper pot distilled from regional grain and infused with wormwood, cacao nibs, cinnamon, and cloves. An herbaceous and complex mixer. 
Saffron Amaro: Winner of Best in Category in ACSA's Judging of Craft Spirits.. Regionally grown apples distilled into an apple brandy and infused with a complex blend of 12 botanicals including saffron, orange peel, and chamomile. 
Where and When to Find Wigle Saffron Negroni
NOTE: WIGLE SAFFRON NEGRONI BOTTLED COCKTAIL IS CURRENTLY AVAILABLE FOR PRE-ORDERS. IT WILL BEGIN SHIPPING AND BE AVAILABLE FOR PICK UP ON MARCH 11TH.
Available for
Direct shipment throughout PA and DC
Local pick up at Wigle Whiskey Locations through Western PA
In Wigle's Distributed Markets, including NY, NJ, MD, DE, DC, IL, CA, TN, GA, & MA
PRE-ORDER FOR PICK UP: https://takeout.wiglewhiskey.com/product/pre-order-saffron-negroni-bottled-cocktail/301?cs=true&cst=custom
PRE-ORDER TO BE SHIPPED: https://wiglewhiskey.com/shop/retail-bottles-spirits/pre-order-saffron-negroni-bottled-cocktail/