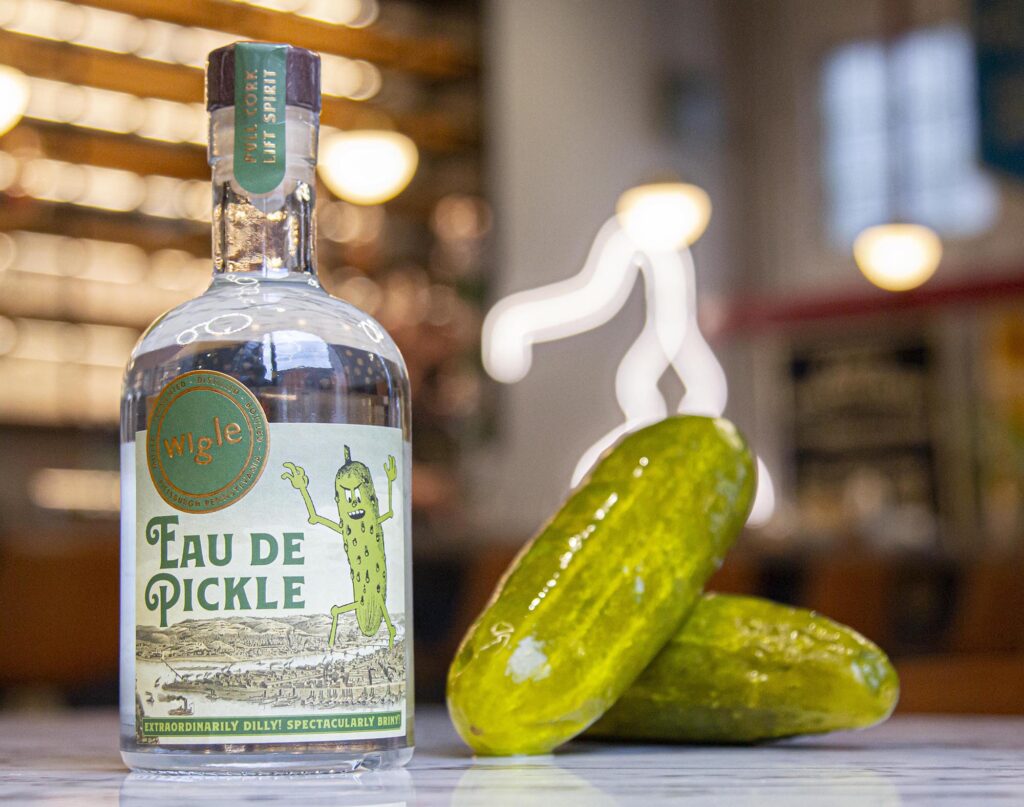 Pittsburgh-based Wigle Whiskey is partnering with Pittsburgh Downtown Partnership to celebrate Picklesburgh, and Pittsburgh Pickles writ large, with the third release of Eau de Pickle.
"We know how Eau de Pickle might initially sound, but hear us out," said Michael Foglia, director of production for Wigle and creator of the spirit, in a press release. "It is a spirit strongly rooted in a centuries-old European tradition. Our recipe is loosely based on a classic Aquavit recipe from Scandinavia."
Eau de Pickle, (pronounced "Oh de Pickle"), was awarded the National Innovation Award by the American Craft Spirits Association in 2019. This year's limited release is wrapped in an illustrative label with a King Kong-esque Pickle at the Point. This label is designed by the talented Pittsburgh artist Matthew Buchholz, owner of Alternate Histories.
Wigle will donate a portion of bottle proceeds back to Pittsburgh Downtown Partnership.
On May 6 from 11 a.m. to 9 p.m., Wigle will be celebrating the return of Eau De Pickle. Bottle of the newest batch of Eau De Pickle and pickle treats will be on sale. Visitors can enjoy a special pickle-themed cocktail menu featuring Eue De Picklebacks, Bloody Mary's and a Dirty Pickle Martini.
Eau de Pickle is available for pre-orders and will begin shipping and be available for pick up on May 6. Available for direct shipment throughout Pennsylvania and Washington, D.C., and local pick up at Wigle Whiskey Locations through Western Pennsylvania.