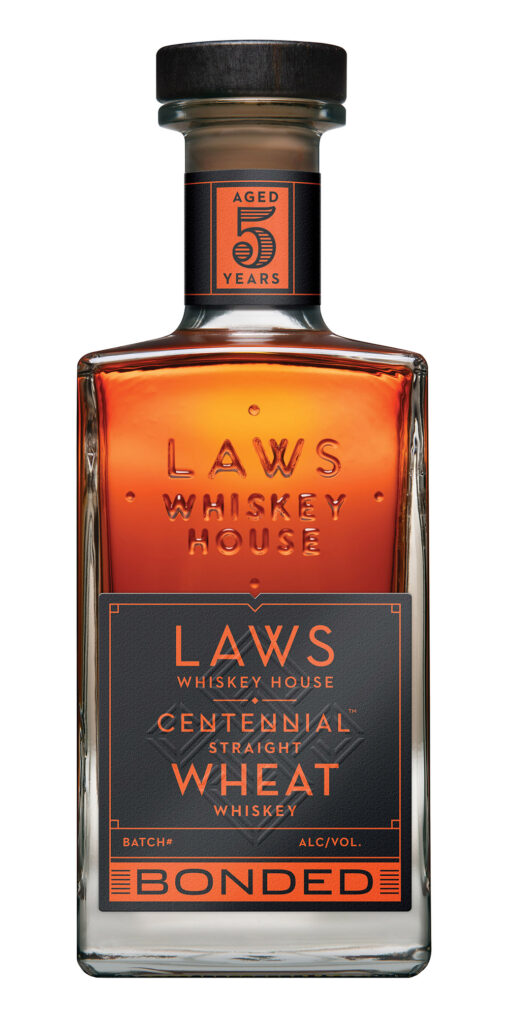 Denver-based Laws Whiskey House announced the third release of its Bonded Centennial Straight Wheat Whiskey. Launched in 2019 as one of the first Bonded Wheat Whiskey releases in the nation, the Bonded Centennial Wheat expressions are made from 100% Colorado grown wheat. This bottling marks the third expression in the series and will be available in key markets across the country starting May 2021 for a suggested retail price of $75.
To qualify as a Bottled in Bond whiskey, the expression must use only the grain of a single harvest season, made by one distiller at a single distillery, and must be aged at least four years in a federal government-bonded warehouse. This whiskey is then cut and bottled at 100 proof (50% abv).
The Bonded Centennial Straight Wheat Whiskey is skillfully crafted using 100% Soft White Centennial Wheat grown in the unique terroir of the San Luis Valley of Southern Colorado by Jason Cody, of the Cody Family Farm and Colorado Malting Company. This heirloom varietal of Spring wheat produces a soft and floral whiskey with a bright clean finish boasting notes of jasmine tea, sage, and pink peppercorns.
The whiskey's mash bill features both raw and malted centennial wheat that is then aged in fourteen hand-selected barrels produced at Laws Whiskey House in the summer of 2015. The barrels impart aromas of mountain strawberries and orange marmalade. The liquid is aged for a total of five years eight months before it is bottled and the spirit finishes dry with a slightly bitter, candied orange palate with a crisp linen on the mouthfeel.
The Laws' philosophy of "no shortcuts" is applied to each batch of their whiskey, and the third iteration of their Centennial Straight Wheat Whiskey is no different. Each batch is milled, cooked, fermented, distilled and aged on-site, utilizing heirloom grains from family-owned Colorado farms. Laws' traditional practice of open air, on-grain fermentation captures the essence of Colorado's terroir while the copper pot-column still produces a robust, grain-forward style of whiskey.
Al Laws, Founder, says "At Laws, we pride ourselves in seeking out the distinct flavors of each American mother grain in our whiskies. We believe that the soul of whiskey is comprised of the people who grow it, the people who make it, and the people who drink it. We're excited to be on this journey of Laws' commitment to creating exceptional Bottled-in-Bond Whiskey and we hope you enjoy this special whiskey as much as we do."
Enjoy the Bonded Centennial Wheat over ice to help its wheat character come forward, or add ice and soda for a refreshing take on a Highball cocktail, the perfect summer session whiskey drink.
Additionally, Laws Whiskey House is proud to announce several recent awards from the 2021 San Francisco International Spirits Competition. Laws' Bottled in Bond San Luis Valley Rye received a Double Gold medal and Laws' Bottled in Bond Four Grain Bourbon received a Gold medal. Alan Laws, Founder, remarked "We are very excited to add these recent awards to the growing list of accolades our whiskey has received and look forward to sharing more expression in the coming years."
For more information on the Bonded Centennial Straight Wheat Whiskey and links to purchase, visit www.lawswhiskeyhouse.com and follow along on social at @lawswhiskey.