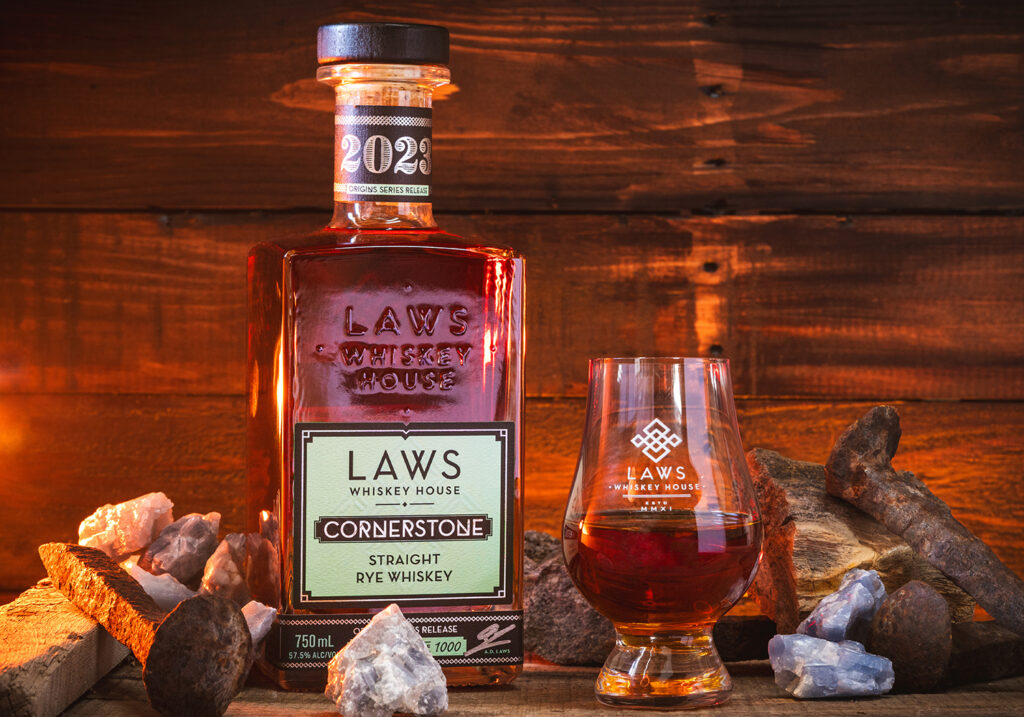 Laws Whiskey House of Denver, Colorado, announces the release of CORNERSTONE, the latest expression in the Laws Whiskey House ORIGINS Series. This expression is the first vertical coupling of Laws San Luis Valley Straight Rye Whiskey and represents some of the oldest and most exceptional rye whiskey the distillery has to offer. At 115 proof, each bottle will sell for a suggested retail price of $129.99.
With CORNERSTONE, Laws Whiskey House sought to commemorate the opening of their new tasting room coming in 2024, a literal cornerstone of the distillery. This special and inaugural marriage of Laws San Luis Valley Rye is comprised of just nine barrels ranging in age from five to 10 years old and barreled at full proof, the same proof the spirit went into the barrel for aging. These nine barrels consist of two rye mash bills: one being 95% heirloom San Luis Valley Rye and 5% heirloom barley, and the other is 100% heirloom San Luis Valley Rye. In this marriage, every barrel contributes toward creating a harmony of flavor with the younger barrels bringing brighter grain and fruit notes complemented by the older barrels' richer character and flavors.
100% of the grains in this whiskey were grown by the Cody Family Farm, founders of Colorado Malting Company, located near Alamosa in the San Luis Valley of Colorado. At 7,500 feet of elevation, the growing conditions of this valley contribute unique flavor profiles to the Cody's grains including a distinct minerality that comes from the calcium and mineral rich soil of what used to be a prehistoric lake.
"Our rye stands apart from other rye's grown in the market for many reasons including the unique climate conditions of the San Luis Valley," says Jason Cody of Colorado Malting Company. "The truly amazing flavor profiles (pepper, nutty and sweet) come from the soil type that is found in our specific corner of the valley. Just west of us is rocky soil and just north of us is sandy soil, both drain too quickly. Just east of us is tighter, more salty soil that hurts the plants. On our farm, the soil is somewhere in between and holds the key to rye whiskey perfection!"
Al Laws, president and founder of Laws Whiskey House, explains, "We loved creating CORNERSTONE because it perfectly represents what we strive for as a distillery: terroir-led flavors and the highest standards of quality. This is the first time we created a rye whiskey made from a wide age spectrum of barrels. Most of our whiskeys are made with barrels of the same or similar lot year. With CORNERSTONE, we had the opportunity to balance flavors in a whole different way. Opting to bottle at full proof, returning the whiskey to its original 115-proof entry point, is our secret to completing the full flavor circle. It's the stage where the grain-forward rye truly shines."
CORNERSTONE has aromas of cinnamon pastry, golden raisin, and rose water with notes of green melon, mango, papaya, and sweet tobacco leaf on the palate. Layered and medium to full-bodied with a briny, earthy, bright, and lingering finish. CORNERSTONE will be available from the Laws Whiskey House Tasting Room, from lawswhiskeyhouse.com, and throughout our national distribution footprint in November.
"We loved the process of creating this harmony and are thrilled with the outcome," says Laws. "Please embrace CORNERSTONE, fourth of our annual ORIGINS Series Releases, with the foundational spirit in which it was created."
For more information on CORNERSTONE and links to purchase, visit www.lawswhiskeyhouse.com and follow along on social at @lawswhiskey.