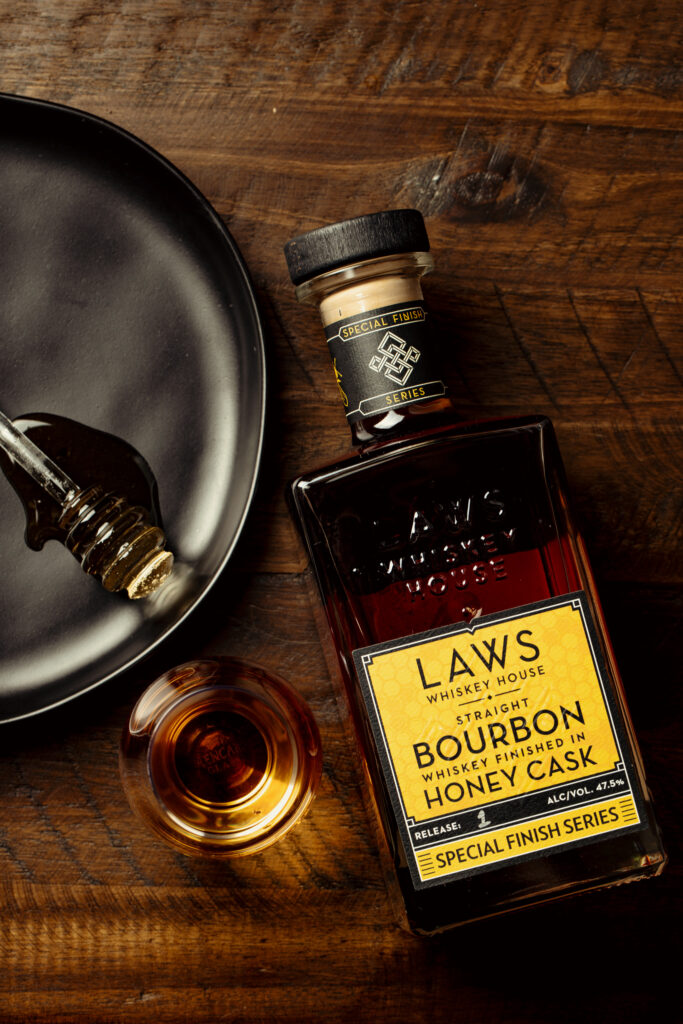 Laws Whiskey House of Denver has unveiled its newest Special Finish Series release: Honey Cask Finished Bourbon—a sweet collaboration with Bee Squared Apiaries.
This whiskey is available for purchase in the Laws Whiskey House tasting room in Denver starting Sept. 16, and will be available in limited quantities at lawswhiskeyhouse.com and in key markets across the country starting late September for a suggested retail price of $79.99.
This creation is the result of a unique collaboration between distillers, beekeepers, and honeybees, bringing together the artistry of whiskey making with the richness of nature's golden elixir. Laws Honey Cask Finished Bourbon takes enthusiasts on a journey that showcases the fusion of flavors derived from this collaborative process.
The journey begins with Laws Whiskey House's Four Grain Straight Bourbon, which is crafted in small batches and aged in new charred oak barrels, developing its signature depth and complexity. After the whiskey is harvested, Bee Squared Apiaries in Berthoud, Colorado, fills Laws barrels with their delicious honey which interacts with the remaining bourbon and char while also coating the inside of the barrel. After harvesting the honey, the honey-infused barrels return to Laws Whiskey House.
For the second round of aging, Laws Whiskey House refills these same honey-coated barrels with its Four Grain Straight Bourbon, allowing the whiskey to integrate with the essence of honey. This marriage of whiskey and honey yields a symphony of taste, with the added sweetness accentuating the notes of black tea, orange blossom and cinnamon. Upon savoring, you'll be greeted by a bright, floral aroma, followed by the delightful combination of sweet orange and buttered toast, all wrapped in a generous flavor of honey. This whiskey delivers a round mouthfeel and a full-bodied finish.
Al Laws, founder and president of Laws Whiskey House says, "our Honey Cask Finished Bourbon is a tasting room fan favorite. We are thrilled to finally share this creation on a larger scale with this special small batch. The collaboration between our talented distillers, Bee Squared Apiaries, and the industrious honeybees is delicious but also a testament to our commitment to innovation and craftsmanship."
This limited release consists of a marriage of four barrels. These barrels aged for 2 years 8 months in new charred oak and an average of 1 year and 6 months in used honey casks, making the total age of this release 4 years and 2 months. Only 1,080 bottles of this release were harvested at 95 proof. Join Laws Whiskey House at their tasting room on Sept. 16 for their Honey Cask Finished Bourbon launch event. If you can't make it to the event, find this whiskey at select retailers later in September and on lawswhiskeyhouse.com for a limited time.