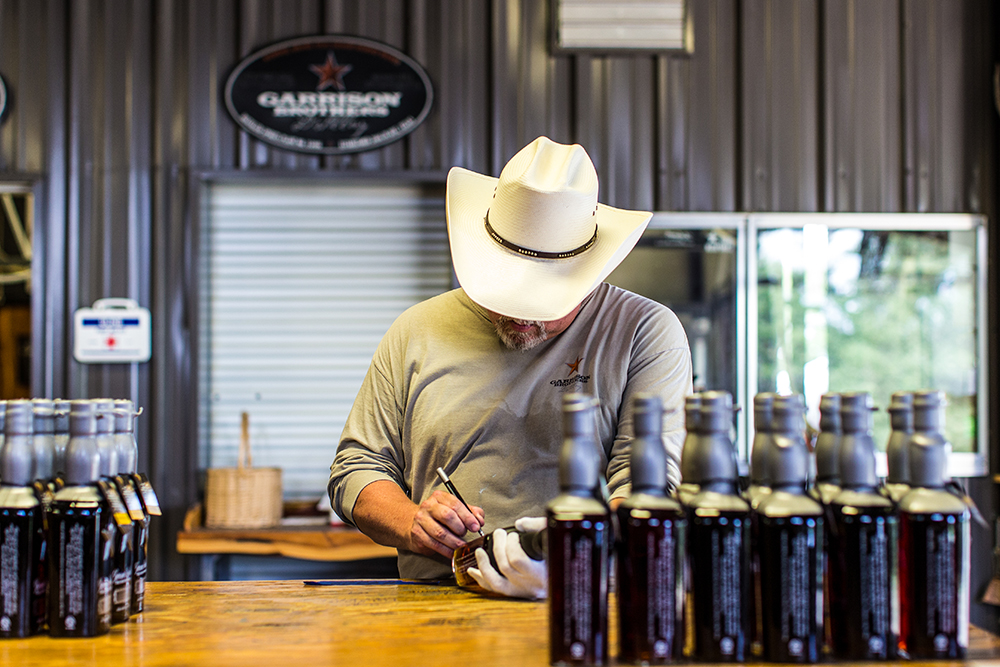 Dan Garrison's vision to start the first legal whiskey distillery in Texas and make "the best bourbon in the world" was "a total pipe dream," according to his younger brother Charlie.
"That is truly what [Dan] said to me on day one: 'I'm going to make the best bourbon in the world,'" Charlie recalls. "And I'm looking at him and I'm like, 'And I am going to fly to the moon.'"
In fairness to Charlie, Dan had never made whiskey. He was unemployed after the Enron scandal of 2001 bankrupted the software company where he worked, and Dan started writing a business plan during a tour of Kentucky distilleries. Some experts advised that he'd need to make vodka to stay afloat in the early, lean years; that he'd need to source some whiskey to start; or that bourbon couldn't come from Texas. His own father and brother tried to talk him out of it, but Dan stuck to his plan.
More than a decade later, Dan's vision doesn't seem so far-fetched. Bourbon from Garrison Brothers Distillery is available in 32 states and eight countries. The distillery has won numerous awards and honors for its bourbon lineup. Fans flock by the hundreds to the distillery in rural Hye, Texas, for special releases like Cowboy, an uncut and unfiltered straight bourbon whiskey. They covet spots on the distillery's volunteer bottling sessions while a Facebook group titled Garrison Brothers Drinking Team is thousands of members strong. And through its charitable arm, Good Bourbon For A Good Cause, the distillery has raised more than $500,000 for veterans, hospitality workers, parks and more. 
"That's always been Dan's unbelievable gift in the world, is that he has a vision and he holds it," says Charlie, the distillery's national sales director.
"[Dan is] highly intelligent, very motivated and typically about seven steps ahead of the rest of us," adds Donnis Todd, Garrison Brothers' master distiller. "He's so far ahead of everybody in the mind that he's already figured everything out and he's already had this conversation, and I'm just trying to catch up."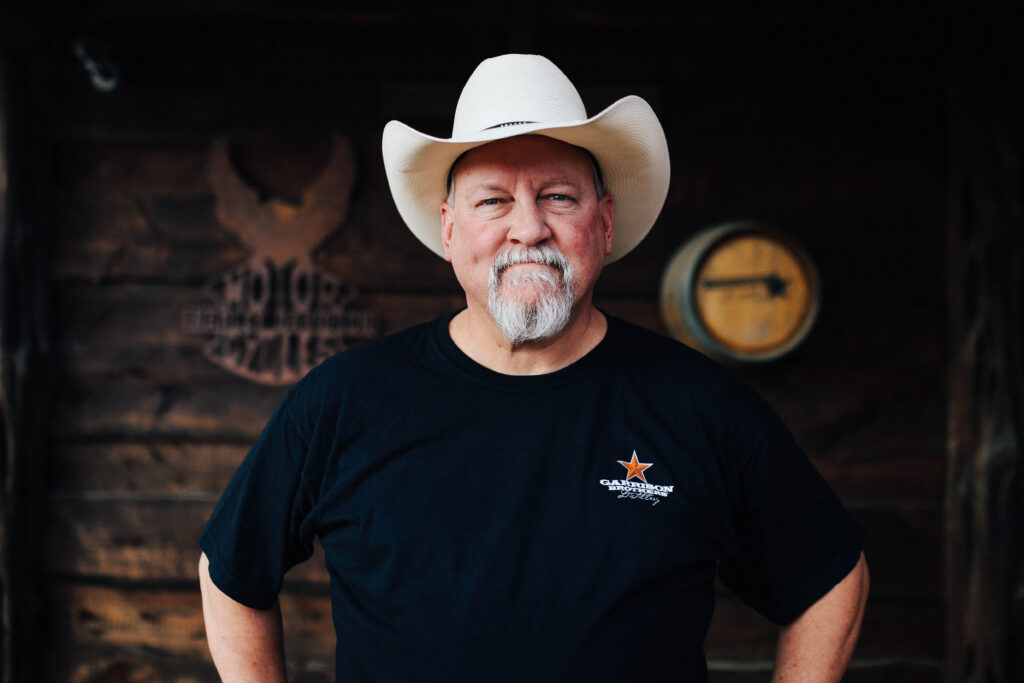 Dan admits that he constantly doubted himself in the beginning. During his first summer aging whiskey, the Texas heat cracked a barrel stave, causing a massive leak (he later found success with custom-made barrels with thicker staves) and many sleepless nights. He worried that his product wouldn't even taste like bourbon, which made it that much sweeter when he finally tasted his aged whiskey.
"Barrel number six was one of the earlier ones that we put away," recalls Dan, "and when I tasted that I went, 'Yeehaw! We did it!' … Not only did it taste like bourbon, it tasted like a rich, full-bodied bourbon with texture and umami like I've never tasted before."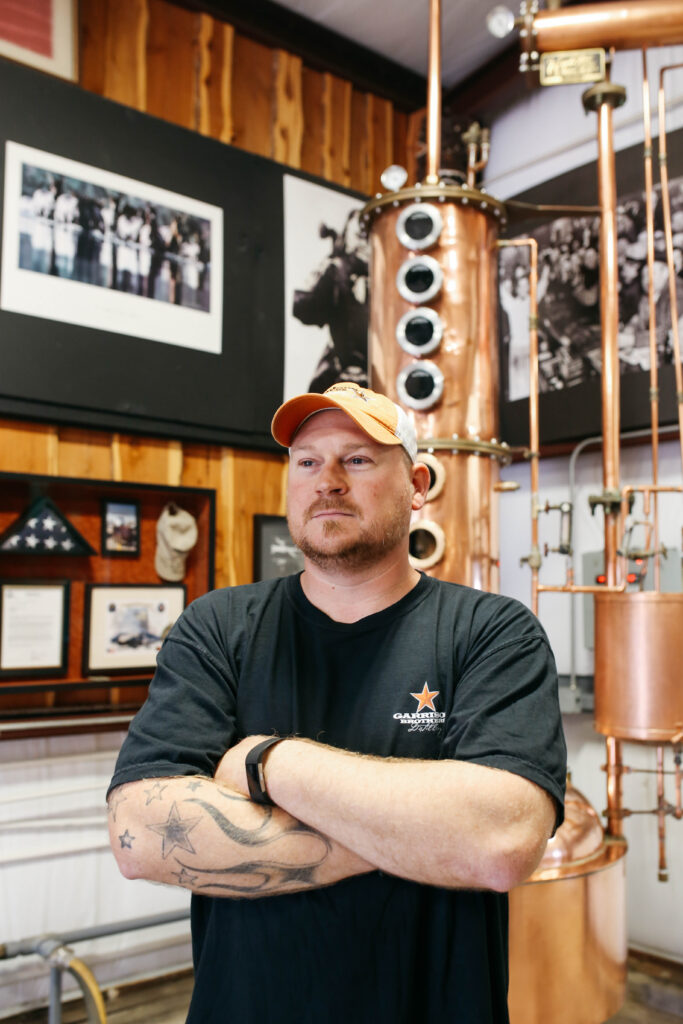 Todd believes a combination of elements make Garrison Brothers bourbon extraordinary. First, there's the water, high in calcium and lacking iron, straight from the ground. Then there's the relationship with local farmers who grow the grains.
And then there's the custom barrels and the brutal Texas summers, where temperatures soar above 100 but drop into the 70s and 60s, causing slight leakage in the barrels. "What's left in there is amazing," says Todd. "We have no problem with extraction. I think it gives Garrison Brothers this very unique, amazing special mouthfeel. I'm not saying you couldn't get it anywhere else, but I know you can get it in Hye, Texas."
Dan and Charlie agree that the distillery owes much of its success to Todd.
"We would have shut down long ago [without Donnis]," says Dan. "He jumps in and he takes over a project. I'll be out on the road selling and we'll have to build a new barn and Donnis, he's the construction foreman on the project. He gets it done and he gets it done on time and under budget every single time."
Back in 2007, Todd was enlisted in the Air Force and contemplating a longer career of service when he decided to rejoin civilian life and spend more time with his young son. Todd grew up near a grandfather who distilled, and he sought out distilling opportunities in Korea and Japan while he was in the Air Force. When he saw that Dan received his distilled spirits permit, Todd visited the ranch where construction was beginning on the distillery, without an invitation.
"I said, 'Who are you and what are you doing in my stillhouse?'" recalls Dan. "He said, 'My name is Donnis Todd and I want to make bourbon whiskey.' I said, 'Well you can't make it here, cause I ain't got any money and I can't pay you.' And he said, 'Well I'm not going anywhere and you look like a smart man, so I'm sure you'll figure something out.'
"Today he's the best bourbon maker in America in my opinion."
Charlie says that's a credit to Todd understanding Dan's vision, building an incredible team of distillers, and bringing work ethic and ingenuity from his military career to the distillery.
"Dan is the soul of this thing," says Charlie. "He absolutely knows what Garrison Brothers is, what it is not, what it will never be. … Donnis got it, and Donnis built Dan's vision. If it were not for Donnis Todd, there wouldn't be a single one of us employed."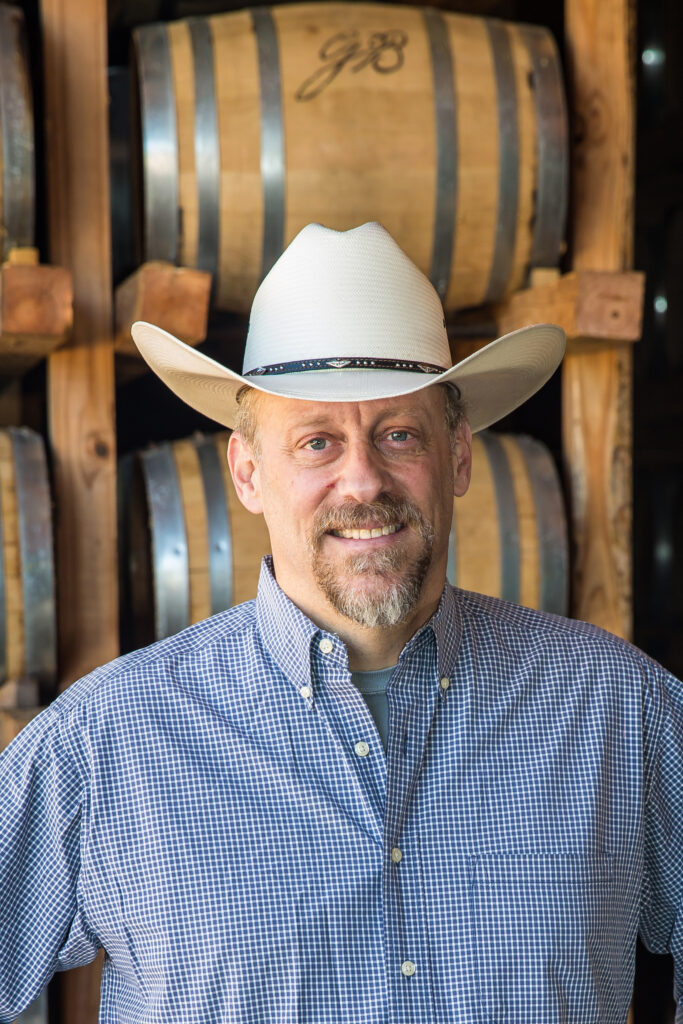 It helps that Dan and Todd are constantly experimenting. In addition to its core Small Batch and Single Barrel products, the distillery strives to introduce unique limited releases. Projects in the distant future might include a carbonated whiskey aged in champagne barrels or bourbon aged in a barrel that previously stored coffee beans for one year. An upcoming release this summer, Guadalupe, is a four-year-old wheated bourbon finished for two years in port barrels, which Dan says is "the best thing we've ever made" and Todd calls "pretty close to perfection on the palate."
Last year, Garrison Brothers introduced two limited-release products. HoneyDew came after years of requests from Nancy Garrison, Dan's business partner and wife, to make a honey-infused bourbon. Another spirit morphed into a fundraiser for COVID-19 relief.
Laguna Madre is the distillery's oldest bourbon to date, aged for four years in white American oak and then for another four years in barrels made of Limousin oak from France. Its initial release was slated for distribution last spring, but when the pandemic struck the distillery changed its plans. For a contribution of $1,000 to Good Bourbon For A Good Cause, customers could come to the distillery to collect a bottle of Laguna Madre, a bottle of HoneyDew and a bottle of Boot Flask Bourbon. The distillery raised $400,000 for various hospitality and disaster relief efforts.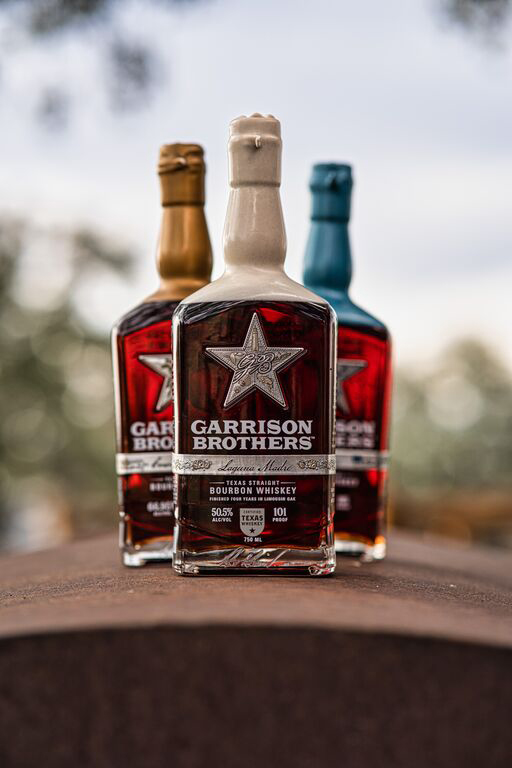 "We want to use this amazing platform to help those folks [in the hospitality industry]," says Todd. "Those are the folks that are pouring the bourbon that I love to make. I want to do something to help those folks in a time of need. It's definitely more important than the bourbon."
The distillery also donates a portion of proceeds from its 115-proof Balmorhea to Balmorhea State Park, and it is test driving a new initiative called Cocktails For A Cause, which aims to establish health care funds for hospitality workers.
Dan hopes people will view restaurant and bar jobs as a career. "Restaurant workers have always been on the fringe," he says. "They don't have health care. They work strange hours. It's almost impossible to have children if you're a bartender or a cook or chef or server because you can't get home at night. It's always been a fringe industry. We're working very hard to make it a profession."
Garrison Brothers is also looking forward to gaining new ground in the on-premise sector. Hopdoddy Burger Bar started selling a slushy infused with Garrison Brothers bourbon and the food service and hospitality company Delaware North will start offering Garrison Brothers bourbon in airports, stadiums and more across the nation. Charlie says sales for Garrison Brothers have continued to grow, despite the pandemic.
"I think it's because people drink Garrison Brothers when they're having special moments," he says, "and right now we're [all] savoring every special moment we can."
For Dan, the distillery's success is proof that "good bourbon can change the world," which is embossed into each bottle of Garrison Brothers bourbon. He sees that in action during the distillery's volunteer bottling sessions, when strangers from all walks of life become fast friends.
"Good bourbon creates enduring, lasting friendships," says Dan. "Good bourbon can increase one's faith in man and God. Good bourbon creates legendary stories. That's the philosophy behind Good Bourbon For A Good Cause, and I see it every day."
Editor's Note: This story first appeared in the May 2021 issue of CRAFT SPIRITS magazine and referred to Garrison Brothers as the first legal distillery in Texas. It was actually the first legal whiskey distillery. The first legal distillery in the state was, of course, Tito's Handmade Vodka, which was founded by Bert Butler "Tito" Beveridge in 1997.