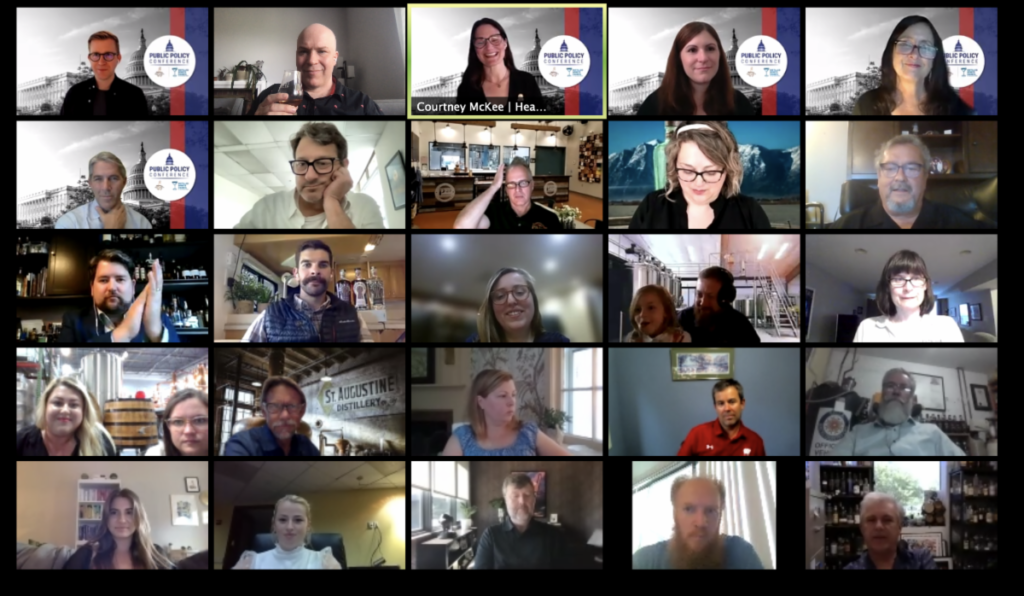 Distilling dominated Congressional appointment books today as more than 200 craft spirits producers from nearly every U.S. state talked COVID-19 relief, trade tariffs and direct-to-consumer (DtC) shipping with Senators and Representatives on both sides of the aisle. The spirits community gathered for more than 100 virtual meetings on the second day of the American Craft Spirits Association (ACSA) and Distilled Spirits Council of the United States (DISCUS) Public Policy Conference.
On the COVID-19 relief front, distillers urged support for two bills in particular: the Restaurants Act (H.R. 793/S. 255) and the Fairness for Craft Beverage Producers Act (H.R. 1035).
Congress has already allocated $28.6 billion in relief for restaurants, bars and distilleries with tasting rooms through the Restaurant Revitalization Fund. But the federal government has already received more than 300,000 requests for relief since it opened on May 3, putting demand at more than double the existing funds. The Restaurants Act, sponsored by Rep. Earl Blumenauer (D-OR) in the House and Sen. Roger Wicker (R-MS) in the Senate, would add $120 billion in funds.
That's an issue of particular importance for Kim and Tom Bard, founders of The Bard Distillery in Graham, Kentucky.
"The Bard Distillery opened as a two-person operation in December 2019, just months before the pandemic hit," said Kim Bard. "Needless to say, that wasn't in our business plan. We've made it to the other side, but barely. Tough decisions were made, and because we were so new, we didn't qualify for all of the government relief being offered in 2020."
However, the Bards said, they were fortunate enough to receive a grant through the Restaurant Revitalization fund. "We pushed 'pause' on our distillery plans in March 2020—the grant allows us to push 'play' again and, hopefully, catch up to where we would have been had the pandemic not come along," Tom Bard said. "The first order of business will be to hire a few more people and continue work on our visitor experience. The Restaurants Act would fund another $120 billion for businesses just like ours, including many distilleries, who just need help with a reset. That was our primary talking point during our Congressional meetings."
The Fairness for Craft Beverage Producers Act, sponsored by Rep. Jennifer Wexton (D-VA), would enable distilleries to access a higher Paycheck Protection Program (PPP) loan amount than the previous maximum of 2.5 times their monthly payroll cost. When the program raised the cap for hospitality industry workers to 3.5 times their monthly payroll cost, distilleries were inadvertently excluded. Wexton's bill seeks to correct that technicality.
Another major objective on spirits producers' agenda was to convince legislators to contact U.S. Trade Representative Katherine Tai, U.S. Commerce Secretary Gina Raimondo and U.S. Agriculture Secretary Tom Vilsack to urge an immediate suspension of the EU and UK tariffs on American Whiskeys and a return to duty-free trade for distilled spirits.
Trade tariffs have been a serious issue for U.S. distilled spirits producers since 2018 when the EU and the UK enacted a 25% retaliatory tariff—stemming from the steel and aluminum trade dispute—on American whiskey, which caused whiskey exports to decline by 37% to the EU and by 53% to the UK. Additionally, the EU and UK imposed a 25% tariff on U.S. rum, brandy and vodka as a consequence of the World Trade Organization (WTO) Boeing Airbus Disputes.
However, recent developments have been encouraging. The EU and UK called for a temporary suspension on the rum, brandy and vodka tariff and, just a few weeks ago, announced that it will not double the tariff on American whiskeys, as was previously planned, as a result of the steel and aluminum trade dispute. The tariff, which still stands at 25%, would have increased to 50%.
The newest item on craft spirits producers' legislative agenda is the USPS Shipping Equity Act—H.R. 3287 in the House and S. 1663—introduced in the House last week by Rep. Jackie Speier (D-CA) and in the Senate by Sen. Jeff Merkley (D-OR). The bill would allow the U.S. Postal Service to ship beverage alcohol directly from licensed producers and retailers to legal-drinking-age consumers where DtC shipping is permissible by law. If passed, it could be a significant step toward expanding DtC shipping for craft spirits.
"There are a lot of small producers that realistically can't get into the market [especially when] it's not worth the wholesalers' time to carry their product," said Carlo Luri, director of government affairs at Minden, Nevada-based Bently Heritage Estate Distillery, during a meeting with Congressional staff. Distributors tend to focus on the top handful of large-volume items that account for around 90% of their business, which makes it harder for the smallest spirits brands to get wholesaler attention.
"The reality is that it's hard to get shelf space in another state and it's hard to get representation," Luri said. "So the ability to ship product is really important."
And even though carriers like FedEx and UPS do offer spirits shipping, it's not an option in all areas. "Imagine that visitors come to Tahoe—we're only a 20-minute ride away—and they come down to the distillery to spend the afternoon with us," Luri noted. "They know at the end of their vacation they have to fly home and they ask us, 'Well, can I buy a case of spirits and ship it back to myself'—which is perfectly legal. But FedEx and UPS don't pick up in our jurisdiction and so the postal service would really offer the only way for us to execute that sale because nobody wants to fly with a case of spirits. … There are a lot of scenarios where spirits shipping makes a lot of sense and having the Postal Service lead the way, I think, is really important."
The inability to ship spirits has practical implications beyond selling to consumers. Many craft distillers have expressed frustration about not being able to enter spirits competitions because they can't send samples for judging. Medaling in competitions like ACSA's annual Judging of Craft Spirits provides a significant marketing boost for small distilleries whose promotional budgets are otherwise very limited.
Sometimes producers can't even get their spirits to the very agencies that regulate them. ACSA CEO Margie A.S. Lehrman said she fielded calls yesterday with distillers expressing that exact concern.
"They needed to send their products to the TTB lab for analysis," she recalled. "UPS wouldn't take them and FedEx wouldn't take them and that put a halt on their products."Any opposition to the USPS Shipping Equity Act has usually focused on potential threats to the three-tier system. But Lehrman notes that that argument falls apart because wine producers have had the shipping privilege for more than a quarter century—in nearly every U.S. state—which has enabled the wine business to grow without any adverse effects.
"Past is prologue," Lehrman said. "Wine did not tear down the three-tier system."
Attending distillers felt the two days (virtually) in Washington, have been highly productive and that they have been able to continue a positive, constructive dialogue with federal lawmakers.
"Distilled spirits producers are constantly facing outdated laws and unforeseen complications, like trade tariffs, which make our relationships with our Senators and Congressmen and women so important," said Alex Castle, master distiller and senior vice president of Old Dominick Distillery in Memphis, Tennessee. "Opportunities like the Public Policy Conference provide such an easy and open dialogue to ask for change that will benefit our industry, while also giving us the opportunity to thank those same people for their support in vital legislation, like the permanent reduction in FET that passed in 2020. … I feel like all of our meetings went incredibly well today and I believe we will continue to see our representatives support our industry in these endeavors."
Murphy Quint, head distiller and director of operations at Cedar Ridge Winery & Distillery in Swisher, Iowa, also expressed optimism after his meetings with Congress."I've worked in this industry for my entire adult life and it's provided me with many opportunities that I wouldn't have experienced anywhere else," Quint said. "I chose to participate in the virtual Public Policy Conference because I want to contribute to the success and growth of our industry so that others can experience these same opportunities. … If I can make even the smallest contribution to gaining some ground on these issues, I'll be very proud. ACSA and DISCUS did a tremendous job of preparing us to speak with our congressional representatives."
An upside of the virtual format—the second time the Public Policy Conference has taken that form since the start of the pandemic—is that it's made it easier for spirits producers in the farthest corners of the country to connect with their legislators. That, of course, hasn't been much of an issue for Washington, D.C.-based distilleries like Cotton and Reed. That's not to say being in the District is without its challenges.
"Although I can see the Capitol Dome from our D.C. distillery's front door, I do not have a voting representative in Congress, so I helped educate the delegation from my home state of Connecticut on some key issues facing craft distillers today," said Cotton and Reed co-founder Jordan Cotton. "Our industry is hard not to love, so it comes as no surprise that we had a generally warm reception on both sides of the Hill today. But building Congressional support for our initiatives on COVID relief, spirits shipping and trade is not inevitable—it wouldn't be possible without members from around the country pitching in and sharing their points of view."
Vienna Barger, principal at Southern Distilling Co. in Statesville, North Carolina, said gatherings such as these are key to building the overall spirits community.
"We feel that participating in Public Policy Conferences and meeting with our Congressional representatives is critically important to build united alliances, strengthen relationships, and raise awareness of the regulations and policies that help our businesses to not only grow, but to thrive," Barger said. "This is such an exciting time for the spirits industry and all of the craft distilleries across the country, as we emerge from the impacts of the pandemic with a permanently reduced FET and momentum to continue paving our way to great successes."
Meagan Miller, co-founder and vice president of Talnua Distillery in Arvada, Colorado, echoed Barger's sentiments.
"Without this event, it's entirely possible that the issues most important to our members would be lost in the chaos of the Hill," Miller said. "This event, more than any other, allows us to connect and build rapport with our representatives, and secure their support for the industry at large."
After a busy day of back-to-back meetings, the Public Policy Conference concluded on a more relaxing note with a happy hour toast, featuring a conversation with mixology icon Alex Day, partner at New York City cocktail bar Death & Co., moderated by Courtney McKee, co-founder and CEO of Headframe Spirits in Butte, Montana."I think one of the things that gives me a lot of courage … is the power of our larger community," Day told attendees during the toast. "I hope you're feeling some of the optimism that I am now. I think it's a special kind of hope. It's not just getting back to doing what we love, it's getting to do it stronger than ever." 
Click here to see updates from the first day of the conference.