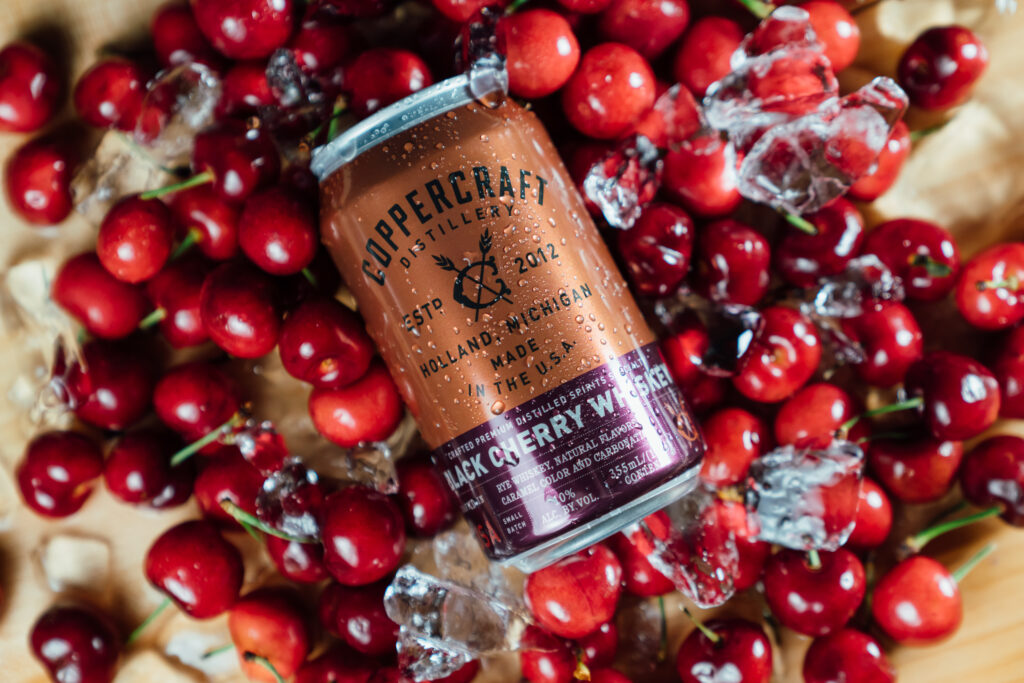 Coppercraft Distillery announced the release of four new premium canned cocktails: Black Cherry Whiskey, Moscow Mule, Rum Punch, and Iced Tea & Lemonade. The new cocktails, made to be enjoyed as a convenient and premium option, expand the distillery's popular ready-to-drink portfolio to seven products. They will be sold at select Michigan retailers, in Comerica Park, and at Coppercraft Distillery's tasting rooms in both Holland and Saugatuck.
"These premium canned cocktails meet the demand of an ever-growing industry," says Ali Anderson, national brand manager of Coppercraft Distillery. "And they also allow our production team to flex their creative muscles and explore new ways to bring artfully crafted spirits to everyone. We're excited to bring people four new flavors they can add to their coolers this summer."
Meet the latest flavors:
Black Cherry Whiskey | 10% alcohol by volume
"Perfectly sweet with just the right amount of tang. Black Cherry Whiskey marries rye whiskey with bold black cherry flavor for a cocktail designed to travel."
Moscow Mule | 10% alcohol by volume
"A classic cocktail, canned. The Moscow Mule blends grain neutral spirits, ginger beer, and lime juice to crisp perfection."
Rum Punch | 10% alcohol by volume
"Fun and full-flavored. Rum Punch is a unique blend of the Caribbean and Coppercraft 'Holland to Holland' Rum."
Iced Tea & Lemonade | 10% alcohol by volume
"A refreshing blend of citrus and sweet. Iced Tea & Lemonade blends grain neutral spirits, lemonade, and black tea in a new way to enjoy a summer taste."
Coppercraft Distillery also announced its #BringtheBarwithYou giveaway alongside Grand Rapids-based Bill & Paul's Sporthaus this week. The giveaway, valued at $500, includes the craft distiller's favorite YETI® products, including a YETI® Tundra 35 Cooler, two YETI® Rambler 12 oz Colsters, a CGear Sand Free Beach Towel, and more. The public can learn more and enter here.