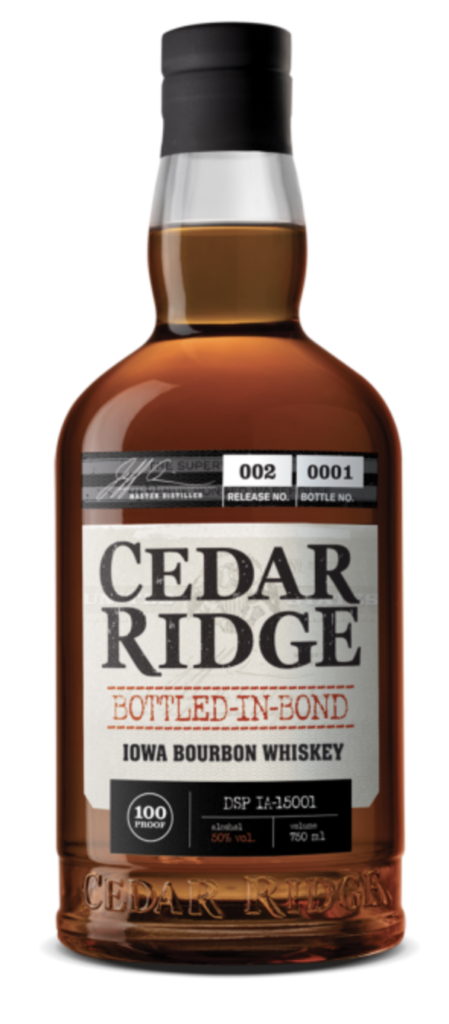 Iowa's first and oldest distillery—Cedar Ridge —is celebrating 12 years since the release of the state's first bourbon since Prohibition. In celebration, alongside the brand's annual Bourbon & Blues Festival, Cedar Ridge will be offering a limited release of its Bottled-In-Bond bourbon.
Passed in 1897, The Bottled in Bond Act was created to regulate the quality of whiskey, requiring it to be from one distillery, from one season, made by one distiller, and aged at a federally bonded warehouse for a minimum of 4 years at 100 proof. This is the third Bottled-In-Bond release to be offered by the distillery.
"Bottled-In-Bond has a richer flavor profile than our flagship, Iowa Bourbon," says head distiller and director of operations Murphy Quint. "There are lots of crème brûlée and brown sugar notes this year. It definitely has sweeter notes than our 2020 release, which was a spicy batch."
2021 will also mark the first year that Cedar Ridge Bottled-In-Bond will be offered outside of the state of Iowa.
"Demand for our brand across the Midwest continues to grow as Cedar Ridge becomes the region's go-to bourbon. But with only 400 cases, there will not be a lot available, so make sure you grab it if you see it," adds Jamie Siefken, Cedar Ridge executive vice president.
Cedar Ridge Bottled-In-Bond will be released Friday, July 2 at Cedar Ridge. Bottles will also be hitting stores in Iowa, Minnesota, Wisconsin, Illinois, Missouri, Kansas, and Nebraska beginning July 5 for a suggested retail price of $49.99.