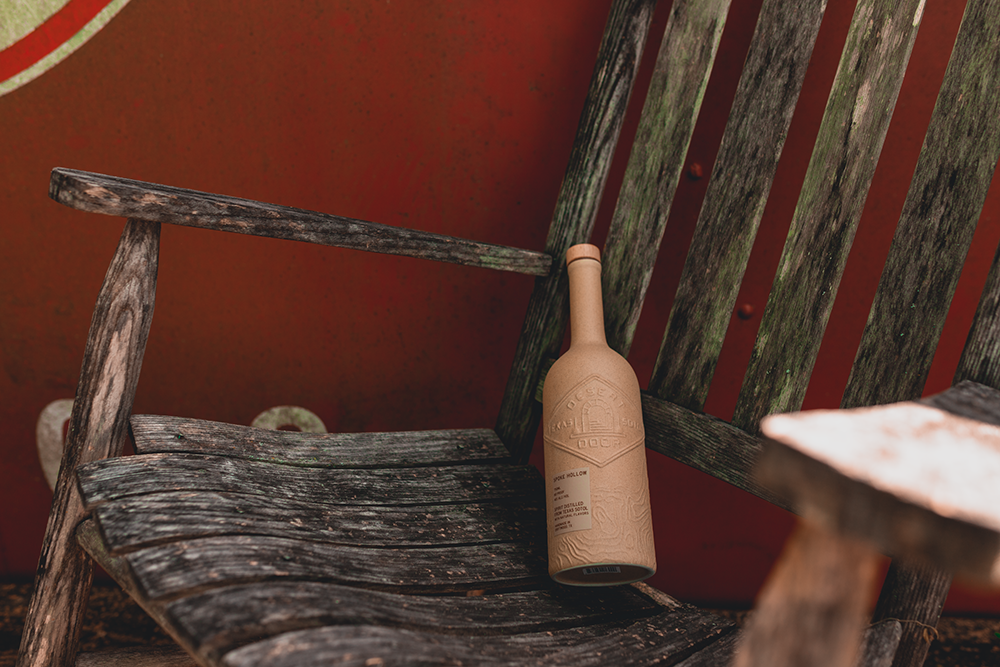 Desert Door Texas Sotol of Austin, Texas, is excited to announce the release of Spoke Hollow, the second spirit variation in its Conservation Series of bottle releases inspired by projects executed through its nonprofit foundation, Wild Spirit Wild Places (WSWP) on July 14. WSWP was created to support conservation and land stewardship, and this new limited release of the brand's popular spirit is the result of the second conservation project through the foundation with Spoke Hollow Outfitters in Wimberley, Texas. 
Spoke Hollow is a hunting and fishing outfitter based in Central Texas that focuses on mentoring first-time hunters and fishers. When Spoke Hollow founder and operator Josh Crumpton shared his vision with Desert Door and WSWP for the ranch and a long-term plan to restore waterways throughout the property, they worked with him on ways to support the ranch's efforts. Like the first Conservation Series bottle release of Back Burn Sotol made as a result of the first WSWP project involving a prescribed burn with 7 Oaks Ranch in West Texas, the foundation's land regenerative work on Spoke Hollow Ranch inspired this new Desert Door release. The Desert Door and WSWP teams not only sponsored a strategic clearing of Juniper Ashe on the ranch, but also got involved in helping with the removal. This effort inspired them to create a botanical Texas sotol, infused with Juniper as well as other plants native to Texas.
"Conservation is something that we all benefit from. There's a difference between preservation and conservation. At Spoke Hollow, the way we try to educate is not necessarily preservation. The land doesn't need to stay static. The land needs to undergo conservation, which means protecting the natural resources and elevating it to its highest level," said Josh Crumpton of Spoke Hollow Outfitters in a press release.
Desert Door and WSWP worked with Salt Box Films to create "Conservation Series #2" — a mini documentary that captures the process of this conservation project at Spoke Hollow Ranch. The video will be premiered on the official release date of the bottle, July 14, but can be previewed here for media purposes: https://vimeo.com/554828090/19522ba0fa. 
The 750ml Conservation Series bottle was inspired by the rugged desert lands where West Texas sotol plants grow. Designed by in-house designer Carolina Colantuoni, the bottle is textured like gritty sand. The topography of the Chisos Mountains wraps around the bottom, a map of where sotol is in abundance. A portion of the proceeds from each bottle sold by Desert Door directly funds WSWP, helping to keep wild places wild and will fund future conservation projects. This limited edition bottle can be found at the Desert Door distillery, and in select retailers across the brand's distribution networks in Texas, Tennessee, Georgia and Colorado. Conservation bottles are suggested to retail for $49.99. 
Desert Door was founded in November 2017 by Texans Judson Kauffman, Ryan Campbell and Brent Looby. The founders, all former service members of the United States military, met while attending The University of Texas McCombs School of Business. The 10,000-square-foot distillery is located in Driftwood, Texas — 30 minutes outside of Austin — complete with a modern, desert-inspired tasting room and large patio for sipping their signature cocktails. Visitors to the distillery can now also enjoy farm-to-table fare from the Eden West food truck, brought to you by the team behind Austin's beloved Eden East. Guests at the distillery can purchase bottles, mixers, and other products to-go.