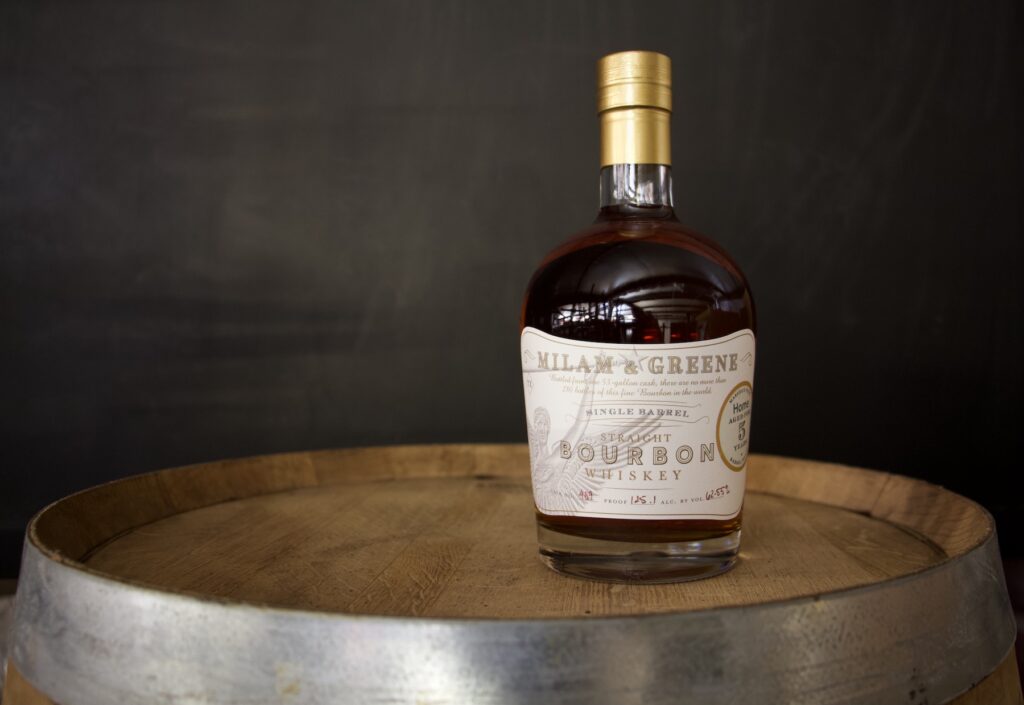 Milam & Greene Whiskey of Blanco, Texas, is releasing its limited-edition HOME Single Barrel Bourbon Whiskey at a special event at the distillery on Aug. 7. A special cask was selected and bottled to raise funds for HOME, Housing Opportunities for Musicians and Entertainers, a non-profit group made up of musicians and music business professionals dedicated to helping aging musicians in the Austin area pay their housing expenses.
The single cask of bourbon was selected by HOME board member, Marsha Milam, founder of Milam & Greene Whisky, and HOME vice president and founding board member, Marcia Ball, Austin's own multi-Grammy winning singer and pianist who performs an irresistible celebratory blend of New Orleans piano, Louisiana swamp rock and smoldering Texas Blues. 
The exquisite whiskey selected came from Cask # 21-0489, which was filled March 7, 2016, aged for five years, four months, and 13 days in a 53-gallon new American white oak barrel, and bottled on June 22, 2021 at barrel proof, 125 proof or 62.5% ABV. It has delectable aromas of maple, butterscotch, toffee, and dark chocolate, and bold flavors of cinnamon, pepper, and spice wrapped up in a warm finish.
Pricing and Availability: The Milam & Greene HOME Single Barrel Bourbon Whiskey is available for $149.99 at the distillery only starting August 7, 2021. This whiskey is extremely limited with only 189 bottles available for sale on a first come, first serve basis. Milam & Greene will donate 100 percent of proceeds of the sale of HOME Single Barrel Bourbon Whiskey to HOME.
When: 11:00 a.m. – 5:00 p.m. Saturday, August 7
11:00 a.m. Tasting room and food truck open to public
12:00 p.m. Bottle Signing by Marcia Ball and Marsha Milam
1:00 p.m. Presentation by Marcia Ball, Marsha Milam and the HOME Board of Directors
1:15p.m. Marcia Ball performing live
1:45 p.m. to 4:00 p.m. Kevin Kurtz performing live
Where: Milam & Greene Whiskey Distillery, 208 Carlie Ln., Blanco, Texas, 78606