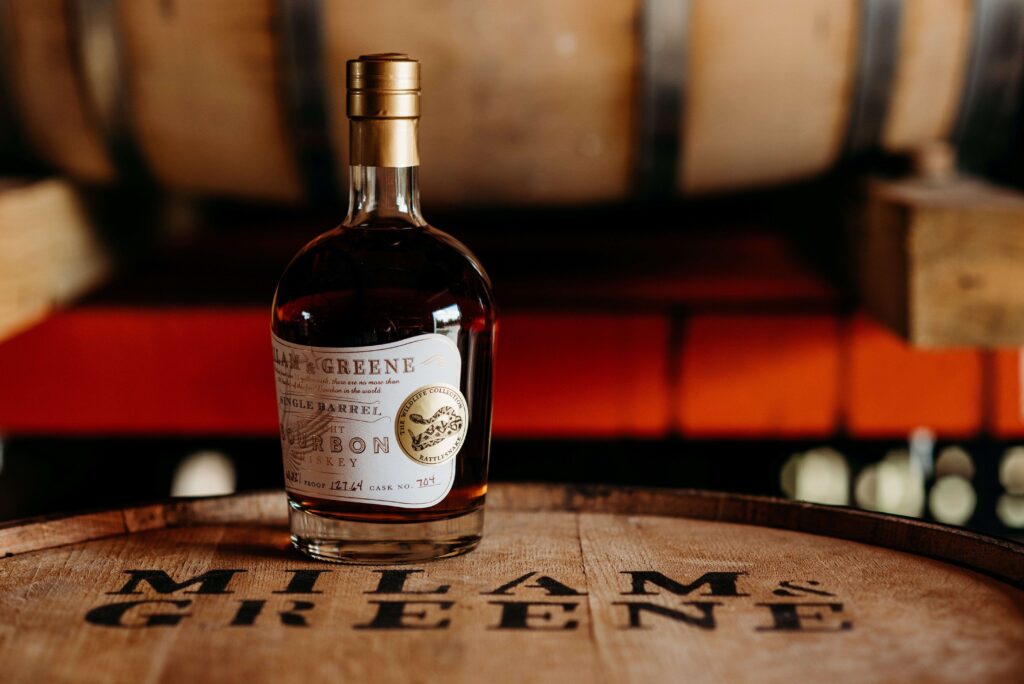 Milam & Greene Whiskey is unveiling the third release in the Wildlife Collection, Rattlesnake Single Barrel Bourbon, a limited-edition, cask-strength, single-barrel whisky. Each single-barrel release in the Milam & Greene Wildlife Collection highlights the impact of Texas Hill Country weather on aging whiskey and honors the local Texas wildlife that thrives in this beautiful, but often challenging environment. Rattlesnake Single Barrel will be available exclusively on the Milam & Greene Whiskey website and in the distillery tasting room beginning at 3:00 p.m. (CST) on Wednesday, July 26.
Only 168 bottles are available from this extremely limited, high-proof release, which is pulled from cask #704. It is named for the most common venomous snake in Texas, the rattlesnake. There are 10 different types of rattlesnakes living in Texas, and the most common rattlesnake in Blanco and the surrounding Hill Country is the Western diamondback rattlesnake. The diamondback has a black- and-white banded tail and can grow up to four or five feet. Rattlesnakes prefer warm weather, and they are active in the spring and summer in central Texas. Milam & Greene whiskies age well in warm weather, and cask #704 is being called into action this summer.
"Our whiskey has a sense of place, and each release of the Wildlife Collection shows just how distinctly the Texas weather influences the flavors of whiskey aged here," says Milam & Greene Whiskey CEO and master blender Heather Greene. "The Rattlesnake Single Barrel was aged for more than five years in Tennessee where it was distilled before being subjected to the extreme temperature swings in Texas. Aging Rattlesnake in both deep freezes and searing heat let the whiskey interact with the barrel more aggressively. It extracted richer oak and vanilla flavors, gave it a more lush texture, and increased the proof considerably."
The Wildlife Collection: Rattlesnake Single Barrel Bourbon
Milam & Greene Wildlife Collection Rattlesnake Single Barrel Bourbon was distilled in Tennessee with a mash bill of 84% corn, 8% rye, and 8% malted barley. It was barreled on March 8, 2016, and was bottled on July 5, 2023, at 127.64 proof, giving it plenty of bite. Rattlesnake Single Barrel was aged a total of seven years, three months, and 24 days in a char #3 new American oak barrel with five years and five months in Tennessee. It was aged an additional one year and 10 months in Blanco, Texas on the northside of the Milam & Greene Rickhouse 1, row 1, level 1, position 1 where it rested undisturbed, unrotated, and without climate control. During its time spent in Texas, this special cask whiskey endured two hard freezes, almost two full summers with daily triple-digit temperatures, and extensive drought.
Rattlesnake Single Barrel is a multi-faceted bourbon with a deep mahogany color. Its age is apparent on the nose with dusty oak scents at the front followed by cherry cobbler, pecan praline, and spearmint. The mouthfeel is full, oily, and rich with flavors layered with dark fruit, bit-o-honey candy, and anise. It has a lush finish with cherry cordial, coffee cake, and honey-roasted nut flavors, along with a touch of menthol.
"This whiskey is a cherry bomb all the way through," says Rikk Munroe, Milam & Greene Whiskey distillery manager. "It has a great mouthfeel and hangs in the glass beautifully. This whiskey came out of the barrel at 127.64 proof, so it bites like a diamondback! We need to be careful when you're moving barrels around the rickhouse."