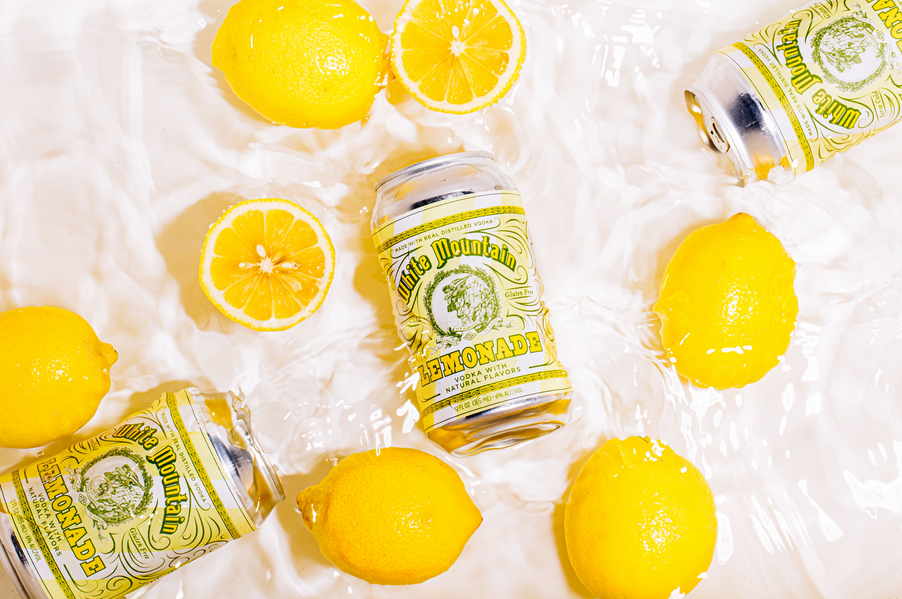 Tamworth Distilling of Tamworth, New Hampshire, announced the release of White Mountain Lemonade, a new line of sparkling, tart and tangy canned cocktails made with real distilled vodka and natural lemon flavors. The launch marks the continued expansion of the acclaimed White Mountain line after the statewide roll out of both White Mountain Gin and White Mountain Vodka in 2021.
The ready-to-drink cocktail hit shelves on National Lemonade Day, Aug. 20. White Mountain Lemonade is 6% ABV in 12-ounce cans and has 160 calories per can. The white and yellow striped cans are adorned with the 1945 State Emblem of New Hampshire, proudly boasting a picture of the Old Man of the Mountain, and is anchored with the state's motto, Live Free or Die.
"The addition of White Mountain Lemonade is our first foray in the ready-to-drink category and is the logical next step in our rapidly expanding White Mountain line," said Steven Grasse, Tamworth Distilling founder, in a press release. "Paying homage to our home state where outdoor adventures abound, these tart and zesty canned cocktails can be enjoyed year-round, sipped from the ski lift, a canoe, or anywhere else from our iconic mountains to the seacoast."
White Mountain Lemonade is delicious straight from the can or poured over ice and offers imbibers a natural alternative to other ready-to-drink beverages on the market. In line with the recent state liquor law changes, White Mountain Lemonade will be sold exclusively in New Hampshire for $12.99/4-pack at specialty markets, convenience and grocery stores, ahead of a larger role out to New Hampshire Liquor stores in Spring 2022. Distributed through Amoskeag Distributors, the canned cocktails will also be available at local bars and restaurants throughout New Hampshire.