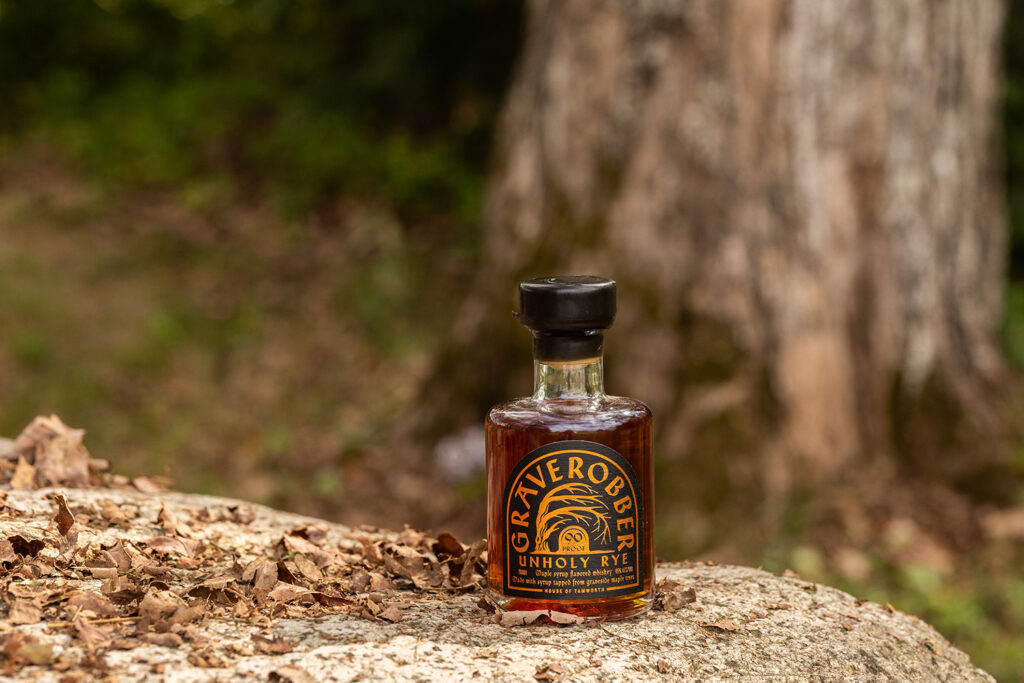 Tamworth Distilling, of Tamworth, New Hampshire, is thrilled to announce the annual resurrection of a haunting spirit ideal for sipping all through autumn (and beyond): Graverobber Unholy Rye, the limited-edition rye whiskey infused with maple syrup extracted from unmarked graveside maple trees on Great Hill Farm in New Hampshire. This seasonal player in the distillery's coveted House of Tamworth line is available now for shipping ahead of Halloween for $65.
Conceptualized by the boundary-pushing spirit savant behind Hendrick's Gin and the revitalization of Narragansett, Steven Grasse, Graverobber Unholy Rye is perhaps one of the most outrageous spirits borne from the experimental musings of innovative distillers at Tamworth Distilling; daring to showcase ingredients traditionally not considered in the production of small-batch craft spirits.
"There's few better ways to really dive in to spooky season than with Graverobber," said Steven Grasse, Owner and Founder of Tamworth Distilling and beverage branding agency Quaker City Mercantile. "It is not just a wickedly delicious spirit, but it also tells a haunting story about tapping graveyard maples, a process that has long been feared for risk of disturbing the dead."    
The essence of Graverobber Unholy Rye (90 Proof, 200 mL, $65) is that of the underworld, with a unique flavor profile sourced from a colonial era maple tree whose roots twist and grow throughout the unmarked gravesite of Great Hill Farm, found in rural New Hampshire. According to New England taboo, the practice of tapping graveyard maple trees has long been feared for risk of disturbing the dead – but that didn't stop the team of foragers and distillers at Tamworth Distilling. Laid to rest for three years and blended with sinister cemetery syrup, Graverobber Unholy Rye takes on a layered profile full of charred oak and burnt sugar, with aromas of cinnamon and dried orange peel, and an exhale met with the sensation of rye cracker. The taste is full bodied; however, the sweet yet unholy maple soothes the burn from the peppery rye and gives way to a warm, long finish that channels the dead and creates a dangerously drinkable intoxicant. 
In addition to an array of other formidable spirits found at Tamworth Distilling, such as Deerslayer Venison Whiskey, Eau de Musc Castoreum Whiskey, Crab Trapper Green Crab Whiskey, and more, Graverobber Unholy Rye is available for national purchase online at Seelbachs.com and on-site at Tamworth Distilling, located at 15 Cleveland Hill Road in Tamworth, New Hampshire.