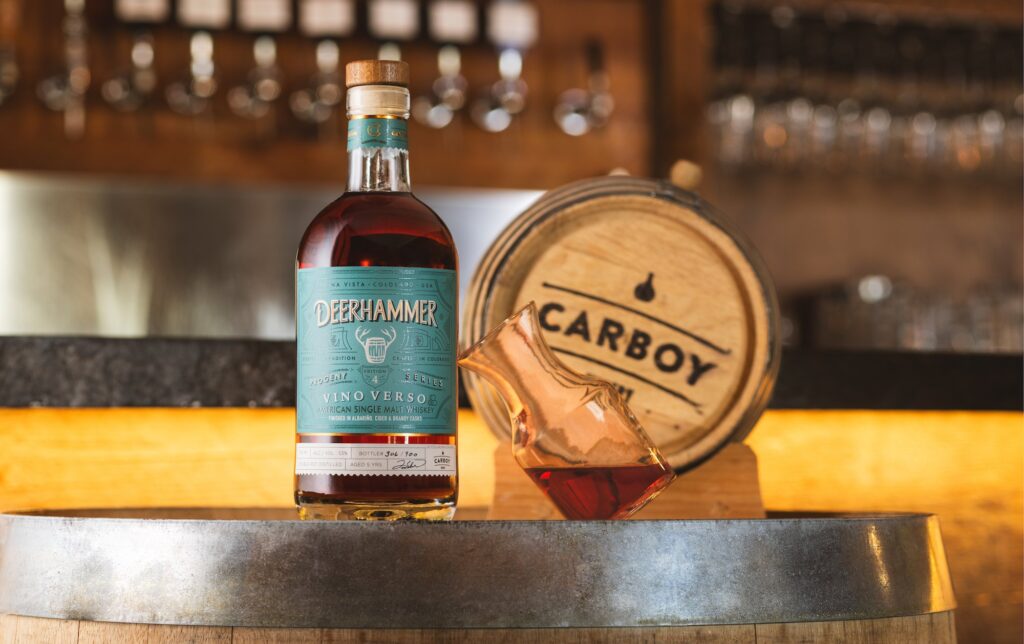 The next edition of the Progeny Series from Buena Vista, Colorado-based Deerhammer Distillery takes form as a collaboration with the highly acclaimed Carboy Winery, one of Colorado's largest and most well-known wine operations. Release No. 4 is an expression of the distillery's flagship American Single Malt aged in three different casks from Carboy Winery Littleton, just one of their four locations throughout the state. This collaboration is available in Colorado while supplies last. 
A celebration of Colorado and its innovative spirit, The Progeny Series is a lineup of small-batch spirits created through partnerships between Deerhammer and other crafters in The Centennial State. Thus far the series has included a whiskey and chocolate pairing with Cultura Chocolate; a Redstone Meadery mead-barrel aged Single Malt Whiskey called Honeycomber; and Cask Savant, a Bierschnapps distilled from Crooked Stave Hop Savant hoppy Brett beer.
For Progeny Series No. 4, Deerhammer founder Lenny Eckstein set out to acquire a range of freshly harvested Carboy barrels to lend a secondary finishing note to Deerhammer's highly decorated American Single Malt whiskey. After an initial three-year maturation in toasted/charred new oak, Vino Verso embarked on a secondary journey of an additional two years commingled within three distinct Carboy cask types: Albariño, Bourbon Barrel Cider, and Gewurztraminer Brandy (Blend Composition: 65% Albariño, 10% Cider, 25% Brandy). The resulting whiskey evokes cherry pie filling, cinnamon raisin bread, hibiscus tea, and toasted oak aroma, the flavors of grilled peaches, freshly baked sourdough, lavender, and blackberry jam— with more toasted oak, dried apple slices, leather, honeysuckle, and grape skins on the finish. 
"The extraordinary facet of this collaboration was the distinct flavor profiles extracted from three unique aging vessels," says Carboy director of winemaking Tyzok Wharton. "Lenny and his team have crafted an elegantly layered experience with this blend— the floral notes from the Albariño and cider casks carry through to butterscotch panna cotta on the palate, from the Gewurztraminer brandy casks. The texture is ethereal. And the patience required for this release… worthwhile."
Vino Verso is available in limited 750ML bottles at select Colorado retailers with an SRP of $59.00. It's also available as a pour at all Carboy Winery locations while supplies last.