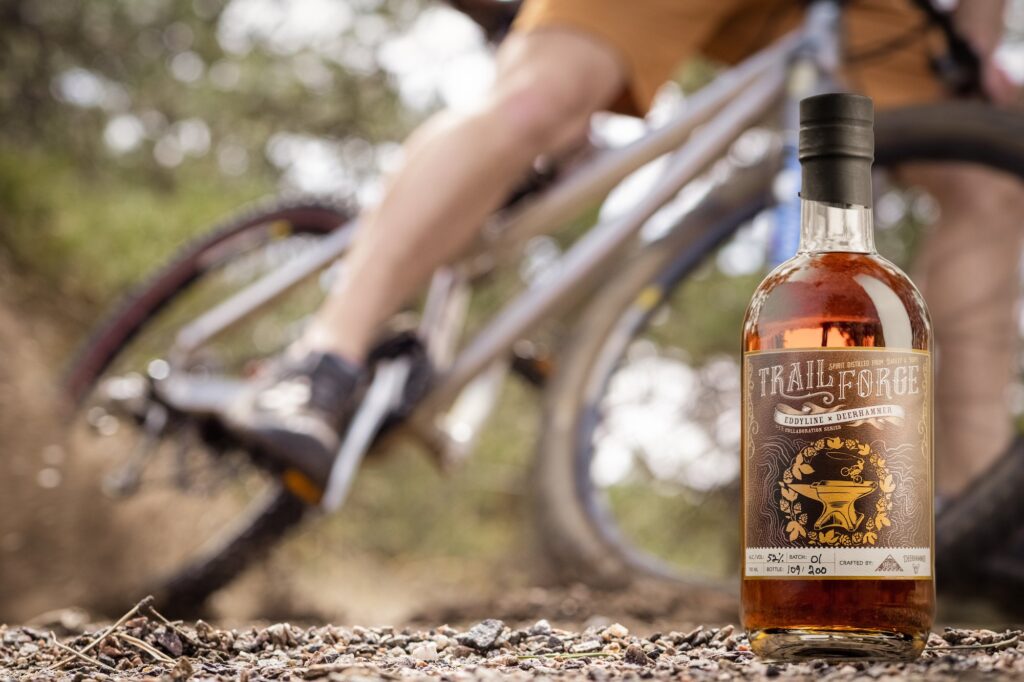 Buena Vista, Colorado-based Deerhammer Distillery and Eddyline Brewery debuted Trail Forge last year, a project now five years in the making that has raised $25,000 in funds for the creation of the new Crank 'n Hammer trail in Buena Vista. The next single barrel bottling of Trail Forge will be available in May. 
The concept for Trail Forge was conceived in 2018 as an unexpected excess of IPA cans that Eddyline wanted to make good use of while the beer was fresh. A squad of volunteers from the Buena Vista Singletrack Coalition hand poured each of these cans, 10,000 gallons worth, of Crank Yanker into the still at Deerhammer. "All of the volunteers thought it was so awesome that this work was going to make whiskey that was going to make trails," says Deerhammer founder and owner Lenny Eckstein. "And that's exactly what happened." 
The Crank n' Hammer trail is a 2.1 mile section connecting Camp Elevation South with Fistful of Dollars, a loop that will avoid car traffic on CR 304. Volunteers for Outdoor Colorado will be building a portion of this highly anticipated bikeway on May 13 and 14, and the full distance is slated for completion during the upcoming warm months.
Buena Vista institutions Deerhammer and Eddyline were both founded in part because of the surrounding Arkansas Valley trail system that they biked on long before they crafted spirits and beers for the growing number of locals and visitors in the area. Owners Lenny Eckstein of Deerhammer and Brian England of Eddyline have only gotten more passionate about these nearby trails as they raise their families in the area, and cultivate community over pints and drams aprés mountain biking. Over the years they have collaborated on various barrel aged beer projects, with their latest endeavor to craft Deerhammer whiskey from Eddyline beer inspired by and in support of Buena Vista's extensive trail system.
This unique category of spirits— referred to Bierschnapps in Germany– is beer distilled into spirit. The grain bill on its own might yield a malt whiskey, "but with the flavor addition of the hops added in the boil and post-fermentation, this spirit takes a turn away from more traditional whiskey notes," says Eckstein. "It hits a hybrid flavor profile that would likely intrigue any whiskey purist, and at the same time lure in those that typically reach for a hoppy beer rather than a pour of whiskey."
The latest expression of Trail Forge was aged 4.5 years and will be at a cask strength of 110 proof. "The extra time in the barrel definitely rounds out the typical citrus hop notes into more of a subtle, fruit-forward essence," says Eckstein. "Cantaloupe meets blueberries meets lemongrass and peppercorn. It almost hits me more like a brandy than a whiskey."
Created by local mountain biker Brinkley Messick, who has helped to build many trails in Buena Vista and beyond, the collectible Trail Forge label artwork features beer and whiskey elements, and local topography to boot. This second bottling of Trail Forge will become available at Deerhammer and Eddyline in May, just in time to welcome peak mountain biking season in the Arkansas Valley.